Finder is committed to editorial independence. While we receive compensation when you click links to partners, they do not influence our opinions or reviews. Learn how we make money.
Compare life insurance for 62-year-olds
You'll face limited term options after age 62 and higher rates
Get life insurance today
Compare your custom life insurance policies starting at $16/month.
Your information is secure.
At 62, you're still eligible for life insurance, but you'll want to apply sooner rather than later — especially since you're edging towards the cut-off for most term life policies. You might also run into limitations if you have a health condition, though you're probably in a good position to pay the higher premiums for seniors at this stage of your working life.
What's the best life insurance policy for 62-year-olds?
We recommend: Term life insurance
Most 62-year-olds choose a term life policy. It's the cheapest option, and it offers protection for your family for a set period. For seniors, 10 or 15 years usually suffices. But if you're looking for a 25-year policy, you have a short window to sign up; the cut-off for most insurers is 63.
To leave a sizable legacy or use life insurance for estate planning purposes, you can explore a permanent policy. These policies are more expensive, but they offer lifelong protection.
Our top pick: New York Life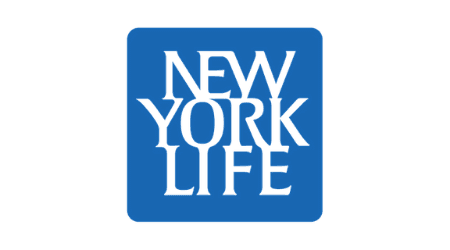 Finder Rating: 4.5 / 5
★★★★★
This brand isn't available on Finder yet.
Get quotes from similar companies on Finder.
Read review
$100,000 – $25,000,000
Coverage range
New York Life's product lineup caters to seniors in a few ways. The insurer sells term life policies in terms between five and 20 years, with the option to convert to a permanent policy before a specific deadline. It also has a long list of riders to choose from, and doesn't disclose its maximum coverage limits — making it a good choice for those who need larger policies. If you have a preexisting health condition, New York Life has a guaranteed universal life policy that doesn't require a medical exam.
| | |
| --- | --- |
| Coverage range | $100,000 – $25,000,000 |
| Term lengths | Any term length between 10 years and 20 years |
| Issue age | 18 – 90 years |
| Medical exam required | No |
How much is life insurance for 62-year-olds?
Life insurance is tailored to the individual. While age is a major consideration across the board, insurers put more of an emphasis on health conditions, family histories, occupations and hobbies. This means the rates between men and women of the same age can vary.
For a 62-year-old man in perfect health, our research suggests the typical cost of $500,000 of coverage in a 20-year policy is around $334.19 a month. Meanwhile, for a woman, the same coverage costs $239.41 a month on average.
As a senior, there can be huge price hikes between different levels of coverage. For a 62-year-old nonsmoking woman, she might opt for a simple 20-year term life policy with $250,000 of coverage. According to our research, Pacific Life — one of the cheapest companies — may offer her a rate of $112.55 a month. To increase her coverage to $500,000, Pacific Life may charge her $211.20 a month, or for, a $1 million policy, $405.80 a month.
What's the cheapest life insurance provider for 62-year-olds?
Let's take a $250,000 policy as an example. After assessing rates from 10 major carriers, we found Pacific Life charged the cheapest rates for a 62-year-old nonsmoking man at $160.82 a month. If you smoke, that rate might climb to $440.75 a month with Legal & General.
For a 62-year-old nonsmoking woman, the most cost-effective option may be Legal & General at $112.53 a month. The same insurer may charge $323.61 for smokers.
Estimated monthly costs for a 62-year-old
Monthly costs of a 20-year, $250,000 term life policy for a 62-year-old in good health
*Based on sample rates from Policygenius, August 2019.
Compare life insurance companies for 62-year-olds
How much life insurance do I need around age 62?
At age 62, you're probably nearing retirement or enjoying the freedom that comes with it already. This puts you in a unique position compared to if you were buying life insurance just five or 10 years earlier.
When you're calculating your life insurance needs, consider the following factors: outstanding debt, dependents and end-of-life expenses. For a more accurate picture of how much life insurance you need to take out, use our calculator.
What's my risk of passing away at 62 years old?
You've made a lot of memories in your time, and you can expect to make many more. According to our life expectancy data, if you're a typical, healthy 62-year-old man, your risk of dying within the next five years is 7.24%. For women, the number is a little lower at 4.48%.
To put this into context, let's look at the average life expectancy in the US. A man who turns 65 can expect to live until 84.3, and a woman is likely to live to age 86.6. These are averages; around a quarter of 65-year-olds will hit their 90th birthday.
When underwriting policies, life insurance carriers take your age and health into account. As a healthy 62-year-old, you may still have a good chance of qualifying for coverage with most insurers, though you may want to sign up soon to lock in the best rate.
Odds of passing away for a 62-year-old
| Within the next… | Man | Woman |
| --- | --- | --- |
| Year | 1.31% | 0.77% |
| 5 years | 7.24% | 4.48% |
| 10 years | 16.88% | 11.14% |
| 20 years | 46.85% | 35.28% |
| 30 years | 85.27% | 75.51% |
Life expectancy rates are merely calculations based on averages of mortality among specific population, gender and age groups. They do not predict the specific life expectancy of any one person - including you. If you're concerned about your overall health and risks, talk to your doctor or health professional.
Bottom line
A relatively healthy 62-year-old can qualify for coverage and preferred rates. While life insurance is more expensive at this age, you still have solid options. Many seniors opt for a 10-, 15- or 20-year term policy, which gives their families and businesses a sense of financial security in case something happens to them. Permanent policies are attractive for those interested in estate planning. They build cash value and allow you to access that money while you're still alive.
Before settling on a policy, check out our comprehensive guide to life insurance and compare providers.
Frequently asked questions
Read more on this topic