Finder is committed to editorial independence. While we receive compensation when you click links to partners, they do not influence our opinions or reviews. Learn how we make money.
Compare life insurance for 59-year-olds
Get a policy now before rates go up significantly at age 60
Get life insurance today
Compare your custom life insurance policies starting at $16/month.
Your information is secure.
By your 59th birthday, you've probably gone through your wealth-building phase. A life insurance policy can help you to protect everything you've worked so hard for, like your family, your financial assets and your business, if you have one. But many life insurance companies won't issue coverage at your age, so your options might be limited.
What is the best life insurance policy for 59-year-olds?
We recommend: Term life insurance
The majority of 59-year-olds choose a 10- or 20-year term life policy. Term life is the most basic form of protection, but for many 59-year-olds, it makes sense — they have less debts and more wealth, and they're putting more money toward their 401ks and IRAs. By choosing term life and continuing to build up a nest egg, policyholders offer their families financial security while planning for their own future.
If you're purchasing life insurance for estate planning purposes, a permanent policy might suit you better. Though it's more expensive, it provides lifelong protection and accumulates cash value. Many term policies come with the option to convert before the policy ends or by age 70, so if you change your mind, you can switch to a permanent policy later on.
Our top pick: New York Life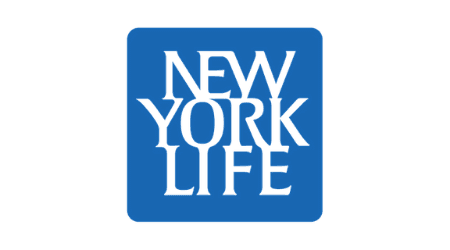 Finder Rating: 4.5 / 5
★★★★★
This brand isn't available on Finder yet.
Get quotes from similar companies on Finder.
Read review
$100,000 – $25,000,000
Coverage range
New York Life's product lineup caters to seniors in a few ways. The insurer sells term life policies in terms between five and 20 years, with the option to convert to a permanent policy before a specific deadline. It also has a long list of riders to choose from, and doesn't disclose its maximum coverage limits — making it a good choice for those who need larger policies. If you have a preexisting health condition, New York Life has a guaranteed universal life policy that doesn't require a medical exam.
| | |
| --- | --- |
| Coverage range | $100,000 – $25,000,000 |
| Term lengths | Any term length between 10 years and 20 years |
| Issue age | 18 – 90 years |
How much is life insurance for 59-year-olds?
Your premium is a product of your age, health, family medical history, occupation and lifestyle. While purchasing a policy in your late-50s is more expensive than it is in your early- and mid-50s, preferred rates may still be within reach.
Let's talk averages. For a 59-year-old nonsmoking man in perfect health, the typical cost for a $500,000, 20-year term life policy is $231.80 a month — or $2,781.60 a year. If we look at the same policy for a 59-year-old nonsmoking woman, the average cost is around $148.49 a month, or $1,781.88 a year.
Let's look at a 59-year-old nonsmoking woman. Based on our research, a $250,000, 20-year term policy with Protective Life, one of the cheapest life insurance companies, tends to cost $80.95 a month. To increase that coverage to $500,000, that same companies might charge $149.77 a month — a price difference of $68.82 for double the coverage. To boost coverage to $1 million, there's more of a price hike, with Protective Life charging $283.48 a month.
What's the cheapest life insurance company for 59-year-olds?
Let's use a $250,000, 20-year term policy as an example. To find the cheapest life insurance companies for 59-year-olds, we analyzed the premiums from 10 top-rated carriers.
A 59-year-old nonsmoking man might score a policy with Pacific Life for $111.30 a month. As always, smokers pay more for life insurance — in this case, the best rate is $339.70 with Legal & General.
For a 59-year-old nonsmoking woman, the most cost-effective option may be Legal & General at $79.64 a month. If you smoke, the same insurer might offer a rate of $249.33 a month.
Estimated monthly costs for a 59-year-old
Monthly costs of a 20-year, $250,000 term life policy for a 59-year-old in perfect health
*Based on sample rates from Policygenius, August 2019.
Compare life insurance companies for 59-year-olds
How much life insurance do I need by age 59?
When you're crunching the numbers, consider your financial needs now and in the near future. If you've had a life insurance policy in the past, chances are your situation has changed in more ways than one. You might have paid off your mortgage, gotten remarried and covered your kids through college. You may have bought a second home or welcomed grandkids. Typically, as you age, you have fewer debts and more wealth or financial assets. If that's the case for you, be careful of buying too much life insurance. Use our life insurance calculator to determine just how much you need.
What is my risk of dying in the next five years?
You've lived a long, eventful life already, and you can expect to hit a few more milestones. Based on our life expectancy data, if you're a typical 59-year-old man, your risk of dying in the next five years is 5.96%. For women, the figure is lower at 3.57%.
To give you an idea of the average life expectancy in the US, a man who turns 65 years old is likely to live until 84.3, while a woman can expect to reach age 86.6. Remember, these are averages; about a quarter of 65-year-olds will live past 90.
Though age is a life insurer's number one consideration, you're probably still in a good position to get coverage. If you're free from major health conditions like heart disease and diabetes, you're likely not deemed too risky to insure. That being said, the rates tend to jump from year to year when you're in your 50s and 60s, so if you're thinking of signing up for a life insurance policy, you might not want to wait too long.
Odds of dying for a 59-year-old
| Within the next… | Man | Woman |
| --- | --- | --- |
| Year | 1.06% | 0.63% |
| 5 years | 5.96% | 3.57% |
| 10 years | 13.75% | 8.69% |
| 20 years | 38.36% | 27.58% |
| 30 years | 75.55% | 63.55% |
Life expectancy rates are merely calculations based on averages of mortality among specific population, gender and age groups. They do not predict the specific life expectancy of any one person - including you. If you're concerned about your overall health and risks, talk to your doctor or health professional.
Bottom line
Most people in their late-50s go for a term life policy that takes them up until their retirement, when they've paid off most — if not all — of their debts. If you're in good health, you'll probably be offered a good premium for $250,000 or $500,000 in coverage. After 60, life insurance companies are less lenient.
The best life insurance policy for you is the one that's tailored to your needs. Don't take shortcuts — compare life insurance policies to find the right fit.