Finder is committed to editorial independence. While we receive compensation when you click links to partners, they do not influence our content.
Compare life insurance for 45-year-olds
You've worked hard — now it's time to protect your family and plan for their future.
By the time you're 45 years old, you're likely in your financial prime. Much like building up a 401(k) or IRA gives you a financial cushion for your future, life insurance does the same for your family and anyone you leave behind should you die prematurely. At 45 years old, you're young enough to access an affordable life insurance policy and cover your debt, set your kids up for college or leave a lasting financial legacy.
What's the best life insurance policy for 45-year-olds?
We recommend: Convertible term life insurance
The mid-40s age bracket is a popular time to shop for life insurance, as many people want to protect their families and financial interests. At this stage of your life, a term policy is a solid choice, with the option to convert to a permanent policy later. A convertible term policy gives you flexibility in the future, so if you need the insurance longer than you thought or you want to switch to a policy that accumulates cash value, you can upgrade to a permanent policy.
Our top pick: Global Atlantic Financial Group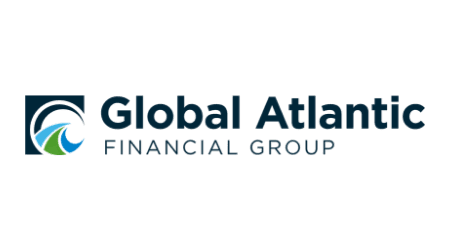 Finder Rating: 3.5 / 5
★★★★★
This brand isn't available on Finder right now.
Get quotes from similar companies
Read review
$50,000 – $1,000,000
Coverage range
Level term for 10, 20, or 30 years or Annual Renewable Term
Term lengths
This insurer sells convertible term life policies, as well as a range of permanent policies that build cash value over time. It stands out for offering a long list of riders that can help you to customize your coverage. These include a unique wellness for life rider, which rewards you for maintaining a healthy lifestyle. If you visit your doctor regularly and stay within the weight range specified in your policy, you could access premium discounts and other added-value features.
| | |
| --- | --- |
| Coverage range | $50,000 – $1,000,000 |
| Term lengths | Level term for 10, 20, or 30 years or Annual Renewable Term |
| Issue age | 18 – 75 years |
How much is life insurance for 45-year-olds?
While life insurance underwriters do take your age into account when determining your rates, a healthy 45-year-old is not deemed too risky to insure. You're in a good position to qualify for both coverage and preferred rates.
Life insurance companies tailor their rates to the individual. But according to our research, the typical cost for $500,000 of coverage in a 20-year term policy for a man in perfect health is $47.85 a month. For a woman, the average cost for the same policy is $47.85 a month.
If you're trying to decide whether it's worth splurging on a higher level of coverage, here's the good news. When you're in your mid-40s, chances are it won't be too much of a price difference. Our research shows a $250,000 policy with Legal & General — one of the cheapest insurers — will cost just $25.87 a month for a 45-year-old woman. If she wants to boost her coverage to $500,000, that rate would climb to $44.62 a month, or $81.79 a month for a $1 million policy. That's less than $20 a month for double the protection.
What's the cheapest life insurance company for 45-year-olds?
To find the cheapest life insurance company for this age group, we compared rates from 10 major carriers. For a $250,000, 20-year term life policy, a 45-year-old nonsmoking man could score a rate of $32.21 a month with Pacific Life. If he smokes, he'll be charged a higher premium. Legal & General's rates are low at $107.08 a month.Meanwhile, the most budget-friendly option for a 45-year-old nonsmoking woman is Legal & General at $25.87 a month. For a smoker, the same insurer offers a rate of $80.14 a month.
*Based on sample rates from Policygenius, August 2019.
Estimated cost of a $250,000, 20-year term life policy for a 45-year-old
To get an idea of how much you'd pay for coverage, compare average monthly costs for a 20-year, $250,000 term life policy for a 45-year-old in perfect health.
*Based on sample rates from Policygenius, August 2019.
Compare life insurance for 45-year-olds
How much life insurance do I need around age 45?
To work out how much life insurance to buy, think about everything you pay for now and everything you can expect to pay for in the future. Then, consider taking out a policy to match those financial obligations. These could include a mortgage, car loan or college tuition.
Our life insurance calculator
can help you to calculate how much coverage you need.If you've gotten married or divorced, received an inheritance, bought a new home or became a grandparent, it's a good idea to re-evaluate your coverage to make sure you have enough.
Types of life insurance policies for over 45s
There are three main policies to choose from:
Term life insurance lasts a set period of time, like 10, 20 or 30 years. The premiums stay steady, making this the most straightforward and popular policy.
Permanent life insurance offers lifelong coverage and builds cash value. If you're looking to turn your policy into a cash asset, explore whole, universal or variable life insurance — but be prepared for high premiums.
No-medical exam policies skip the medical exam, so they're ideal for those with serious health conditions which may disqualify them from coverage.
What's my risk of dying in the next five years?
A typical, healthy 45-year-old has a long life ahead of them. According to life expectancy data, a woman's risk of dying in the next five years is 1.21%. For a man, the figure climbs slightly to 1.88%.
To put this into context, let's look at the average life expectancy in the US. A man who reaches 65 can expect to live until age 84.3, and a woman is likely to live until the age of 86.6. Of course, these are averages; about a quarter of 65-year-olds live past age 90.
Odds of dying for a 45-year-old
| Within the next… | Man | Woman |
| --- | --- | --- |
| Year | 0.31% | 0.20% |
| 5 years | 1.88% | 1.21% |
| 10 years | 4.80% | 3.07% |
| 20 years | 14.88% | 9.34% |
| 30 years | 32.74% | 22.47% |
The expected value is derived from the odds of an individual dying within the term, multiplied by the payout of the policy. You can think of the number as the expected return of a policy. Say someone has a 20% chance of dying within 30 years and the policy pays out $500,000. The expected return is $100,000 since you multiply $500,000 by 20%.
You can use this value to determine if a policy might be worth it for you. Say a 20-year term life insurance policy costs $1,000 a year – so $20,000 over 20 years and the expected value is $50,000. You can assume the term policy might be a worthwhile purchase since the expected return is higher than the potential cost.
Bottom line
As a 45-year-old, you may be a breadwinner, business owner or someone with financial assets to protect, so buying life insurance is a smart move. Most people in their mid-40s opt for a term life insurance policy that will take them up to their retirement — usually 20 or 30 years. If you're in good health, you can typically lock in a pretty low premium for a quarter- or half-million dollars in coverage.
There's nothing more personal than life insurance. When you're planning for the future, compare life insurance policies to find one that fits your needs.
More guides on Finder