Finder is committed to editorial independence. While we receive compensation when you click links to partners, they do not influence our opinions or reviews. Learn how we make money.
Life insurance with breast cancer
You can qualify for coverage as a survivor — but you may need to be in remission.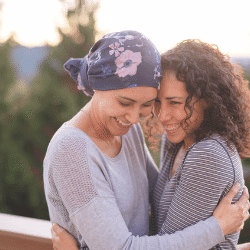 According to the National Cancer Institute, the five-year survival rate for breast cancer is at an impressive 90%. Cutting-edge treatment means more people than ever can live long lives in remission. And while the underwriting process can be complicated, approval for life insurance with a pre-existing condition like breast cancer is possible.
Can I get life insurance if I'm diagnosed with breast cancer?
Yes, but it depends on where you are in your recovery. After a breast cancer diagnosis, the insurer may choose from one of four options when extending coverage:
Offer coverage as normal. If your diagnosis doesn't affect your long-term risk, you may be eligible for typical coverage. You may be required to provide medical records proving you're in remission.
Add exclusions to your policy. Insurers might write into your policy that it won't pay your beneficiaries if you die from complications due to cancer. Carefully read any exclusions before deciding if the policy is worth the risk.
Increase your premiums. Your insurer may offer full coverage but at higher premiums than somebody who's never experienced a health issue might pay.
Deny coverage. You may find insurers who aren't willing to offer coverage if you're not in remission or have experienced multiple recurrences.
What options do I have if I'm denied coverage?
Start by talking with the insurer to learn more about the reasons for it denying your coverage. It may specify a waiting period before you qualify for remission status. Your chances of insurance approval at rates nearer to the general population's increase the longer you're considered in remission.
If one company declines you, it doesn't mean that its competitors will. Shop around to compare how different life insurers underwrite those who have or have had breast cancer, including eligibility requirements postdiagnosis, during treatment and in remission.
Compare multiple providers
Calculate how much coverage you need
Get a quote in 2 minutes
Get a FREE life insurance quote
| | |
| --- | --- |
| What's Your Birthdate? | |
| Where Do You Live? | |
| What Is Your Gender? | |
Compare life insurance providers
What type of information will I need to provide about my breast cancer?
Life insurers consider your odds of recurrence and other risks as part of their general underwriting. When applying for a policy, you may face questions like:
When were you diagnosed? The impacts and outcome may be less predictable with more recent diagnoses.
What type of breast cancer did you have? Underwriting relies on statistical likelihoods, and your insurer will want to know your ER, PR or HER2 status at diagnosis to determine risk.
What is the stage and grade of your diagnosis? Your insurer may also want to know the specifics of your tumor and lymph node involvement, potentially requiring medical documentation.
How was your cancer treated? Mastectomy, chemotherapy, radiation and related treatments can affect your overall future health. Your insurer may contact your oncologist, doctors or treatment specialists for details.
Are you taking medication or undergoing tests? Medication and future tests are an important part of managing risk.
Other details you may need to disclose
When applying for a life insurance policy, you generally are obligated to answer further questions that can help your insurer assess their risk in offering you coverage.
Prepare to answer such questions as:
Do you have a family history of cancer?
Are you currently taking any medications?
Have you ever been admitted to a hospital for any reason?
Are you experiencing symptoms for which you haven't yet seen a doctor?
Have you suffered any recent injuries or illnesses?
Have you put on significant weight in the past 12 months?
Have you experienced other significant changes to your health in the past 12 months?
Why do I need to disclose so much information?
Life insurance underwriting is the process of determining risk. When assessing you as a potential customer, insurers look at your medical history, lifestyle, habits and even your occupation to weigh the likelihood of paying out your policy.
Failing to report required information accurately on your life insurance application or to a representative can result in a denial of your claim when it's needed most — even if you've faithfully paid your premiums.
But no matter where you are in your recovery, confronting invasive questions about your cancer can stir up fear, worry and feelings you might've thought behind you. Consider leaning on your loved ones if you need support when answering health-related questions and confirming the details your insurer is asking for. And remember: You are not your diagnosis.
Am I automatically covered if my life insurance is provided by an employer?
It depends on your workplace's group policy. In most cases, life insurance policies provided by an employer don't require individual underwriting. This means your cancer diagnosis shouldn't affect your premiums or ability to get coverage.
Individual life insurance policies sponsored by your employer may require medical underwriting. Ask your employer about how your health may affect your life insurance benefit.
Bottom line
Many people in remission from breast cancer can qualify for life insurance with select insurers. Prepare to face more scrutiny than the average customer, and reach out to friends and family for emotional support throughout the process, if you need it.
Learn more about how pre-existing conditions figure into underwriting and compare companies in our guide to life insurance.
Frequently asked questions