Finder is committed to editorial independence. While we receive compensation when you click links to partners, they do not influence our opinions or reviews. Learn how we make money.
Life insurance with long-term care benefits
Think of this as the meal deal of policies: You get life insurance coverage, plus long-term care if you need it.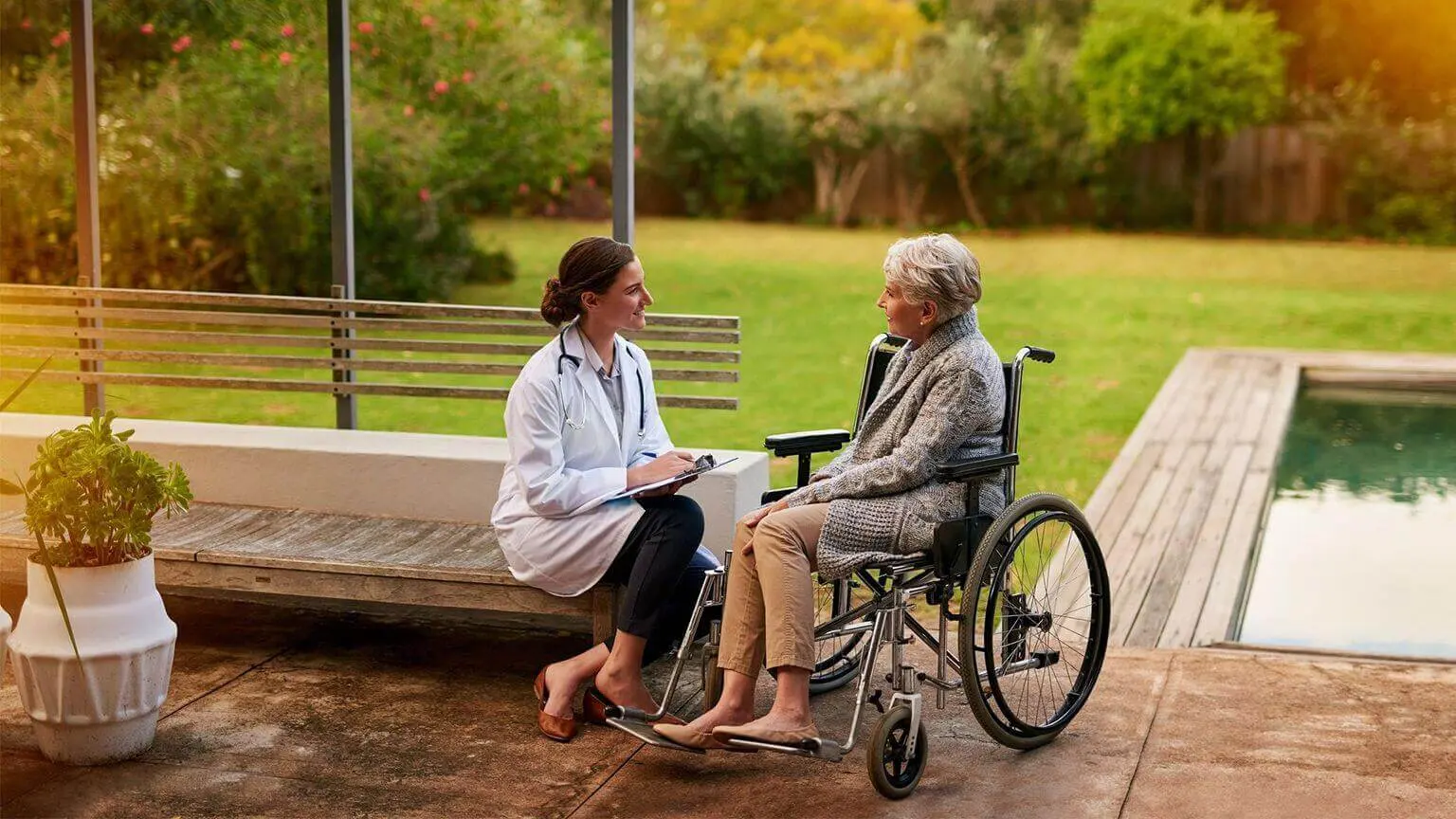 A life insurance policy with long-term care benefits is slightly different from your typical life insurance plan. It pays your beneficiaries when you die, and it also helps pay for long-term care expenses while you're still alive. But it's expensive, and may not be your best or only option.
What is a long-term care life insurance policy?
This hybrid policy combines the benefits of life insurance coverage with long-term care. When you die, your policy pays out a lump sum death benefit to your beneficiaries.
But if you develop a need for long-term care, your policy will draw from your death benefit to pay for the things that regular health insurance or Medicare won't cover — like a nursing home, assisted living facility, or in-home care. If you don't use the long-term care benefit before you die, your beneficiaries will receive the entire death benefit.
Typically, insurers tack on long-term care to their permanent policies, like whole or universal life.
How does this combination policy work?
There are two ways these policies are packaged:
Life insurance with a long-term care (LTC) rider. Long-term care benefits are built in to these policies, so they're essentially two policies rolled into one. This article focuses on these policies.
Life insurance with an Accelerated Death Benefit rider. Some insurers allow you to add this rider to your policy for free, while others will charge a fee. If you're diagnosed with a terminal illness and need long-term care, this rider will help to pay for your expenses.
What are the odds of needing long-term care?
Around 17% of seniors aged 75 to 85 require long-term care, according to the American Association for Long-Term Care Insurance. That number jumps to 42% for those aged 85 and above.
Within those groups, most people require long-term services for less than two years, while about a quarter will require care for five years or more.
How do I qualify for life insurance with long-term care?
Life insurance with an LTC rider comes into play if you're diagnosed with dementia or another cognitive impairment, or can't do at least two of the six "activities of daily living" (ADLs) on your own. The ADLs are:
Bathing
Caring for incontinence
Dressing
Eating
Toileting — i.e. getting on or off the toilet
Transferring — i.e. getting in and out of bed or a chair
How to buy life insurance with long-term care
The process to buy life insurance with long-term care is pretty straightforward. To apply, you'll fill out a form and answer questions about your age, gender, health, lifestyle, occupation and family medical history. You'll then select the policy and amount of coverage you want.
The underwriters will assess your application and schedule a phone interview or medical exam.
Once you're approved for coverage, you'll start paying premiums.
Long-term care benefits
If and when you need long-term care, your insurer will request medical documents from your healthcare team, and might send their own medical professional to evaluate you.
Under most policies, you'll have to pay for your long-term care expenses out of pocket for a certain amount of time before your insurer steps in. This is called the "elimination period."
Most insurers will cap your daily limit of care at a certain amount, and continue to pay for your long-term care until you reach the lifetime maximum. All of those details should be clearly laid out in your policy.
Life insurance coverage
The life insurance portion of the policy works just like any policy. When you die, your beneficiaries will receive a death benefit. If you tapped into the long-term care benefits during your lifetime, your insurer will subtract that money from the death benefit.
That being said, some insurers will guarantee a percentage of the death benefit — even if you max out your long-term care benefits.
The pros and cons of long-term care life insurance
Pros
Guaranteed value. You're bound to benefit from your policy in some way — whether it's knowing it will cover your long-term care during your lifetime, or secure your beneficiaries' financial future when you're gone.
Investment component. Most LTC features are tied to permanent policies, which accumulate cash value over time. Once you've built up enough cash value, you can take out loans against your policy.
Potential to safeguard your savings. The cost of long-term care is rising steadily, so taking out a life insurance policy with LTC may save you money in the long run — and reduce the financial burden on your family.
Money-back option. Some insurers offer combination policies with a money-back guarantee. This means they'll refund your premium if you no longer want the LTC portion of the policy after a set period of time.
Cons
More expensive. Since the LTC feature is baked into the policy, you can expect to pay a much higher premium.
Compare life insurance companies
How much does it cost to add long-term care benefits to a life insurance policy?
It depends on your insurer and personal profile. When calculating your premium, your insurer will take the following factors into account:
Age and health. The younger and healthier you are, the less you'll pay for a hybrid policy. If you have a family history of heart disease, cancer, strokes or similar serious health conditions, you'll probably be charged more.
Gender. In the US, men have an average life expectancy of 76.1, while women can expect to live to a median age of 81.1. As such, women tend to pay higher rates because they're more likely to make long-term care insurance claims.
Type and amount of coverage. If you buy a high level of coverage, add riders, or choose a short elimination period or long benefit period, you'll pay more than someone with a basic policy.
Marital status. Married people often pay lower premiums than single people.
Lifestyle, occupation and tobacco and drug use. Insurers increase the rates for people with dangerous jobs or hobbies, and those who are heavy tobacco and drug users.
Driving record. Is your driving record free from DUIs and other major traffic violations? You'll probably score a lower rate.
While you can expect to pay significantly more to add long-term care benefits to your life insurance policy, it's worth weighing that up against the costs of paying for your own long-term care down the road.
Without long-term care benefits in place, you could cough up $70,000 to $150,000 per year for a stay in a private nursing home, according to the US Department of Health & Human Services.
Is a combination policy right for me?
You never know what the future may hold, so there isn't a one-size-fits-all answer to this question.
If these situations apply to you, a hybrid policy might make sense:
You wouldn't be able to afford long-term care on your own.
You have a family history of cognitive or serious diseases that could put you at risk of a disability or impairment, like Alzheimer's, dementia, or strokes.
You're a business owner who's using life insurance to fund a buy-sell agreement. Many business owners add LTC to their key man insurance for this reason.
On the other hand, you might not need a combination policy if:
You have the financial resources and savings to self-fund your long-term care, if necessary.
You don't want permanent life insurance.
You'd prefer to leave more money to your beneficiaries.
You think you'll need care for a longer period than what's stipulated in your policy. Most life insurance policies with LTC will pay out benefits for two to three years.
Bottom line
Long-term care life insurance policies combine two types of "just in case" coverage. Often tied to permanent policies, they help you to cover your long-term care expenses, and pay out a benefit to your beneficiaries when you die. But they're expensive.
Whether you choose a hybrid or standalone policy, take the time to compare life insurance companies.
Frequently asked questions