Finder is committed to editorial independence. While we receive compensation when you click links to partners, they do not influence our opinions or reviews. Learn how we make money.
LendingTree business loans service review
Compare multiple business financing offers through one form to find the best one for your needs.
LendingTree is a loan connection service that partners with a wide variety of business lenders to get you financing to fit almost any need. Read further to learn about the options LendingTree has to offer and how to work with them.
Details
| | |
| --- | --- |
| Product Name | LendingTree business loans |
| Loan Term | Varies by lender and type of financing |
| Min. Credit Score | 670 |
| APR | Varies |
| Requirements | Varies by lender, but many require good personal credit, minimum annual revenue and minimum time in business |
What makes LendingTree business loans unique?
LendingTree is a connection service, which means it doesn't actually lend you money. Instead, it provides you with a selection of small business loans you're likely to qualify for.
With LendingTree, you enter your personal information along with details about your small business. LendingTree gives this information as a referral to lenders, who then contact you with loan offers. Basically, LendingTree connects you with lenders that compete to lend you money.
What are Lendingtree business loans?
LendingTree connects you with lenders who offer different types of business loans. The specifics of your loan will vary based on your agreement with the specific lender, but you can use your funds to finance just about any business expense. Eight main types of financing LendingTree partner lenders offer include:
What are the benefits of LendingTree business loans?
No upfront fees. Let LendingTree fit your needs with lenders in its network for free.
A lot of options. LendingTree network could open up options you may not otherwise have considered.
Less focus on personal credit. Many business lenders focus on your business' financial performance and outlook rather than your personal credit score.
One application. Complete one single online form to access multiple loan offers.
What to watch out for
LendingTree makes money by selling your information as "leads" to potential lenders, among other factors to keep in mind.
Potentially slow turnaround. Funding can take up to 75 days for SBA loans.
Many choices. This benefit can become a drawback, because not all options are good ones, especially if your business financial performance is lacking. You can compare business lenders outside of LendingTree to see a full picture of what you might be eligible for.
Residual offers. Even after you've chosen a lender, you may continue to get calls and email from other lenders vying for your business.
What do customers say about LendingTree?
Customers give mostly positive reviews of LendingTree online. It gets an A- from the Better Business Bureau (BBB), mostly because it failed to respond to one customer complaint — it has about 430 filed with the BBB. Half of its nearly 200 customer reviews are positive, 42% negative with the remaining falling somewhere in between.
LendingTree does significantly better on Trustpilot, scoring a 9.3 out of 10 based on over 5,500 reviews. Over 80% of reviewers said it was excellent, often using words like "quick" and "easy" to describe their experiences. The few negative reviews were mostly complaints about the number of phone calls customers received from lenders — standard for connection services — or technical problems with using their online accounts.
Compare other business financing options
Am I eligible?
Finding a loan that's right for your business can be difficult, especially if you've faced financial hardship in the past. LendingTree connects you with lenders, but there's no guarantee that you'll find a deal that's the best fit for your business.
To qualify for a business loan through LendingTree, you must:
Be a US citizen or a permanent resident.
Be in business before pursuing a loan, though the period of time required varies by loan type and lender.
Provide your business's financial history.
Provide collateral for certain secured business loans.
What information do I need to give?
To choose a small business loan through LendingTree, you'll need to provide information about your business such as:
The year you started your business
Your annual revenue and profits
Information on existing debts
Your business license
Past bank statements
Recent balance sheet
Legal filings related to your ownership
Recent profit and loss statement
Personal and business tax returns
How to get started
1. Once you're ready to go, click the "Go to site" button on this page to go to LendingTree's website.
2. Next, choose your business type and click Get Personalized Rates.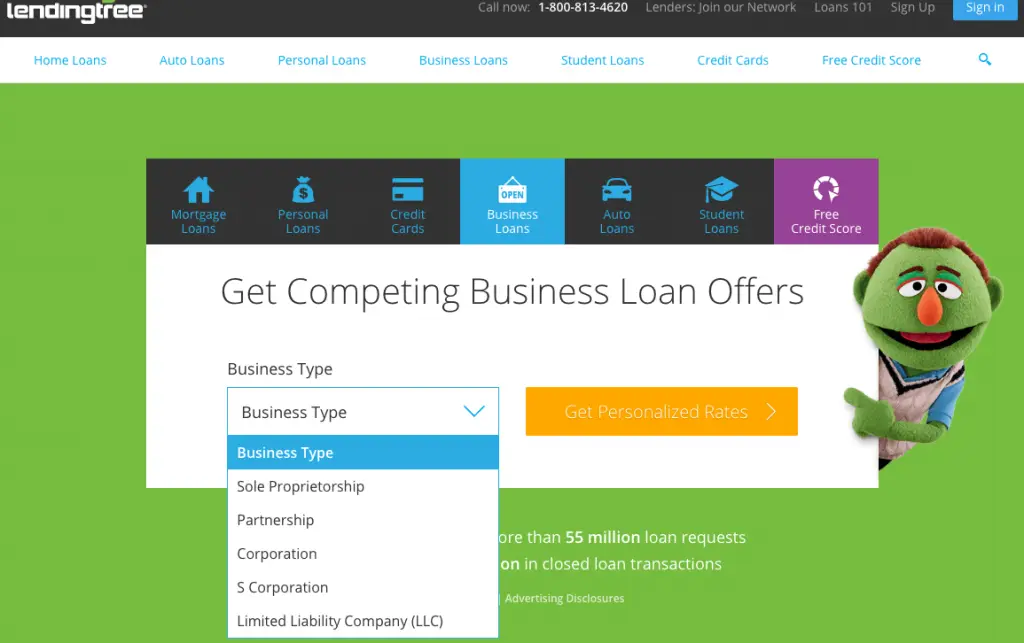 3. You'll then be asked for the amount you'd like to borrow and your personal information. LendingTree will connect you with lenders based on these details.
I got a business loan through LendingTree. Now what?
Understand the business loan terms. Since there are so many different types of business financing, you'll want to make sure you fully understand the terms of the financing option you selected, including all the costs and how/when you're expected to make payments.
Set up autopay. Most business lenders will allow (and probably encourage) you to make automatic payments.
Bottom line
LendingTree can be a good fit if you're unsure of lenders or loan types your business would qualify for. Before you signing a loan contract, you may want to compare business loan options from direct lenders to determine which one is the right fit for your needs.
Frequently asked questions