What lenders want you to know: Key takeaways from Lend360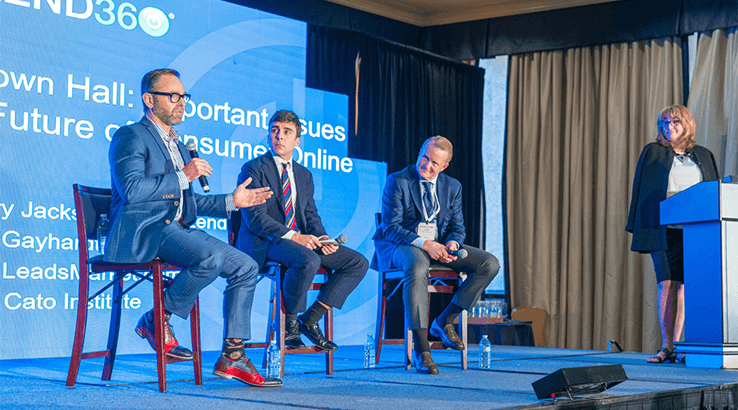 Over 800 attendees gathered at the annual Lend360 conference to discuss what's new in the industry and ways companies can be innovative. During the three days in Dallas, a major theme arose: There's a need for industry to improve customer knowledge and simplify the borrowing experience. Lenders discussed upcoming regulatory changes and ongoing improvements they're working on.
The good news for consumers is that lenders want you to know your rights. They want to make sure you know what options are available before taking out a loan. And if you do decide to borrow, they want to ensure you fully understand the costs and how to repay your loan on time.
Lenders want you to know the costs before you borrow.
People who leave negative reviews online often complain about not fully knowing the costs before they took out the loan.
"Lenders should display costs and disclosures to the point that it's uncomfortable," explained Kirk Chartier, chief marketing officer at Enova. Costs don't deter borrowers from a product. They know every product has a cost. They know want to know what it is.
NetCredit, one of Enova's brands, is an online lender that does just that. It specializes in offering personal loans to people with low credit scores. Its website includes an easy-to-find link to rates and terms. On that page, you can view the APR range and fees NetCredit charges in each state it services, and an example of what your monthly repayments could look like.
For lenders that aren't as transparent on their company websites, you might want to read reviews of personal loan providers that break down the costs and how repayments work before you apply.
Short-term lenders want to help you build your credit and explore alternative options.
Lenders recognize that short-term loans come with high interest rates that can be costly, especially for borrowers who fail to repay on time. Keeping your financial health in mind, some companies are leading the way in helping borrowers avoid using payday loans as a long-term option.
"We want our customers to graduate from our products," said Kate Vanderkolk, chief risk officer at Elevate.
Elevate offers multiple products designed for short-term borrowing needs. One of those is RISE Credit, a short-term loan that comes with credit reporting that can build your credit with on-time repayments. Its goal is to help you get your score high enough to qualify for a traditional personal loan with lower rates.
If you're in a pinch and need a short-term loan as a last resort, try looking for one that reports repayments to the three main credit bureaus: Equifax, Experian and TransUnion. With payment history making up 35% of your credit score, it's one of the most important factors in determining your creditworthiness.
What's next?
As borrower-friendly lenders lead the market, lenders that hide information about costs or don't help borrowers build their credit could see a drop in customers.
Fortunately, there are plenty of lenders on the market making strides towards innovation and improve experiences in ways that matter to borrowers.
Resources to protect yourself from predatory lenders