Finder is committed to editorial independence. While we receive compensation when you click links to partners, they do not influence our opinions or reviews. Learn how we make money.
LenCred business loans review
This online provider focuses its financing for startups and small businesses in need of capital.
If your business reaches a point where it needs the gas of extra capital, you're not alone. Among your many business financing options are online lenders that can match you to a network of vetted lenders willing to extend the exact hand you need.
LenCred is one such matchmaker — though you won't get your money instantaneously. Read on to find out if it can help your business succeed.
Details
| | |
| --- | --- |
| Product Name | LenCred business loans |
| Min. Amount | $20,000 |
| Max. Amount | $200,000 |
| Loan Term | Varies by lender |
| Min. Credit Score | 660 |
| Requirements | Personal credit score of 660 or higher. |
Do I qualify for LenCred?
You might be a good fit for LenCred if:
You have a personal credit score of 660 or higher.
Your business makes up to $300,000 annually.
Your business has been around for up to three years.
What is LenCred?
LenCred is an online matching service that connects startups and small businesses with lenders in its network.
Whereas it previously offered only unsecured credit cards to businesses, it's expanded its financing options into:
Business lines of credit. Get continual access to cash for unexpected expenses or to make up for off-seasons.
SBA loans. Designed for businesses that don't qualify for other financing, these government-guaranteed fixed-term loans and lines of credit come with low interest rates.
Equipment financing. Used to pay for equipment only, these fixed-term loans require collateral and a down payment.
Merchant cash advances. Simply put, an advance on your future sales paid back through a percentage of your future sales.
Invoice factoring. Instead of an advance on future sales, this option advances a portion of your unpaid invoices in an exchange for a percentage of their value.
401(k) financing. LenCred helps you navigate the complicated process of using a 401(k) to finance a small business. But unless your business has an impeccable financial history, it's generally not a great option — and risks losing your retirement fund.
What makes LenCred business loans unique?
Instead of weighing only your loan amount and immediate needs to match you to a lender, LenCred considers aspects of your business's profile that include your location, industry and credit history.
To optimize your application, LenCred can help you put together a funding plan — personalized service that's particularly useful for young businesses without the experience of getting a loan.
What are the benefits of getting a LenCred business loan?
Walks you through the process. LenCred makes applying easy by closely guiding new borrowers to a specific loan for their business.
Wide-ranging resources. You can access a literal library of information about business loans through its site.
Personalized matches. LenCred matches businesses with lenders that make the most sense for your business.
What to watch out for
Matching services often turn a profit on lender partnership deals. Sometimes these lenders pay a fee for every interested borrower sent their way. With such a business model, your business's concerns might not always be top priority.
Consider these other possible drawbacks to borrowing from LenCred:
Extremely poor support. Getting in touch with LenCred isn't easy. They gave us the runaround for over a week when it came to answering basic questions — and other customers have similar complaints.
Not forthcoming about rates and terms. LenCred doesn't list much information online about its partners' rates and terms, and it did not respond to our attempts to contact a rep through customer service channels.
You're restricted to its network. LenCred connects businesses with its network of partners only, meaning your options are limited.
Long turnaround. Customers describe a lending process that can take up to 60 days or more.
Barebones site. It's difficult to find rates, terms or other aspects of its lending network online. A potential red flag for an online lender.
LenCred fees
While most business loan connection services are free for users, that's not always the case with LenCred. Some lenders pay LenCred a fee for using its service, but pass that cost on to the borrower with a more expensive loan.
If you go for a lower-cost loan, you'll likely need to cover the financing fee of $2,000 to $2,500 yourself. The fee only applies after you get approved for your funds, so there are no upfront costs.
Compare business loans from top lenders
LenCred reviews and complaints
| | |
| --- | --- |
| BBB accredited | No |
| BBB rating | A+ |
| BBB customer reviews | 1 out of 5 stars, based on 2 customer reviews |
| BBB customer complaints | 2 customer complaints |
| Trustpilot Score | 4.9 out of 5 stars, based on 403 customer reviews |
| Customer reviews verified as of | 13 October 2020 |
LenCred only has a handful of reviews on its BBB page, and its Trustpilot are from 2019. However, the majority of these are positive, praising customer service for helping their small businesses get off the ground.
Am I eligible?
LenCred doesn't cite set-in-stone eligibility requirements. However, the following borrowers could find the best results:
A credit score of 660 or higher. Good credit will likely result in more favorable loans through LenCred.
Businesses that make up to $250,000 annually. LenCred doesn't require a specific revenue, but it's most interested in helping small businesses and startups.
Businesses around up to three years. LenCred is less interested in helping out established businesses.
How do I apply?
Go to LenCred's site and enter your name, phone number, email and time zone. Click Apply Now.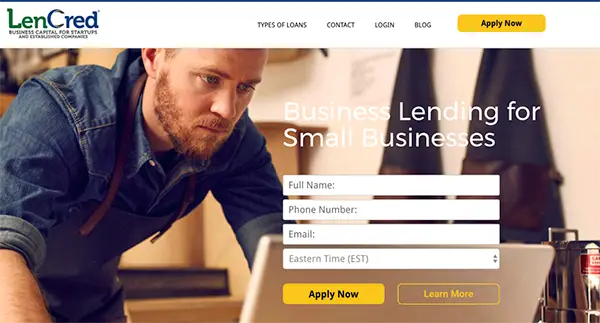 2. Within minutes, a LenCred resource specialist will email or call for a consultation about your business's credit history and needs.
3. After your specialist looks into your options, they'll contact you to discuss potential lenders and set up a plan to maximize your chances of getting your best deal.
4. Apply for a loan with the lender according to the financing plan, and receive your funds if you're accepted.
This whole process can take up to 30 days, though turnaround varies by lender.
What documents do I need to apply?
LenCred won't ask for documentation, but the lender it matches you with will.
Among other documents, expect to submit:
Government-issued ID. Most lenders want to see a driver's license or passport to verify your identity.
Proof of business ownership. You might need to provide articles of incorporation, your business license or other documents to prove ownership.
Verification of business finances. Your lender may ask to see bank statements or tax returns that show how much your business makes annually.
I got the LenCred business loan. Now what?
Two things happen once you get your loan: interest begins accumulating and repayments are due.
Consider setting up autopay so that you don't inadvertently miss repayments — some lenders require automatic repayments, while others might offer a discount.
You might also want to check whether your lender charges prepayment penalties. If not, try paying your loan off as quickly as possible to avoid unnecessary interest.
If you run into any unexpected financial troubles down the line, contact your lender immediately. They might be willing to renegotiate your terms — or even give you a brief grace period — to help you get back on track.
Bottom line
LenCred is a resource for small and new businesses with little experience applying for a loan. But its lengthy turnaround and frustrating website could turn off some potential borrowers.
Before you decide on lender, compare as many options as you can to find the best match for your business.
Frequently asked questions