Finder is committed to editorial independence. While we receive compensation when you click links to partners, they do not influence our opinions or reviews. Learn how we make money.
Lemonade homeowners insurance review
Powered by AI, this mission-driven digital insurer is reshaping the industry one policy at a time.
Lemonade's innovative model cuts out the middleman to sell policies directly to consumers through a peer lending platform. And it's entirely digital – you can apply and submit a claim online or through the free app.
AZ, CA, CT, DC, GA, IL, IN, MD, MI, NV, NJ, NY, OH, OR, PA, TN, TX, VA, WI
Available states
Details
Pros
Monthly rates from $25
Instant everything
Cheap rates
Cons
Not available in every state
No live quotes
No in-person agents
| | |
| --- | --- |
| New home discount discount | No |
| New homeowner discount | No |
| Home safety features discount | Yes |
| New policy discount | No |
| Bundling discount | Yes |
| No claims discount | No |
| Other discounts | Yes |
| | |
| --- | --- |
| Personal property coverage | Yes |
| Valuable personal property | Yes |
| Theft coverage | Yes |
| Fire coverage | Yes |
| Flood coverage | Yes |
| Identity theft coverage | No |
| Homesharing | No |
| Dwelling coverage | Yes |
What is Lemonade?
Lemonade believes today's insurance industry is set up to encourage insurers to deny claims, keeping more money in their own pockets.
Not so at Lemonade, a private insurer founded in April 2015 on a business model driven by social good. Unlike your typical insurer, Lemonade has no incentive to deny paying your claims. Rather, Lemonade claims to treat your premiums as if they're still your money.
How does Lemonade work?
Lemonade's structure reflects the "sharing economy" of a peer-to-peer framework. What that means specifically is that Lemonade groups the premiums of small "peer groups" into a collective claims pool. It takes the money from that pool to cover any claim.
Its revenue model is equally transparent: Lemonade takes a fixed 20% fee from your monthly premium for its services, using the remaining 80% of your money for the unavoidable expenses of the insurance business. Once a year, it applies any leftover money you've paid toward a "Giveback" — Lemonade's term for a donation toward a common cause that betters society.
By digitizing the experience of buying insurance, you can apply online in minutes, with any claims paid instantly. In fact, the company broke a world record in 2016 with a claim payout it processed in three seconds.
Lemonade calculates your premiums similarly to other insurers, basing its rates on your credit and insurance history, property details and add-ons. It claims to undercut its competition by up to 82%, offering homeowners insurance from $25 monthly.
What does a Lemonade policy cover?
All policies cover insurance's standard "named perils" — theft, fire, frozen pipes and more — as well as a little more to cover the results of those bad things, like hotel costs if you can't immediately return to your home. After you decide on a policy, you can select extra coverage for jewelry, bikes, cameras and other valuables. You're then presented with policy options — like adding a spouse or landlord — and a series of deductibles before you confirm your policy.
What's not covered?
However, your standard Lemonade policy won't cover:
Earthquakes. If you live in California, you may be able to add coverage for quakes.
Vicious dog attacks. You're covered if your dog bites someone, but only if your dog isn't considered a "high-risk breed."
Flooding. Policies don't cover structural or personal property damage caused by floods.
How do I apply for Lemonade insurance?
Applying with Lemonade doesn't require a broker, an agent or even paperwork. Easily apply online or through Lemonade's app in minutes:
1. Visit Lemonade's site or download the free Lemonade app. Click Check Our Prices.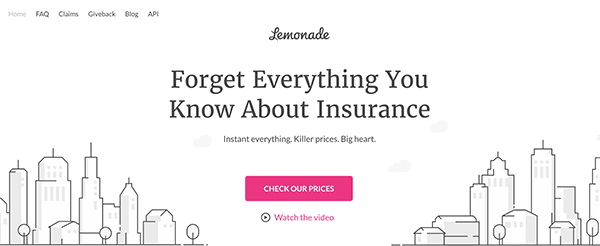 2. Lemonade walks you through the process of submitting your personal details, your insurance needs and the specifics of your coverage.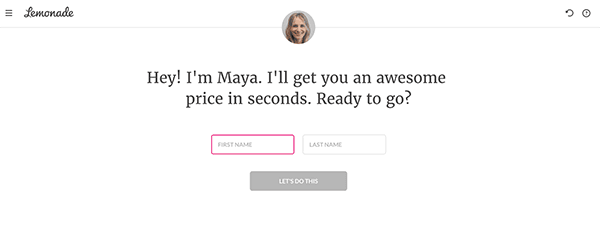 3. Lemonade's algorithm analyzes your information and returns a quote and sample policy within minutes. After it gives you a quote, Lemonade provides a coverage summary for your review. Policies are flexible, allowing you to adjust your deductible, extra coverage, start date and more.
4. Simply adjust the sample policy to meet your preferences, then click Pay. That's it.
How do I file a claim with Lemonade?
To file a claim with Lemonade, you must download the free app:
1. Open the app and tap Claim.
2. Follow the instructions to inform Lemonade about your specific situation.
3. Lemonade checks your claim against its fraud algorithms, either approving or passing your claim along to its claims team.
4. After your claim is approved, you provide your banking details for a deposit.
The company boasts that it pays more than 25% of its claims in under three seconds. Most claims are handled by Lemonade's AI and backed by a devoted team of experts to help with situations where approval requires more time.
The company doesn't advertise how many claims it's handled through AI, but as its bots become stronger, Lemonade's goal is to automate at least 90% of its payouts.
What stands out about Lemonade?
Compared with its competitors, there's so much that stands out about this new digital insurer.
Easy to use. Streamlined online quotes, a hassle-free website and approval in under three minutes leaves little room for improvement.
Speedy claims. Nearly instantaneous claims are handled by AI through a free app, backed by a dedicated team that stands ready for questions or issues.
Competitive rates. Without brokers or branches, Lemonade can afford to offer rates that are typically lower than its competition.
Flexible coverage. All policies offer solid coverage, and any exclusions are made clear before you purchase your policy. And you can easily extend your coverage, adjust your deductible and more online or through the app.
Transparent model. Designed as a fair alternative to your typical premium, Lemonade takes 20% of your monthly payment as profit, puts 40% toward reinsurance and other costs and pays claims with the remaining 40% — leaving no incentive to deny claims.
Annual "Giveback." The company donates unused premiums to the nonprofits of your choosing. At its 2020 annual donations event, the company donated over $1 million to causes for issues like COVID-19 relief, homelessness, racial justice projects and LGBTQI suicide.
Financial stability. While Lemonade seeks to reinvent insurance from the ground up, some elements are reassuringly familiar. It's reinsured by some of the most trusted, stable financial institutions in the world.
Where does Lemonade fall short?
Lemonade does a lot of things right with its modern twist on property insurance, but there are a few sour notes to look out for.
Not available in every state. As of this writing, Lemonade is available in Arizona, California, Connecticut, DC, Georgia, Illinois, Indiana, Maryland, Michigan, Nevada, New Jersey, New York, Ohio, Oregon, Pennsylvania, Rhode Island (renters and condo only), Tennessee, Texas, Virginia and Wisconsin.
No live support for prospects. While its application process is straightforward, Lemonade offers no live support for questions or concerns. It relies on email, which might not cut it for some customers.
Newer P2P model. P2P is relatively new, especially for the insurance industry. While the potential benefits are clear, they aren't guaranteed. Fraudulent claims and dishonest peer groups are possible.
Limited discounts. While the company offers discounts for protection equipment you may have installed, like fire and burglar alarms, it doesn't have the range of discounts you may find with other insurance companies.
"Giveback" isn't guaranteed. The company's claim to fame — its annual giveback based on profits — isn't guaranteed. If Lemonade pays too many claims or its reinsurance company wants to increase profits, there's no telling how much (if any) money will be donated.
No bundling. While other insurers allow you to bundle your auto and homeowners insurance together in order to get discounts and make one monthly payment, Lemonade doesn't offer auto insurance, which means this isn't an option.
Alternatives to Lemonade
Bottom line
It's a newer company, sure. But Lemonade's refreshing take on property insurance sure is sweet.
Making waves for its unbiased revenue model, Lemonade offers competitive rates, lightning-fast approvals and nearly instant claim payouts. But while it plans to roll out services in additional states, it's available in New York, California, Illinois, New Jersey, Rhode Island, Texas, Nevada, Georgia and Ohio only.
Frequently asked questions about Lemonade