Finder makes money from featured partners, but editorial opinions are our own.

Advertiser disclosure
League of Kingdoms game guide
Learn how this medieval NFT lands-based strategy game works and how to earn.
Free to try
Complete daily quests
Earn crypto & trade card NFTs
Runs on HIVE blockchain
Go to site
Disclaimer: This page is not financial advice or an endorsement of digital assets, providers or services. Digital assets are volatile and risky, and past performance is no guarantee of future results. Potential regulations or policies can affect their availability and services provided. Talk with a financial professional before making a decision. Finder or the author may own cryptocurrency discussed on this page.
League of Kingdoms is known as the first massively multiplayer online (MMO) strategy game built on the blockchain. You may be wondering: How does that genre fit into blockchain gaming?
In League of Kingdoms, players can buy land, farm resources, collect nonfungible tokens (NFTs) and more. With a full-fledged kingdom, players battle each other over territory "for hegemony" — a word the developers like to use. How you build your kingdom and strategize your gameplay determines how well you do and — ultimately — if you can earn.
Highlights
:
Free to play
Play on mobile or desktop
Familiar genre
Many ways to play and earn
New, unknown developers
Steep learning curve
What is League of Kingdoms?
League of Kingdoms is a blockchain-based MMO strategy game. It's very similar to games like Clash of Clans and Rise of Kingdoms.
To date, League of Kingdoms sees around 80,000 daily active players and around 400,000 monthly active players, as reported by Binance.
It launched in early 2020 and was developed by NPLUS Entertainment — also incorporated in 2020. We couldn't find much about the developers, except that they're based out of Singapore and they only have two apps: Korean and English versions of League of Kingdoms. The team largely consists of electronic product managers, software engineers and a former software engineer of NEXON.
Playing League of Kingdoms
The main objective of League of Kingdoms is to build up your kingdom then battle other players. You can farm resources, collect NFTs, join alliances with other players or start your own alliance, which functions like a guild.
Play the game on mobile devices (Apple and Andriod), or on a browser. To enter the game on the browser, select GAME START in the center of the screen while visiting the main site. The startup takes a few minutes to load on a browser.
Once loaded, sign in through Google, Apple, Facebook, Email or as a Guest. You don't need to connect a crypto wallet to start playing.
If you want to buy Land from the main site, connect a Web3 wallet, such as MetaMask, by selecting Connect Wallet on the top-right corner of the homepage.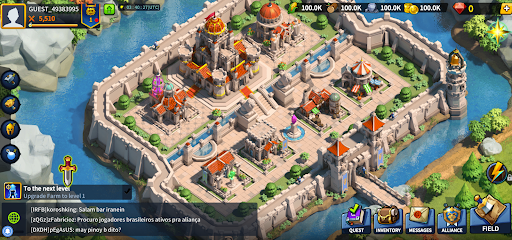 Image source: League of Kingdoms
Like other combat strategy games, the goal is to grow and develop your kingdom through careful resource management, while successfully defeating your nearby rivals in battles. You can also battle monsters — for example, a golem on the rampage. If battle isn't your thing, concentrate on resource farming instead.
There are multiple features in this game, and loading up the game for the first time can feel daunting — especially if you're unfamiliar with MMO strategy games. However, League of Kingdoms offers guides posted on their official Medium blog to get familiar with the mechanics and various strategies.
Facilities and resources
Players start from a small city-state called "Kingdom" and develop it from there. The kingdoms are separated into two parts, the interior castle and the outer fields.
The interior castle includes seven facilities. In the castle's outer fields, you can build five facilities. Plus, players can mine five resources. Use these resources to create three kinds of units.
Where and how you build these facilities, how you dictate resource allocation and how you manage your time is the key to success in this game.
Interior castle facilities
Outer field facilities
Mined resoures
Units

Castle — Control center
Treasure house — Manages treasure
Academy — Overseas development of new skills
Trading post — Marketplace
Storage — Capacity to protect resources
Hall of Alliance — All things regarding your current alliance.
Hospital — Heals injured forces

Barrack
Farm
Lumber camp
Quarry
Gold

Food — New accounts start with 100k
Lumber — New accounts start with 100k
Stone — New accounts start with 100k
Gold — New accounts start with 100k
Crystals — New accounts start with 0

Infantry
Archers
Calvary
Crystals are the most prized resource of the game, used to speed up the building process of upgrading facilities in your castle and more. They can be earned through mining or with special events, and can be used to make in-game purchases.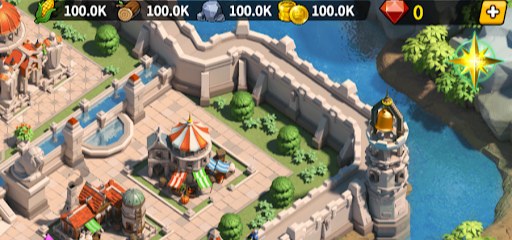 Image source: League of Kingdoms
More on alliances
When you join the game, you get a 72-hour window where you're protected from other players' attacks.
Once this ends, you won't last long if you don't make some friends and join an alliance, where you can coordinate attack and defense, trade resources and get to know each other through a chat function. When a player invites you to join their alliance a window appears where you can accept or decline the invite.
Every two weeks, a shrine appears in either unoccupied territory or that of another alliance. The alliance that captures this shrine receives rewards like boosts to their units' health or speed.
What is LOKA?
League of Kingdoms is built on Ethereum, and the in-game currency is LOKA (League of Kingdoms Arena), a multi-use governance and utility token:
Used to make in-game purchases
Earned by completing challenges
Used to upgrade digital assets
Can be staked
At the time of writing, LOKA is valued at $3.19, according to CoinMarketCap.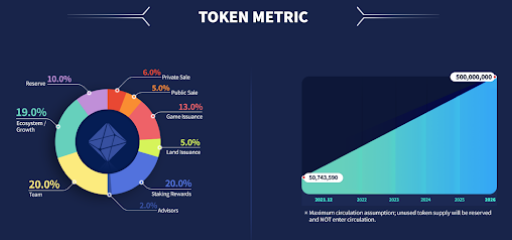 Image source: League of Kingdoms token metric
How to buy LOKA
To get LOKA, you must buy ETH and trade for it. With ETH in your crypto wallet, you can trade it for LOKA on an exchange that lists it, such as Gate.io. We've listed a popular ETH exchange.
It looks like LOKA may not be available to purchase on an exchange in the US.
You can still purchase LOKA by using a decentralized exchange (DEX) instead. Decentralized exchanges are web applications that run on blockchains like Ethereum and allow users to trade any asset directly with one another.
Decentralized exchanges (DEX) are unregulated and run using autonomous pieces of code known as smart contracts. To use a DEX you must interact with the blockchain directly, which is not recommended for novice users. Please learn about decentralized exchanges first if you're unfamiliar.
How to purchase LOKA using a decentralized exchange.
Find LOKA on a decentralized exchange and make sure LOKA can be traded for ETH which is the native asset of Ethereum. Popular DEXs include Uniswap, SushiSwap and 1INCH.
Buy ETH to trade for LOKA using an exchange like Gemini. You will need to purchase enough ETH to swap for LOKA as well as ETH to pay for transaction fees on the Ethereum network (known as gas). You can use a service like Etherscan to get an idea of how much gas fees currently cost.
Transfer the ETH into a web 3.0 wallet like MetaMask to connect to the DEX.
Trade ETH for LOKA on the DEX of your choice, following the instructions on screen. Make sure to leave enough ETH in your wallet to pay for gas.
Wait for the transaction to finalize and the LOKA tokens will arrive in your wallet.
You may now keep the tokens in your web 3.0 wallet or transfer them somewhere more secure like a hardware wallet.
You can follow the same process when you want to sell your tokens, or come back to this page to see if they can now be traded on an exchange in the US.
How does play-to-earn work in League of Kingdoms?
There are three main ways to earn money in League of Kingdoms:
Own land. The simplest is passive income from owning land — 5% of the resources harvested by players are redistributed to landowners, and they also receive 10% of the profits from in-game purchases in DAI.
Trading land. Players trade their land with one another within the game. In the first land sale in December 2020, the price of land ranged from $13 to $240.
Farm resources. Earn resources in the game and then sell them on external marketplace platforms. These resources can also combine to create other resources to sell.
What are League of Kingdoms NFTs?
Within League of Kingdoms, the NFTs are lands and totems.
Land in League of Kingdoms can be bought on the secondary market — its developers recommend the OpenSea or PlayDapp collection — or direct from the League of Kingdom's official portal. There will be a total of 65,536 tokens players can create, and kingdoms are built on top of the NFT lands, with each land able to host up to 16 kingdoms.
Totems in the game are ancient artifacts that represent the land underneath them, and can be minted and traded as NFTs. When placed on a land, they give magical powers and stats to the user.
Where to buy and sell NFTs
To purchase Land directly from League of Kingdoms, select LAND on the main navigation bar of the site, then scroll down to ENTER LAND PORTAL, where you learn about land, the game and browse Land listings.
Players can sell League of Kingdom NFTs on OpenSea and PlayDapp as well, both of which have direct links on League of Kingdoms's main site.
League of Kingdoms ecology
The League of Kingdoms developers created the following graphic illustration to show the game's five layers: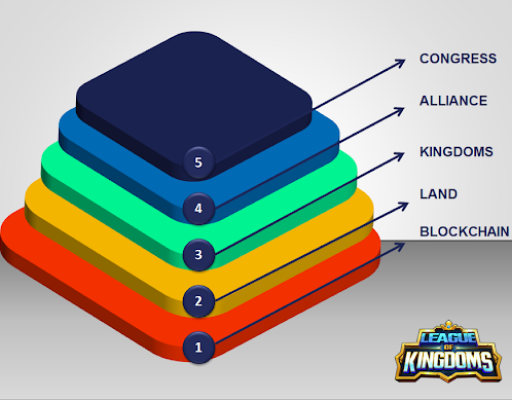 Image source: League of Kingdoms
The Ethereum blockchain serves as the base layer of the game, allowing players to have true ownership over their in-game assets. Then there are the NFT Lands, where Kingdoms are built upon. Next are Alliances, where players come together for trade relations, diplomacy and governance.
At the top is Congress, also known as Continental Congress. It's a body of elected officials that are voted on by Alliances, and the Congress governs the whole game.
League of Kingdoms roadmap
Planned updates in the next few years include:
PvP arena.
MMO guild war game.
NFT Interoperability bridges.
Many of the plans for the next couple of years include new dashboards, and a big one: the launch of Foundation DAO with LOKA staking in 2024.
Bottom line
League of Kingdoms is like other mobile combat strategy games, both a good and bad thing — familiar but a little played out. It's more of a passive, long-term game that requires patience, strategy and time. There are numerous features to familiarize yourself with, so it may take a while to get the hang of the game.
For those that enjoy games like Clash of Clans, Arma Tactics, Rise of Kingdoms and other strategy games, League of Kingdoms may be a good fit.
Of course, League of Kingdoms isn't the only blockchain game out there — see our list of 40+ play-to-earn crypto games to find one that suits your playstyle.
Whether products shown are available to you is subject to individual provider sole approval and discretion in accordance with the eligibility criteria and T&Cs on the provider website.
Are you visiting from outside the US?