Finder is committed to editorial independence. While we receive compensation when you click links to partners, they do not influence our content.
Le Tote promo codes
Too busy to shop? Don't have the budget for your ever-changing style? Rent your wardrobe with Le Tote.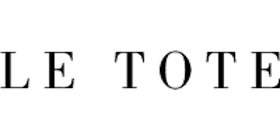 There once was a time when you either had to spend money and time buying new clothes or simply continue wearing those same jeans and t-shirts that you've had since college. With Le Tote, there's now an enticing third option: rent a new wardrobe as often as you like for one flat monthly rate.
If you find something that you absolutely love and want to hang on to for the long haul, you can buy it from Le Tote and make it yours. Everything else, wear as many times as you'd like and then simply send it back in the return package and wait for your new tote to arrive!
Le Tote discount and coupon codes
It looks like we don't have any coupons at the moment.
What can I buy/rent at Le Tote?
Customized clothing. Each monthly tote is completely customized by you! Choose which items you'd like to try, and easily swap them out before your tote is finalized.
Accessories. If you're into adding a little bling to your wardrobe, choose a subscription option that includes hand-picked accessories as well as clothing items.
Maternity. Le Tote also offers two maternity subscription options, perfect for women who don't want to buy an entirely new wardrobe while pregnant.
Shipping, payment and returns
Shipping and delivery
Shipping is free both ways, so feel free to send back your clothes as often as you'd like.
Payment
Le Tote accepts Visa, MasterCard, American Express and Discover.
Returns
If you decide that you want to return an item or items that you've purchased from your tote, simply send them back in the prepaid shipping package to receive purchase credit toward your next box.
When's the next sale?
Le Tote frequently offers special promo codes and discounts to new subscribers, plus lets existing customers save with its referral program. They also generally do a seasonal sale every few months, with early access to subscribers. Savings in the past have been as much as 80% off retail price.
What sets Le Tote apart?
Le Tote's innovative clothing rental business model is what sets it apart the most from other online clothing brands and retailers. Although you can purchase as many of the items from your tote as you'd like, you're never obligated to add anything to your permanent collection if you don't want to. And even better still, Le Tote does your dirty laundry for you.
Pros and cons
Pros
Convenient service. If you just don't have the time or desire to go out and buy new clothes and accessories but want to keep up with the latest trends, Le Tote's rental service could be the perfect solution.
Broad range of sizes. Le Tote sizes range from 2 to 16 and also includes maternity clothing.
Free shipping both ways. Get free two-day shipping with each box, plus never pay for shipping to return a box you're finished with.
Cons
Customer complaints of lack of style variety. Some online customer reviews have stated problems with the variety of styles and colors of clothing that they've received.
Bottom line
Le Tote offers its subscribers the flexibility to rent on-trend clothing and accessories, wear them as many times as they'd like, then either send them back for new items or purchase the old ones.
Common questions about Le Tote
More guides on Finder