Finder is committed to editorial independence. While we receive compensation when you click links to partners, they do not influence our opinions or reviews. Learn how we make money.
Laurel Road personal loans review
Large loans for borrowers with strong credit and decent annual income.
finder.com's rating: 4.2 / 5.0
★★★★★
Best for doctors and dentists looking for competitive rates and large amounts.
Pick something else if you don't have good credit and a high income.
Details
| | |
| --- | --- |
| Product Name | Laurel Road |
| Min. Loan Amount | $1,000 |
| Max. Loan Amount | $45,000 |
| APR | 8.01% to 16.30% |
| Interest Rate Type | Fixed |
| Min. Credit Score | 680 |
| Minimum Loan Term | 3 years |
| Maximum Loan Term | 5 years |
| Turnaround Time | As little as 2 business days |
Expert review
Review by
aliyyah.camp@finder.com
---
Aliyyah Camp is a writer and personal finance blogger who helps readers compare personal, student, car and business loans. Aliyyah earned a BA in communication from the University of Pennsylvania and is based in New York, where she enjoys movies and running outdoors.
Expert review
Laurel Road personal loans are ideal for doctors and dentists who are currently practicing or have a signed contract to practice in the next year. You can qualify for larger loan amounts — up to $80,000 — and APRs as low as 5.5%. It doesn't charge any origination fees, and you can score a 0.25% discount on your interest rate by signing up for autopay.
Not in the medical field? You may be able to find a better deal elsewhere. That's because its loans for all other borrowers are capped at $45,000 with rates on the higher side — especially if you have excellent credit.
Not sure Laurel Road is for you? Compare more options below.
First, am I eligible?
To qualify for a Laurel Road personal loan, you must meet these requirements:
Minimum credit score of 680+
US citizen or permanent resident
At least 18 years old
Laurel Road personal loans are best for borrowers with an annual income of at least $60,000 and a debt-to-income ratio of less than 40%.
Pros
Autopay discount of 0.25%
No origination fees
Special loan options for doctors, dentists and residents
$300 referral bonus
Cons
High credit requirements

Loans max out at $45,000
Special loan options for doctors, dentists and residents
Doctors and dentists currently in practice or who plan to complete their training in the next year and have a signed contract to practice can borrow up to $80,000 with APRs as low as 5.5%. Residents and fellows in training or who have a match letter can also qualify for a special loan option, with terms as long as seven years.
Compare other personal loan providers
What do customers say about Laurel Road?
| | |
| --- | --- |
| BBB accredited | No |
| BBB rating | A- |
| Trustpilot score | 4.4 out of 5 stars, based on 267 customer reviews |
| Customer reviews verified as of | 11 December 2019 |
There isn't much out there. The most recent TrustPilot reviews rate Laurel Road well — but the most recent is from October 2018. There are no reviews with the Better Business Bureau (BBB), and the three complaints filed against it have their details hidden.
How do I apply?
You can apply for a personal loan through Laurel Road's short online application in just a few steps. Click the
Visit Laurel Roads
button on this page to be directed to its website. From there, you'll click the
Apply Now
orange button to fill out the form.
Fill in your personal information such as your name, email, date of birth and Social Security number. Then click the next dropdown to continue.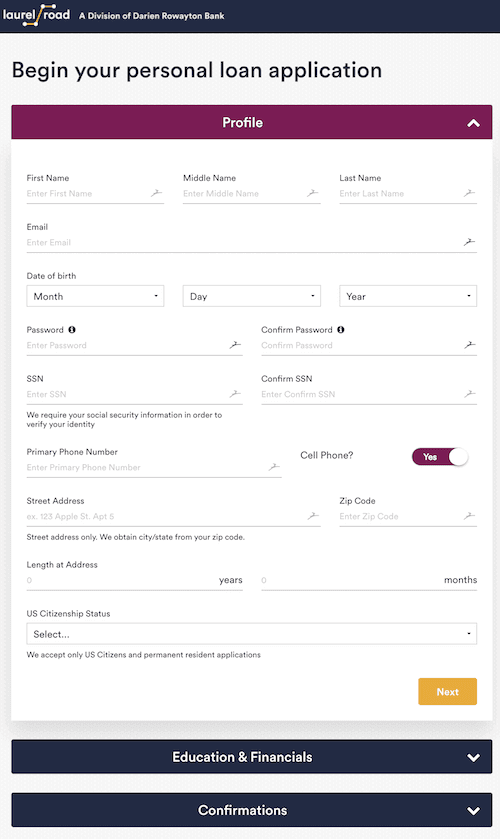 Fill in your employment status, monthly rent/mortgage payment, highest level of education. Here you'll be asked how much you want to borrow and for what reason.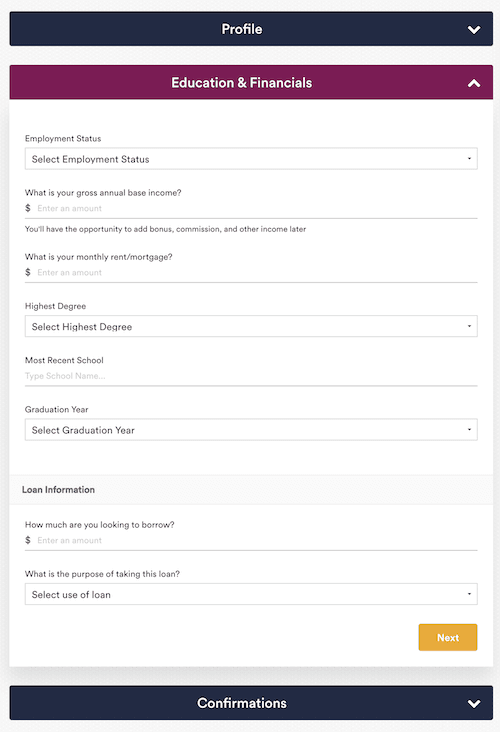 You'll have to confirm that you've read and agree to the Disclosures and Policies document. Checking your quoted rate won't impact your credit score, but if you decide to move forward Laurel Road will conduct a hard credit pull that may cause a dip in your credit score.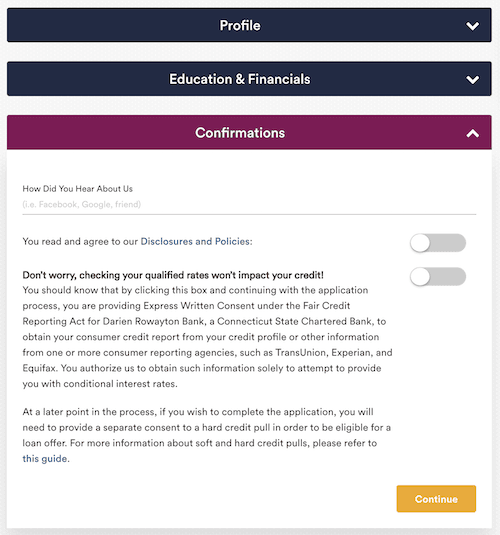 What information do I need to apply?
You'll need to supply a few pieces of information to finalize your application:
Social Security number
Most recent education information
Government-issued photo ID
Two recent pay stubs
What happens after I apply?
Once Laurel Road makes its decision, you'll receive a letter with your rate and disclosure information. The final step is accepting the loan's terms and signing your promissory note.
How do repayments work with Laurel Road?
Laurel Road's personal loans come with monthly repayments and terms between three and five years. Follow these three steps to make the most of your loan:
Sign up for autopay. Save 0.25% on your interest rate by setting up automatic payments from your bank account.
Avoid unnecessary fees. Laurel Road may charge a penalty fee for late payments. Autopay can help you avoid any potential fees that come with late payments.
Contact customer service. Contact Laurel Road at 855-245-0989 or help@laurelroad.com. Live chat is available through Laurel Road's website.
Compare Laurel Road to other lenders to find the best deal available to you.
Frequently asked questions
Before you visit Laurel Road..
The most qualified applicants have a minimum credit score of 680. Laurel Road tends to be best for people with annual income above $60,000 and total debt of less than 40% their income. If you don't think Laurel Road is best for you, explore other loan options.
Personal loan ratings
★★★★★ — Excellent
★★★★★ — Good
★★★★★ — Average
★★★★★ — Subpar
★★★★★ — Poor
We analyze top personal loan providers and rate them one to five stars based on factors that are most important to you. These factors include: rates and fees, customer reviews, loan amounts, loan processing and borrower experience.
Read the full methodology of how we rate personal loan providers.