Finder is committed to editorial independence. While we receive compensation when you click links to partners, they do not influence our content.
How much do landscaping renovations costs?
Discover the costs of your landscaping dreams and plan for a big renovation.
From pizza ovens and fire pits to exotic water features and vine pergolas, sprucing up your outdoor entertaining area and landscape is a big project to take on. With so many products, appliances, materials and designs to choose from, it can be difficult to know where to start and how much you should be paying for construction services.
The size of your project will impact the total amount you need to have on hand to start work. Many smaller landscaping details–like plants and fire pits–can be done without the help of a designer or builder. Other, more complex jobs–like building a deck, patio or pool–will have to be done by a professional.
If you're not sure where to start, we'll guide you through planning your renovation so you can add value and character to your backyard.
Decks and patios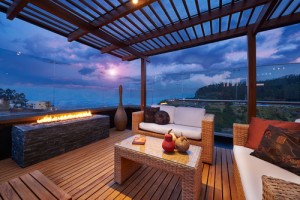 As a defining element of every outdoor area, many homeowners choose to build a deck or patio to make their space stand out. Like many projects, decks and patios require ongoing maintenance, which is a cost you should factor in when choosing materials. You should also consider walkways. Paving can perform a variety of important tasks in an outdoor area. It can be simple and functional, or it can be an eye-catching design feature in its own right.
What materials should I use?
Pressure-treated wood decks are a common and inexpensive choice, and while they may provide homeowners with that rustic feel, they aren't the only option. You can choose to use a durable hardwood or opt for a composite, which is a mixture of plastic and wood fibers. Plastic is also an option, but you'll have to pay more for a deck that doesn't have the feel of real wood.
For patios on a budget, you can opt for concrete. It's low maintenance and can be colored or stenciled to provide a more unique finish. Other common but more expensive options include tiles and stone, which can be laid on a concrete slab or on top of a sand or gravel surface.
You'll need to consider a range of factors when selecting the right pavers for a pathway, including the design you want and the type of traffic that the pavers will receive. Sandstone offers a lovely natural look and a wide variety of colors, making it perfect for a large range of uses. Granite pavers are durable and look great around pools, while slate can make a beautiful and long-lasting addition to many outdoor areas. Other options you might like to consider include bluestone, limestone, concrete and bricks.
How much will it cost?
Many builders charge around $35 per square foot for a deck, and the cost for materials will vary widely. Pressure-treated wood is your most cost-effective option, but without regular maintenance and sealing, you may be exposed to toxic chemicals. Natural woods are more expensive and require yearly maintenance to prevent splintering. Finally, plastic and composite materials don't need much maintenance but won't have the same look and feel as wood. Overall, a deck can cost you anywhere between $4,000 to $10,000 for installation and materials.
Patios can be done professionally or by handy homeowners. Concrete is a popular option for homeowners because of its durability and because you can lay stone pavers on top to create a unique look. Most contractors charge $60 to $95 per hour, though the exact cost depends on where you live and how much work you're having done. The concrete itself costs about $8.50 per square foot. If you want it dyed or stamped, expect to pay more. Flagstone and pavers will also cost more. Prices depend on the type of stone and the cut. Check your local stone yards to get an idea on how much materials might cost.
As every outdoor landscape is unique, paving costs can vary substantially for each individual project. Not only are costs affected by the materials you select, but the site conditions and the complexity of installation will impact the overall price of the project. Pavers cost anywhere from $12 to $100 per square foot. Labor costs will vary, though for flat yards and simple designs, you may be able to lay your pavers yourself.
Whether you're building a deck, patio or walkway, talk to two or three local contractors to receive estimates. Don't forget to read reviews and ask for references of previous work. Finding the right person for the job is just as important as choosing the right material.
Back to top
Retaining walls
If your home is built on a hillside and has a large amount of rocks, much of the space becomes unusable. Retaining walls and stairs are designed to solve this issue. The process involves a cut-and-fill process on a sloped block to create a practical, multi-level area.
What materials should I use?
Retaining walls are typically built from timber, cinder blocks, bricks, sandstone or concrete.
Your cheapest option will be railroad ties. A concrete or brick retaining wall will require engineered footings and experienced tradesmen to complete the job properly, meaning a higher overall cost. All retaining walls need to have the area around them excavated, and the material you use should be waterproofed to avoid mold.
How much will it cost?
Since retaining walls require excavation and a mason to do much of the work, you'll need to pay for this service. Masons charge anywhere from $45 to $90 per hour, and a laborers make around $20 per hour. Each company will estimate different amounts depending on the skill of its workers, how much you need done and the material you want.
Material used
Cost per square foot
Timber
$15 to $25
Cinder blocks
$10 to $15
Bricks
$14 – $15
Sandstone
$10 to $30
Concrete
$20 to $25
Back to top
Outdoor kitchens and BBQs
If you have the budget, an outdoor kitchen provides great opportunities for entertaining. Generally an outdoor kitchen space will include a bar fridge, sink, gas burner for a fry-pan or wok, a pizza oven, bench space and cabinets.
An outdoor kitchen is a luxurious space and a great investment for people who have the budget and love entertaining. Designs vary based on personal need, but most outdoor kitchens and barbecue areas will include a small fridge, a sink, a small stove top or grill, plenty of working space and cabinets for storage. Many people also choose to build a pizza oven for that extra functionality and entertaining value.
What materials should I choose?
For your appliances, opt for stainless steel. When picking out your cabinet materials, choose a durable wood that will last through all sorts of weather conditions. A granite or sealed concrete countertop will be easy to clean and stand up to plenty of use.
How much will it cost?
Like indoor kitchens , there are some appliances and cabinets you can install yourself, but many high-end options will need to be installed by a professional. The cost of a general contractor will vary by location and experience. Many charge up to 20% of the cost of the job and will include their price in the estimate you're given.
The cost of the outdoor kitchen will depend on its size as well as the materials and appliances you choose. A basic outdoor area with a patio, BBQ and countertop may only cost a few thousand dollars, while a luxury design with modern appliances will cost much more. Expect to pay as much for your outdoor kitchen as your indoor, especially if you're starting from scratch. Factor in the cost of your deck and your pergola if you want the area covered.
In addition, you should also consider regular maintenance costs when setting your budget. Outdoor kitchens can be an expensive venture, so plan ahead of time and weigh the pros and cons for use if you're not sure it's something your lifestyle will benefit from.
Back to top
Swimming pools and hot tubs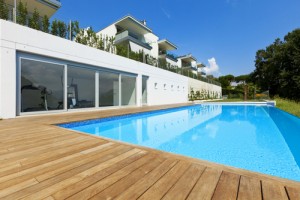 A pool is a classic addition to any backyard, but having one installed can be quite expensive and the ongoing maintenance will incur additional costs for homeowners.
Before building a pool, having a good idea of the soil consistency and what lays underneath will help cut costs. If your property has large rocks that require removal, your estimate won't be accurate–those rocks can costs thousands of dollars to remove.
In terms of the aesthetics of a backyard pool, you may want to consider adding a water feature. This is a great way to increase the value of your pool and make the space relaxing, but there will be an extra cost for maintaining the pumps and water levels.
If you're interested in including a hot tub in your design, consider what you'll be using it for and how you want it to look. An above-ground hot tub will be your cheapest option, but it tends to stick out. Hot tubs that are built into the ground or incorporated into a deck are more subtle, but they will cost you more to install.
What materials should I use?
Your pool can be built from concrete, vinyl or fiberglass. All three are versatile and should fit most lifestyles, but you'll be able to form more unique shapes with a concrete or vinyl pool than you will a fiberglass shell. At the end of the day, the material you choose should be one that fits your lifestyle. Consider overall cost, how much maintenance you'll need to do and the design when picking a material.
In-ground hot tubs are built similarly to pools, with most made of concrete.
Keeping your pool safe
Pools are great for outdoor fun, but they come with the risk of drowning. In order to protect your family and friends, especially young children, from entering the pool unattended, make sure everything is properly secured.
Building a fence
is required by many states, and having a pool cover when not in use will further prevent any unfortunate accidents.
How much will it cost?
The price of having the ground excavated and the pool installed will vary depending on the material you choose. According to Home Advisor, a concrete pool will be your most expensive option to build and maintain, with an average cost of $50,000 to $100,000 to build and a 10-year maintenance cost of $27,000.
Vinyl pools are cheaper in both respects. The cost to install is between $35,000 to $50,000, and you should expect to spend $11,500 on maintenance.
Fiberglass pools are have a similar installation cost as concrete pools, usually between $45,000 to $85,000. However, the cost of maintenance is the lowest. Homeowners spend around $4,000 for 10-year maintenance.
Accessories like pool heaters and covers will increase the cost of installation and maintenance, but many homeowners consider these necessary expenses.
When it comes to hot tubs, the cost will depend on your choice: an above-ground model will be cheaper than an in-ground model. You should expect to pay for digging up the space, the plumbing and the installation. This means that a hot tub could cost anywhere from $4,000 to $15,000. Some models may cost even more. Discuss prices with your contractor and receive a number of estimates before beginning the building process.
Though building a pool or hot tub will be expensive, regular maintenance will impact your monthly bills. Water treatment systems, filters and pumps all increase the cost of a pool or hot tub, and if you can't afford it, your new feature may be nothing more than a costly hole in the ground.
Back to top
Pergola
A pergola is a great way to optimize space in an outdoor entertaining area. They can be covered by planks to protect from the weather, and some designs even feature fans to keep the area cool in the summer. Other designs are open to the air and function as a more aesthetic choice that can define different outdoor spaces.
What materials should I use?
Most pergolas are made out of treated pine, hardwood, fiberglass or aluminum. The roof may be covered with timber slats or a cloth canopy, and many homeowners choose to add a climbing vine like Wisteria, Bougainvillea or Jasmine for shade.
How much will it cost?
Pergolas can cost anywhere from $2,000 to $5,000. However, if you want to use an exotic hardwood or have a multi-layered design, you may find yourself paying much more. The good news is that many basic pergola designs can be purchased as kits and built by any homeowner with the right tools, lowering the cost of labor.
The total cost of your pergola will depend on the material you choose and its size. Discuss all design elements with your builder before finalizing a contract, as running electricity to power lights, fans and stereos will require additional work.
Back to top
Plants
The right plants are an integral component to any outdoor space. They add a natural element to the area and help your yard blend in with its surroundings.
What materials should I use?
Choose species that are suited to your local climate, preferably native plants. These will withstand soil fluctuations and adapt to changing weather conditions better than non-native species, meaning you won't have to replant your landscaping every year.
If you don't have a green thumb, choose low-maintenance plants. If you've got a wall or shed that you'd like to conceal, climbing vines can be used to create a gorgeous green centerpiece in your yard. Overall, your plant choices should reflect your needs. Your choices are limitless.
How much will it cost?
Every yard is unique. This makes it impossible to estimate how much landscaping will cost to plant and maintain. Choosing sturdy, drought-resistant plants in a desert climate will keep costs low when it comes to watering. On the other hand, if you live in a lush climate that receives plenty of rainfall, you may want to choose plants that can take a lot of water without drowning.
If you're unsure where to start or what you might need, you can contact a professional landscaper. They can point you in the right direction and help you make choices that complement your personal aesthetics. If you'd rather go it alone, you can reduce labor costs by buying and planting everything yourself.
Grass and soil
Grass is a crucial component a landscape as it gives natural color, functionality and ambiance to a yard. Of course, behind every patch of grass is good-quality soil, so ensure that the grass species you choose is well matched to the soil beneath it.
What materials should I use?
If you're lucky, the existing soil at your site may be good for the grass you plan to lay on top of it. However, if the soil is not suitable for the species of grass you'd like to plant, you will likely need to buy new soil to accommodate your greenery.
You might need a good-quality topsoil for turf underlay, a premium garden soil to encourage plant growth or a garden mix that contains a combination of organic matter and soil.
When choosing grass for your outdoor project, it's important to make sure the turf you choose is ideal for its intended purpose. Consider the soil, climate, shade cover, what it will be used for and how willing you are to take on extra maintenance duties when making your decision.
Base your decision on your climate. Hot southern summers will benefit from warm season grasses, whereas cool season grasses do better in other parts of the US.
Some commonly available grasses are:
Buffalo. Known for its soft leaves and tolerance to shade and sun, Buffalo is a warm season grass that's quite low maintenance.
Centipede. This warm season grass is great for weed prevention, but it's best for truly southern regions because of its inability to go dormant during cold months.
Zoysia. Slow to grow and resistant to heat, Zoysia is famous for its low-maintenance properties.
Fescue. This cool season grass requires regular watering but produces a thick and soft coverage.
Kentucky bluegrass. This is one of the more common types of grasses. It covers bald spots in your lawn, but you'll need to water it often.
Perennial ryegrass. Found across much of the US, perennial rygrass is quick to germinate and can be used as ground cover while you're waiting on other grass species to grow.
There are many other species, so be sure to do your research and find a species that can withstand the amount of sun or shade you get and does well with your water levels and the pH of your soil.
How much will it cost?
Turf costs vary depending on the variety of grass you choose. Bags of seed can cost anywhere from $15 to $70 or more. If you're covering a bare patch, you can opt for a 3- or 7-pound bag, but if you're redoing your whole lawn, multiple 20-pound bags may be necessary.
Rather than starting from seed, you could choose a sod option. This will be a more expensive option, with most sod pieces costing about $0.30 to $0.80 per square foot. Unlike with seed, it's best to go with a professional sodding team to tackle this project. The total installation cost is about $2,000 across the US, and you'll save a lot of time and backache relying on the professionals rather than trying to do it yourself.
The major difference between these two options is the total cost per square foot. Seeds will only be about $0.05, saving you hundreds of dollars in the long run. However, you'll have to wait months for full growth, whereas sod is ready to go soon after installation.
Weigh the costs with the benefits, and you can decide if the money is well-spent.
Fences
A fenced backyard is a necessary component of many homes. It can keep kids and pets from wandering off, and if you live close to neighbors, a tall fence can protect your privacy. Beyond the functional aspects, a good fence can be an important aesthetic choice that affects the overall look of your landscaping. Making the right choice is critical when seeking to add value to your home.
What materials should I use?
There are several fencing options available for your outdoor renovation project, including:
Wood fencing. Cost-effective and durable, wood is the most common fence material. It can be painted, stained or treated to achieve the look you want, and treating it will prevent rot, termites and other problems.
Aluminum fencing. While not the most secure option, an aluminum fence is a good aesthetic choice and requires very little maintenance. It's perfect for surrounding pools or in neighborhoods with low crime rates.
Wrought iron. Wrought iron provides a beautiful statement piece and is quite secure, but it does require much more maintenance than other types of fencing and is prone to rust in wet climates.
Vinyl. This is a low-maintenance, long-lasting option for people who want a variety of options and who don't want to spend time every year restaining wood or polishing wrought iron.
Chain link. The most basic material for a fence is chain link. Found across the US, a chain link fence is standard for people who want security and aren't concerned with landscaping.
How much will it cost?
The material you select will be the main influence on the cost of your fence, but the height and length will also play a large role, as will the shape of your yard. Your standard wood fence will cost anywhere from $8 to $20 per linear foot, while a vinyl fence usually costs $15 to $40 per linear foot. Labor for both will run you more than the materials, so you should expect to pay your contractor $30 to $50 per hour.
As with most projects, the final cost is dependent on your specific needs. Receiving quotes from multiple contractors will help you learn the average price for having a fence built.
Tips for a more successful renovation
Like any major renovation, the factors to consider before throwing your time and money at a landscaping project can seem endless. Here are just some of the things to keep in mind before starting an outdoor renovation.
What sort of ambiance are you after?
Ambiance is everything, according to Michelle Bull, who suggests that homeowners envisage the end result of the design and aesthetics of their backyard before starting the project.
Ambiance is important to many homeowners. When planning a project, visualize how you want the end result to look. This will help you determine design essentials, choose appropriate plants and create an overall aesthetic that matches your home and lifestyle needs.
The more complicated your final project, the more expensive it will be. If you're going for a tropical garden but live in an arid climate, you're going to spend plenty of money on watering your plants. The end cost needs to be a major consideration when deciding what sort of ambiance you're seeking to develop.
What's the orientation of the space?
If your yard is facing north, shade structures will be important to avoid sun constantly beating down on your patio or deck. Plants that can absorb plenty of sun and keep going will also be important, as you don't want to dry them out and have to replace them often. On the other hand, a south-facing yard will likely be shady to begin with, so your design elements need to take this into consideration when deciding how you want to set up your yard.
What size is the space?
You won't be able to fit a huge pool and water feature if you have a small yard. Likewise, a large yard may necessitate a division of spaces–something that will certainly cost more to plan and execute. Pick your features wisely, and don't try to fit too much into a small area. This creates visual clutter and can detract from the appearance of your yard.
What features will you include?
Most homeowners find a sturdy deck or patio is necessary for enjoying the outdoors. The right plants can make a great deal of difference, but other than these, the other features you choose to include in your yard depend entirely on your budget and lifestyle. If you're more into hosting large parties, an outdoor kitchen may be suitable for your needs. If you have kids or grandkids visiting often, a pool can help provide relief from the hot summer months.
Decide what you want your yard to be used for, then choose your features with your budget at the front of your mind.
What services will be required?
Think gas, electricity, water. You'll need to maintain these utilities once your have your outdoor space renovated. Lighting pathways, filling your pool and even running the grill all rely on outside power.
Before you worry about the potential cost of your utilities, you should budget for the cost of hiring a professional. Finding the right builder is crucial. Check references, request to see past work and don't hesitate to request quotes from multiple contractors. It's important to compare prices and experience. While you may have to pay more for one contractor, if their work history shows them to be dedicated to their craft, it will be worth the extra month.
How will you pay for your renovations?
Many of these projects are quite expensive. Having money in the bank may be an option for some, but for most, it will require borrowing money to pay for a renovation that will pay off in the long run. Here are a few options for people looking to finance their landscaping renovation:
Discover all your home improvement financing options here
Apply for Financing
Bottom line
When you're planning a renovation, it can be difficult to know where to start. Choosing your project is the first step to renovating your backyard to be the outdoor retreat you've always imagined.
Frequently asked questions
Images: ShutterStock
More guides on Finder