New loan directly pays your child care providers each month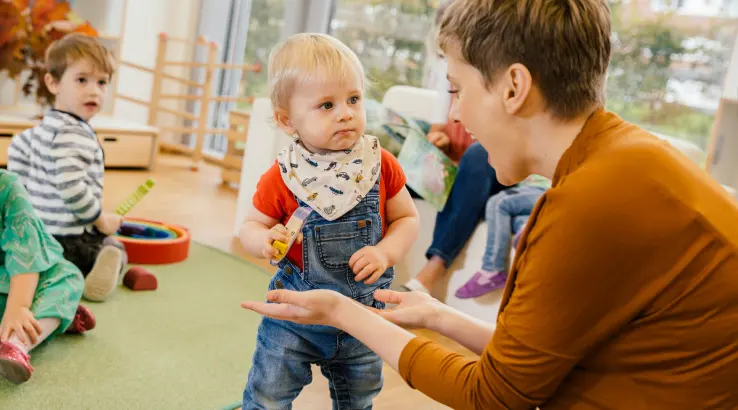 KidVantage offers a hands-off way to make room in family budgets.
Jump Start Finance (JSF) rolled out a new loan program on Tuesday that's specifically for parents struggling with the cost of child care. The KidVantage loan program will directly send monthly payments to companies and individuals that care for your kids, such as nannies, daycares and preschools.
How does it work?
The KidVantage loan works more like a credit card than your standard personal loan. If you're approved, the KidVantage loan will cover a percentage of your monthly child care expenses — starting at 40% and going up to $2,000.
JSF pays your child care providers on the first of each month, and payments from the borrower are due on the 27th. You can make a monthly payment on your balance. Or if you pay it off in full, you can avoid paying interest on that month's expenses.
How much does it cost?
JSF charges interest on any balance that is left after the 27th, and its rates run from 6.9% to 21.9% — lower than your typical credit card. And if you sign up for automatic payments, you can qualify for a 0.5% rate discount.
The only other fee is if your payment doesn't come in on time. JSF also charges a $35 fee if your payment is late or bounces. There's no origination fee or annual fee.
Who can apply?
Parents must meet the following requirements to qualify for the KidVantage loan:
Credit score of 650 or higher
Use a licensed child care provider
Annual income of at least $35,000
US citizen or permanent resident
Over 18
California or Colorado resident
While KidVantage loans are only available in two states, JSF has plans to expand the program by the beginning of 2021.
How to apply
You can apply by filling out a short application on the JSF website. You'll need to provide your basic contact information, monthly income, housing and child care expenses. Then read the disclosures and submit the form.
After you submit your application, you should receive a tentative offer and steps to complete your application and register your child care provider for payments.
If you're approved, JSF is currently offering $100 toward child care as a promotion.
How does it compare to other products?
The KidVantage loan program is one of a kind. Few lenders will regularly disburse funds to your child care provider each month — if any. And most loans don't come with the option to pay off the balance in full each month.
Its rates are also relatively low even compared to other personal loans. It's common for lenders to charge up to 36%, which is the legal limit in many states. But if you have excellent credit — or a score over 740 — and make a salary well over the $35,000 minimum, you might be able to find a lower rate with another personal loan provider.
Serving parents during a time of need
The KidVantage loan comes at a time when parents need help covering child care expenses more than ever. With schools either fully or partly closed due to COVID-19, many working parents have to turn to other resources to keep children busy. And with record layoffs, scaled-back salaries and delayed promotions, new child care costs often don't fit into family budgets.
"This is very personal to me, as we have two kids and have experienced firsthand the financial strain we are solving," said JSF Chief Analytics Officer John Chalekian in a statement.
"Many parents face challenges in finding care that fits in their budget. They often settle for a lesser option in selecting a facility or provider. Many leave the workforce despite a preference to remain or opt to use high-interest credit to pay for care. We've created flexibility and the opportunity to make the best child care decision at a monthly payment families can afford."
Photo: Getty Images