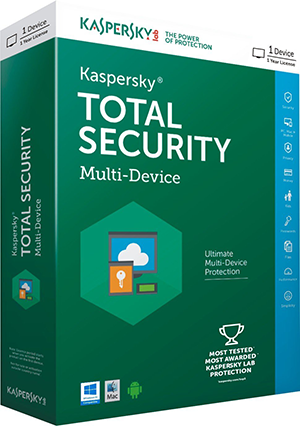 Over the years, you may have heard how important it is to secure your computer while using the internet. It's definitely good advice, as sensitive information is stolen online every day — particularly from PCs that don't deploy security software.
We'll talk more about internet security in this guide, as well as why companies like Kaspersky spend so many resources on cybersecurity technology. Furthermore, we'll discuss Kaspersky's all-in-one solution for computer protection, Total Security, so you can see if it's right for you and your PC.
Why are internet security and security software important?
When you think about internet security, just draw a parallel to your own home. Within your residence, you have locks on your door and blinds to cover your windows. These keep people from stealing things from your home and seeing what you do inside it.
In many ways, browsing the internet exposes your computer to a lot of potential threats. If you have information on your PC, it can be stolen. Malicious software can allow others to see what you do on your computer. If you don't have tools that shield you from these threats, it can be very risky to go online.
While it's very difficult to be 100% protected from all threats, deploying security software on your computer will vastly decrease your risk while browsing the internet. Some software that could help include:
Firewall. The job of a firewall is to keep unauthorized users out of your computer while letting authorized users (like you) use the PC unrestricted.
Antivirus. Antivirus software prevents viruses, or malicious computer codes or programs, from attacking your PC.
Antispyware. This software prevents spyware from stealing information from your computer.
Online threats shift all the time, which is why cybersecurity firms always have their hands full tweaking their technologies and developing new defenses. Kaspersky is one of those companies, and it's created a product called Total Security to protect consumers' PCs.
What is Kaspersky Total Security?
Total Security is Kaspersky's flagship suite of computer protection. It wraps a firewall, antivirus software, and antispyware software into one package along with real-time security monitoring.
To compare the software with other options, let's look at Kaspersky's different security packages:
The basic-tier solution is Kaspersky Anti-Virus, which mostly offers protection from basic internet threats.
The mid-tier solution is Kaspersky Internet Security, which offers protection from online threats and gives financial and identity protection.
Kaspersky Total Security is the top-tier solution. Beyond the features offered by the lower tiers, Total Security also brings file backup, password management, and data encryption.
Kaspersky Total Security is a good option if you:
Want advanced tools to monitor your kids' online activity and device usage.
Need a password encryption tool and/or password manager.
Think automatic backups of your data could be helpful.
Need to encrypt files or wipe files completely from your computer.
If you don't need these features, consider Kaspersky Internet Security instead, which offers most of the tools of Kaspersky Total Security.
What devices can Kaspersky Total Security run on?
Depending on which package you purchase, Total Security can run on anywhere from 3 to 10 devices. Devices you can use the software on include:
Desktops (Windows and Mac)
Laptops (Windows and Mac)
Tablets (Windows-based and Apple)
Smartphones (Android-based and iPhone)
It may be an especially good idea to deploy security software on your family's mobile devices. Even though security software for handhelds isn't particularly widespread, there are still threats that can attack mobile devices.
How reliable is Kaspersky and the Total Security software?
Kaspersky was founded in 1997, and it now operates in 200 countries. Since its inception, the company has consistently developed new computer security technologies and has built a sterling reputation in cybersecurity.
Meanwhile, Kaspersky's flagship product Total Security has seen excellent reviews online. PC Magazine gave the software an "Excellent" rating and the PC Magazine Editors' Choice Award, on top of scoring it highly for antivirus protection. Tom's Guide also thought it was superb, saying Total Security offers "near-perfect protection."
If you have any questions, let us know
Have questions about internet security or Kaspersky Total Security? If you can't find the answer in our FAQ section below, don't hesitate to contact us anytime.
Frequently asked questions
Kaspersky Total Security's key features explained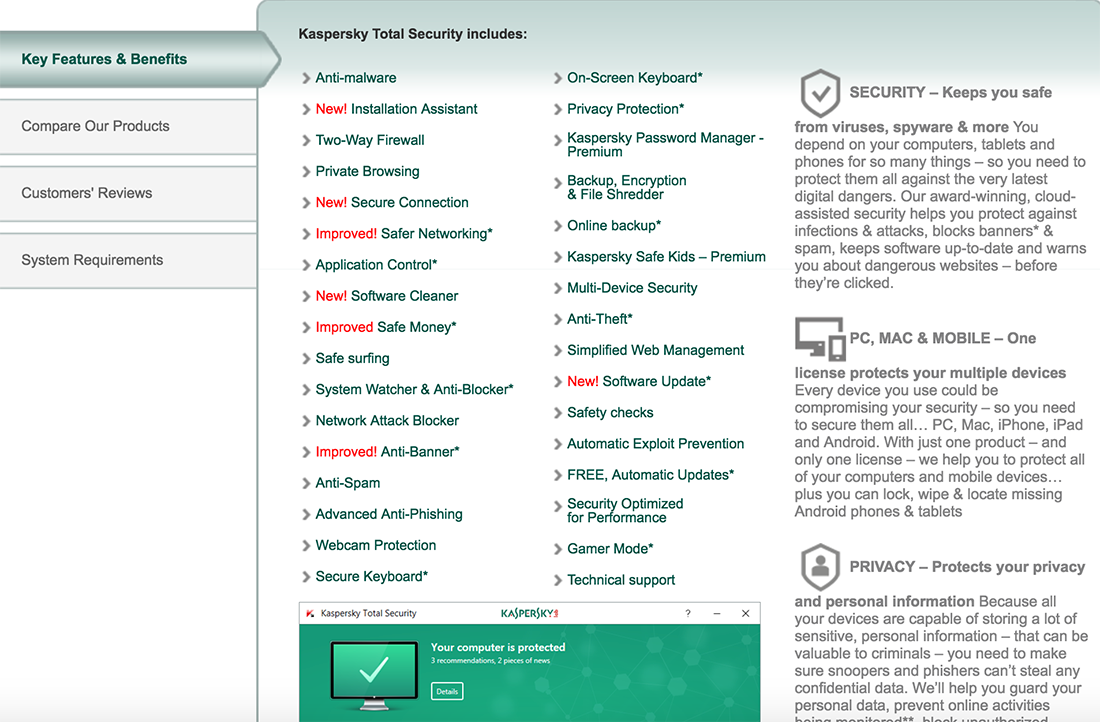 Kaspersky Total Security offers a suite of features, ranging from general protection tools to security alerts and more. Here's a rundown of the software's key features.
General protection
Anti-malware. Malware is short for "malicious software," and it includes software like spyware, worms, adware, and keyloggers. Total Security helps keep malware off of your computer.
Installation Assistant. When you install new programs, other programs may be installed without your knowledge. Installation Assistant ensures you only install the programs you want.
Two-way firewall. Typically, a firewall only controls what traffic gets through to your PC. However, Total Security's two-way firewall also monitors the traffic leaving your PC, so your private files aren't being transmitted from your computer.
Secure connection. Because it encrypts your data, a secure connection is particularly helpful if you often use public networks (like, say, the Wi-Fi at a coffee shop).
Application Control. With Application Control, only applications you've whitelisted will be allowed to run on your computer.
Safe Money. Total Security's Safe Money feature adds another layer of security when you access banking or payment websites.
Network Attack Blocker. The Network Attack Blocker identifies suspicious activity on your computer and blocks it.
Anti-Banner. Anti-Banner blocks banner ads while you're surfing the web.
Anti-Spam. Keeps spam from hitting your device.
Advanced anti-phishing. Phishing means scammers pose as reputable companies or people in an attempt to steal information. Total Security's anti-phishing engine will help you avoid giving information to phishing websites.
Exploit prevention. Kaspersky Automatic Exploit Prevention constantly scans your computer for vulnerabilities.

Security alerts
Wi-Fi security notifications. Total Security will let you know how secure your current Wi-Fi network is.
Safe Surf technology. Safe Surf helps you gauge how secure websites are with "Trusted," "Suspicious," and "Dangerous" ratings.

Hardware protection
Webcam protection. Through malware, attackers can gain control over your webcam. Total Security will prevent remote efforts to do so.
Secure Keyboard. The Secure Keyboard feature prevents keyloggers from tracking the typing on your keyboard.
On-screen keyboard. Another way to subvert keyloggers is by using an on-screen keyboard that you click on with your mouse.

Data protection
Password Manager. Kaspersky's Password Manager can help you store your various passwords. All you need to remember is one master password to access the password manager across devices.
Backup, encryption, and File Shredder. You can schedule automatic backups of your data, encrypt sensitive files, and delete files completely.
Online backup. You can create file backups in the cloud with Dropbox.
Anti-theft. If your device is stolen, Kaspersky's anti-theft features let you block access to the device and find its location.

Ease of access
Kaspersky Safe Kids. Kaspersky's parental controls give you features like device usage scheduling and reports about your kids' browsing activity.
Free updates. Your product will always be kept up to date at no additional cost.
Gamer mode. Gamer mode ensures you won't be interrupted by notifications while playing PC games.
How much does Kaspersky Total Security cost?
There are multiple purchase options for Total Security depending on how long you want protection for. If you buy protection for longer periods, you'll save more on the purchase. You can also click on the product link on this page for an additional discount.
Number of devices
Pricing
Anti-Virus protection only for up to 3 devices

1 year: $49.99
2 years: $99.98
3 years: $149.97

Internet Security protection for up to 3 devices

1 year: $54.99
2 years: $109.99
3 years: $164.98

Total Security protection for up to 5 devices

1 year: $59.99
2 years: $119.99
3 years: $179.98

Total Security protection for up to 10 devices

1 year: $89.99
2 years: $179.99
3 years: $269.98
Kaspersky Total Security deals: