Johnson & Johnson stock climbs 3.5% on rising dividend, earnings beat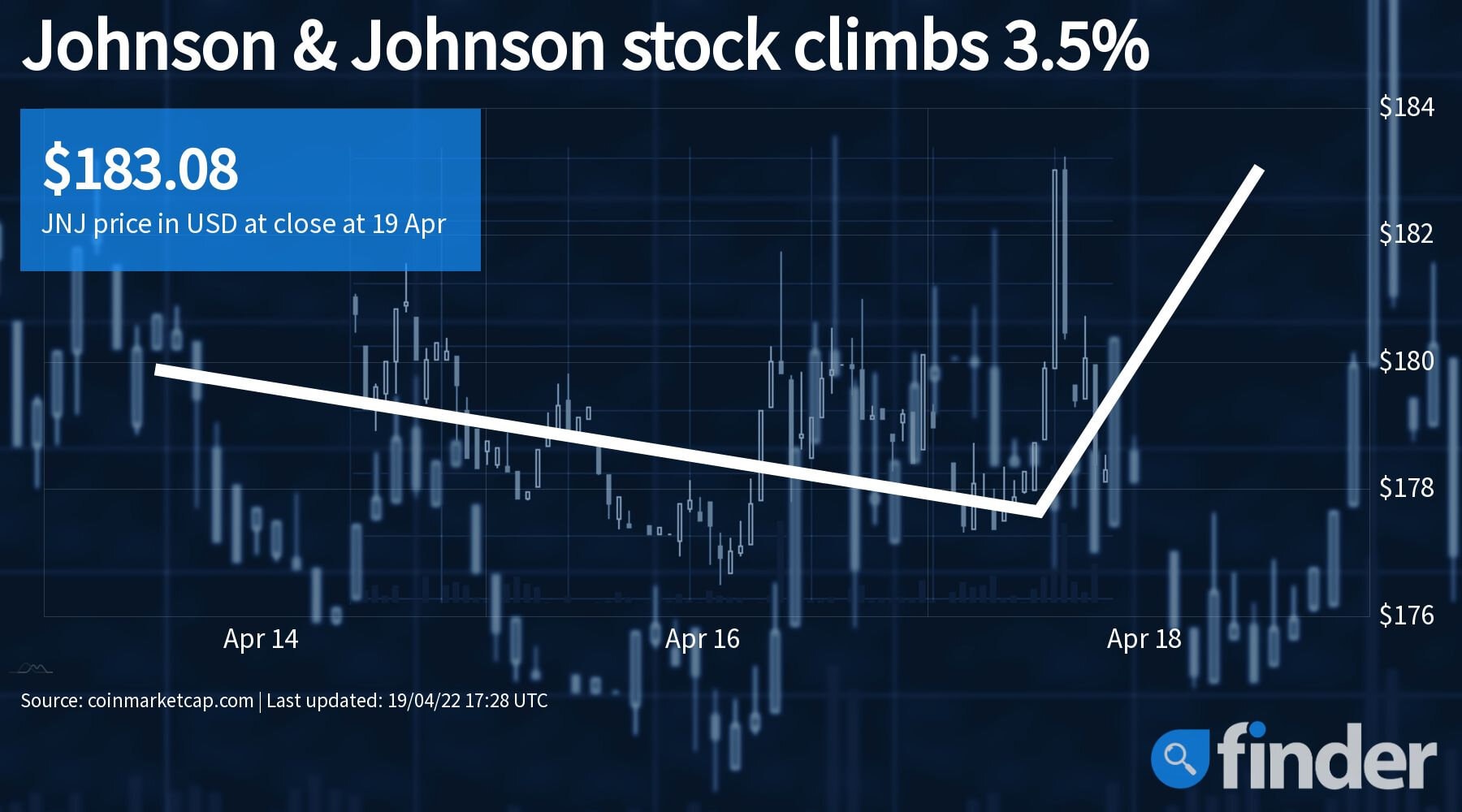 The company's board raised its quarterly dividend by 6.6%, boosting the stock's investment appeal. That came as Johnson & Johnson cut its full year outlook.
Shares of Johnson & Johnson (JNJ) are climbing Tuesday after the company increased its quarterly dividend, boosting its investment appeal. The company raised the payout even as it cut its full-year profit outlook. The board declared a 6.6% increase in dividend to $1.06 a share, the company said in a press release, after announcing mixed first-quarter 2022 financials.
The stock climbed as much as 4.7%, helping push Dow Jones Industrial Average (DJIA) into positive territory.
Here's what investors should know going forward.
What happened?
Johnson & Johnson reported a 5% growth in sales of $23.4 billion in the first quarter, falling short of the $23.6 billion expected by Wall Street, according to estimates published by CNN. "The slight miss was really around the COVID-19 vaccine," Johnson & Johnson Executive Vice President & Chief Financial Officer Joe Wolk told CNBC's Meg Tirrell on Squawk Box Tuesday morning. "And quite frankly, it met our internal expectations. There was just a disconnect into how the Street assumed it was going to play out over the year."
Adjusted earnings rose 3.1% to $2.67 per share, topping analysts' estimates that called for $2.58 per share.
The company is now forecasting 2022 sales of $94.8 billion to $95.8 billion, which is about $1 billion lower than its previous guidance provided in January, according to its press release. Johnson & Johnson also cut its full-year adjusted earnings to between $10.15 to $10.325 per share, down from its previous forecast of between $10.40 to $10.60.
The company has decided it won't be providing an outlook on its full year COVID-19 vaccine sales.
"As market demand for all COVID-19 vaccines is currently challenged by global supply surplus and vaccine hesitancy in developing markets, we have made the decision to suspend guidance for sales of our COVID-19 vaccine," Wolk said during an earnings call with investors Tuesday.
This will allow investors to focus on Johnson & Johnson's core businesses, which drive the current and future value for investors, Wolk added.
The company reported $12.87 billion in pharmaceutical sales — its largest segment — for the first quarter, an increase of 6.3% over the same quarter last year. Johnson & Johnson's medical devices component grew by 5.9% to $6.97 billion in sales, while its consumer health business, which the company plans to spin off, fell 1.5% year over year to $3.59 billion.
Johnson & Johnson also announced Tuesday its board has approved a 6.6% increase in its quarterly dividend to $1.13 per share, citing strong 2021 performance. It's the 60th consecutive year the company has raised its dividend.
Now what?
Johnson & Johnson had predicted COVID-19 vaccine sales of $3 billion to $3.5 billion for full-year 2022. But the sales of the shots were never expected to be material, given that the company made its COVID-19 vaccine available on a not-for-profit basis.
While the first quarter results were slightly below Charles Schwab's estimates, analyst Damien Conover said that's not enough to change their fair value estimate on the stock. When asked about no longer providing a sales outlook for its COVID-19 shots, Wolk said it was unusual to give product-specific guidance in the first place.
Of the 23 analysts covering the stock, 12 give it either a Strong Buy or Buy, versus eight Holds, two Underperforms and only one Sell. Growth investors will likely continue to find Johnson & Johnson stock a worthwhile investment. The stock is up about 10% over the past year and almost 50% over the past five years. Still, the upside could be limited, with the average analyst target price of $187.79 just above Tuesday's close of $183.08, according to Yahoo Finance data. For a 5-year view of the performance of this stock, see the graph in our dedicated guide.
Investors are seemingly heading more for defensive sectors they believe can better weather geopolitical uncertainty and a possible impending US recession.
Johnson & Johnson is also a dividend king, paying dividends for the last 59 years. At the time of publication, Matt Miczulski did not own shares of any equity mentioned in this story.
Ready to open an account or considering a new broker? Find the best online brokers for your needs. Or check out fees and features in our comparison table to find a better deal today.
Information on this page is for educational purposes only. Finder is not an advisor or brokerage service, and we don't recommend investors to trade specific stocks or other investments.
Finder is not a client of any featured partner. We may be paid a fee for referring prospective clients to a partner, though it is not a recommendation to invest in any one partner.