Jeffree Star's nude palette is coming in 2020 | Why should you buy it?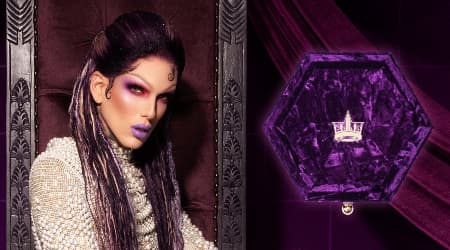 It's a first for the color-soaked brand.
With Jeffree Star Cosmetics set to drop its purple-punched Blood Lust collection on Feb. 21, fans are already hyping a far more subtle range of shades set to debut. Star confirmed in a YouTube comment his first nude palette is coming sometime this year.
Jeffree Star's multimillion-dollar line — which includes the candy-colored Controversy and Jawbreaker palettes and mint-green Skin Frost highlighter — is known for playing with color, making the upcoming neutral launch unlike any we've seen from the brand.
But knowing Jeffree Star, it'll be anything but basic.
What we expect to see in Jeffree Star's nude palette
Though Jeffree Star Cosmetics has not confirmed a release date for the nude palette, we have a few predictions of what it'll include. And with the brand's stellar customer reviews, it's likely going to be a staple in our makeup kits. Judging from eye-popping palettes like Jawbreaker and Blue Blood, you can expect:
Pigmented shadows. The brand's set the bar high with pressed shades that glide on with extreme color payoff.
Large shade range. Most Jeffree Star palettes have at least 10 shades, and Jawbreaker has 24.
At least three formulations. You'll usually see a mix of matte, shimmer and metallic shades in a Jeffree Star palette. We're hoping for a similar range in the upcoming nude palette.
Clever packaging. Take a look at the Blood Sugar palette for inspo.
Blunt shade names. Never one to mince words, Star's memorable shade names include Bite Me, Cancelled and some too vulgar to print.
Vegan and cruelty-free. As always.