Finder is committed to editorial independence. While we receive compensation when you click links to partners, they do not influence our content.
Naughty Dog: "I would not bet on a new Jak and Daxter anytime soon"
Since Naughty Dog shifted gears, many have been left wondering what the fate will be for two of PlayStation's most beloved characters.
Aside from its brief venture onto PSP with Daxter and Jak and Daxter: The Lost Frontier both well-received titles — the last time we saw a new entry in the franchise was the racing hybrid Jak X in 2005. It was an enjoyable romp, but maybe not the send-off for which the fans had long hoped.
Jak and Daxter popped up on our radars again in 2012 when an HD collection released on PS3, but since then there's been nothing but whispers about the treasured franchise.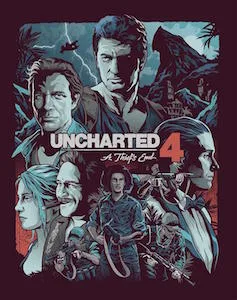 Uncharted 4: A Thief's End Special Edition
from Best Buy
Packaged with the Uncharted 4: A Thief's End Special Edition is an Uncharted 4: A Thief's End Blu-ray disc, Collectible steel case designed by Alexander "That Kid Who Draws" Iaccarino, 48-page hardcover art book by Naughty Dog and Dark Horse, Naughty Dog & Pirate Sigil Sticker Sheet and Naughty Dog Points that unlock new multiplayer skins and content.
View details
With each subsequent Uncharted title outperforming the last and the legendary The Last of Us under their belt, the creators behind the most iconic PlayStation characters to date have remained in the limelight. If the fervor around the leaked concept art for the axed Jak and Daxter 4 has proven anything, it's that the series is still fondly remembered. However, where Jak and Daxter (and even Crash Bandicoot yes, also a Naughty Dog creation) differs from the studio's current catalog of top-selling games is its fantasy setting.
Sure, The Last of Us and Uncharted universes have their fair share of fantastical elements, but they're both somewhat grounded in reality. According to Arne Meyer — community strategist at Naughty Dog — that might be the one thing holding a new Jak and Daxter back.
Check out our complete list of PS4 title install sizes
Check out what Meyer had to say about a new Jak and Daxter (and that concept art) below.
Arne Meyer
– Community Strategist for Naughty Dog
– Former Community Engagement Manager at Vivendi Games
– Proud of owner of one of the most mouth-watering,
vegetarian-friendly Instagram accounts around
If you were a betting man, what do you think the odds are of a new Jak and Daxter game making its way to the PS4 generation?
AM: I would not bet in favor of it. We did try it; we did try. I mean our fans really love Jak and Daxter, so we did try. I think you've seen the concept art that came out when we were exploring it before we settled on the Last of Us. But all of the directions we were trying to take it just didn't feel great. So much about these decisions is based on gut and instinct. We kept thinking, "it just doesn't look right. It just doesn't feel right." The types of stories we're telling right now really are grounded in realism.
The land of the precursors is a very different one to that of Uncharted or The Last of Us…
AM: Yeah, to go to fantasy would be a big shift for us. It doesn't mean that we wouldn't be able to do it in the future.
So Keef the Thief is off the cards?
AM: (Laughs) Yeah, I think Keef the Thief is off the cards. But Way of the Warrior was pretty realistic, right? So, yeah, I would not bet on a new Jak and Daxter anytime soon with the way that things are going.
More guides on Finder