Finder is committed to editorial independence. While we receive compensation when you click links to partners, they do not influence our content.
Is MyPoints legit?
Earn money for taking surveys and shopping, but be aware that your data could be sold.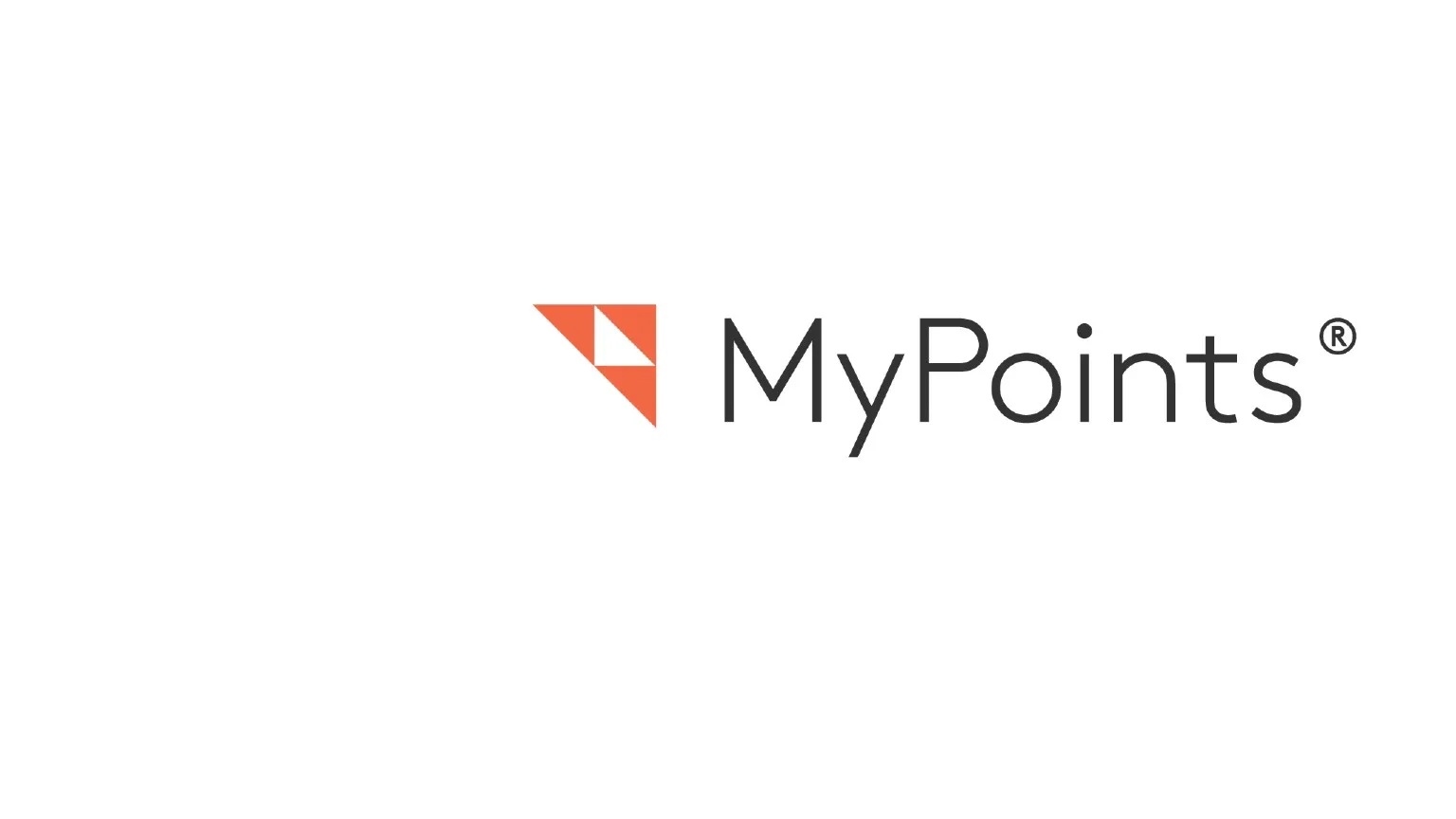 MyPoints rewards users with points that can be redeemed for totally legit gift cards. But it tracks, collects and shares your online activity with third parties.
How does MyPoints work?
MyPoints is a platform where you earn points and redeem them for gift cards to over 85 retailers, including Amazon, Apple, CVS, Sephora, Target and Walmart. It's owned by a marketing company called Prodege, the parent company of similar sites like InboxDollars, MyGiftCardsPlus, Swagbucks, Upromise and more.
You can use MyPoints online or through its app, which is available in the Apple Store and Google Play.
How much are points worth?
The cash value of points earned on MyPoints varies, depending on the gift card you choose. But in general, one point equals between $0.006 and $0.007. For example, a $25 PayPal gift card requires 3,970 points.
Each retailer has multiple gift card values to choose from, ranging in value from $3 to $100 or more. The minimum amount of points you'd need to redeem a $3 gift card is 250.
To give you an idea of what to expect, here's a roundup of more MyPoints gift card deals in September 2020:
| Provider | Gift card amount | Points to redeem |
| --- | --- | --- |
| Amazon gift card | $50 | 15,500 points ($0.003 per Point) |
| Barnes and Noble gift card | $50 | 7,000 points ($0.007 per Point) |
| Cracker Barrel gift card | $50 | 7,940 points ($0.006 per Point) |
| Delta gift card | $100 | 15,880 points ($0.006 per Point) |
| Old Navy gift card | $25 | 3,500 points ($0.007 per Point) |
| Safeway gift card | $50 | 7,700 points ($0.006 per Point) |
| Amazon gift card | $50 | 15,500 points ($0.003 per Point) |
| Target gift card | $10 | 1,590 points ($0.006 per Point) |
| Ulta gift card | $50 | 7,940 points ($0.006 per Point) |
How to use MyPoints
To get started with MyPoints, create an account.
Visit the MyPoints home page.
Enter your email address and create a password.
Review the privacy policy and terms.
Select Join Now.
After verifying your email, you can begin earning points. There are five ways to do this:
Take surveys. Collect rewards by answering questions based on your demographic. Points vary, depending on the survey length. A 30-minute survey could award about 340 points, while a five-minute survey can grant around 40.
Watch videos. Earn two to three points by watching vids about current events, lifestyle and trends.
Play games. Spend money while playing MyPoints games like solitaire, Angry Birds, Trivial Pursuit and more, and earn four points for every dollar.
Shop at select retailers. Get points when you make purchases online or in person at participating retailers. To do this, connect your credit card to your MyPoints account, choose cashback offers to link up in advance, and shop using that credit card.

Discover and Diners Club cards aren't eligible for in-store shopping, so use an Amex, Mastercard or Visa if you plan to earn Points by shopping in person.

Utilize its search engine. Ask a question, click Search and earn points simply by being curious.
You can get even more points by taking advantage of MyPoints' special bonus offers — like the Dining Deals Link Bonus, which gives 50 points for adding your credit card and using a dining deal.
Answer a single question in the Daily Poll to earn one point in less than a minute.
Earn more with MyPoints Point Perks
Point Perks are a way to earn extra points without putting in much effort. These are 13-character lines of text that are placed randomly around the website. When you find a Points Perk, enter it into the Points Perks box in the upper righthand corner of the page and click Redeem to be rewarded extra points.
Point Perks are released multiple times a week. MyPoints announces the location of each Point Perk on its social media.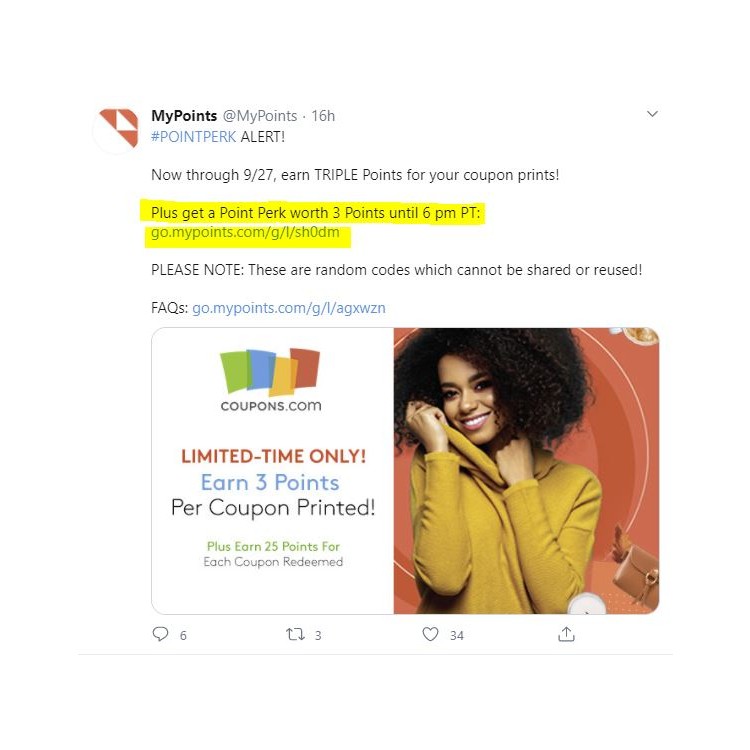 Referring a friend with MyPoints
Earn 25 points instantly when a friend accepts your referral invitation. If that friend spends $20 or more, expect as many as 750 points. And you can be rewarded 10% of their bonus points as long as they're active.
MyPoints browser extension
The MyPoints browser extension, called Score, automatically alerts you to opportunities for earning points as you browse the web. But keep in mind that when you add Score, it tracks your browsing activity and potentially shares it with advertisers, merchants and other third-party affiliates — on MyPoints, affiliate websites and other websites, too.
How to earn $10 immediately
Spend $20 in the first 30 days after opening a MyPoints account to earn a $10 welcome bonus. That's all it takes.
User privacy when using MyPoints
After signing up for MyPoints, it installs cookies that track your online activity and shares it with third-party affiliates and marketing companies. If you use the mobile app, MyPoints utilizes geolocation technology to determine exactly where you are located and when you're on your phone. Disable the location services for the app to turn it off, but it may limit the number of surveys available to you and affect your point-earning ability.
MyPoints defines your personal information as your name, location, credit card number, email address, mailing number and phone number. And it may share this personal information with advertisers, merchant and survey partners, and "others," according to its privacy policy.
While on the surface MyPoints is a fun way to earn points and gift cards, in reality it's a marketing company that profits from your data, opinions, habits and insights. And when you take surveys on MyPoints, it requires your honesty, so this might not be a good platform for people who prioritize privacy.
Does MyPoints sell my personal information?
No, MyPoints doesn't rent or sell your personally identifiable information. But again, it does share your data with third parties.
MyPoints customer reviews and complaints
MyPoints has a 4.5 Excellent rating on Trustpilot, compiled from over 5,600 reviews. Overall, users are happy with the ability to accumulate and redeem points for gift cards and PayPal money. On the BBB, its parent company, Protege, has been accredited for 15 years and has 4 out of 5 stars from over 1,100 reviews.
However, we should note that MyPoints hasn't responded to any of the complaints posted on the BBB and Trustpilot. There are dozens of poor reviews from people who can't cash out, and customer service doesn't seem to be around to help.
Deals from MyPoints partners
Bottom line
Overall, MyPoints is a legit company that rewards you with cash back for taking advantage of its deals. But if you're uncomfortable with your browsing habits and online activity being tracked and shared with third parties, you can save money by using coupon codes instead.
More guides on Finder