IRS Unveils New Form for Senior Citizens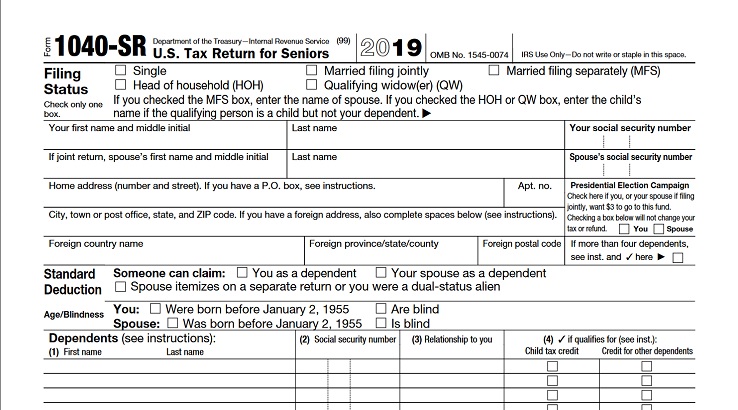 Form 1040-SR will feature large print, no line shading, and the standard deduction chart on the front page.
The IRS has introduced Form 1040-SR — a larger-font version of the Form 1040 designed to make it easier for senior citizens to read and use them. The form will also feature a standard deduction chart printed on the front page to make it easier to produce simple returns. Line shading has also been removed.
"Taxpayers born before January 2, 1955, have the option to file Form 1040-SR whether they are working, not working or retired," a blog post on the IRS website explains. "The form allows income reporting from other sources common to seniors such as investment income, Social Security and distributions from qualified retirement plans, annuities or similar deferred-payment arrangements."
"Seniors can use Form 1040-SR to file their 2019 federal income tax return, which is due April 15, 2020. All lines and checkboxes on Form 1040-SR mirror the Form 1040, and both forms use all the same attached schedules and forms."
The Need for Large Print
Form 1040-SR is the product of the 2018 Bipartisan Budget Act, which sought to make tax preparation simpler for senior citizens, who may struggle with the small fonts of government forms and schedules. As senior citizens are more likely to still use paper returns, making them more accessible seems logical on cursory examination.
The form is optional for taxpayers age 65 or older. Championed since 2013 by AARP, the National Taxpayers Union, and the Association of Mature Americans, the idea was not able to get past the Senate until 2018. The Form 1040-SR was ruled necessary at the time because taxpayers over age 65 were not allowed to file using the Form 1040-EZ. The 1040-EZ was limited to income from wages, salaries, unemployment compensation, tips, educational scholarships and grants, and dividend income from Alaska Permanent Fund payments.
Social Security and retirement benefits were excluded from the Form 1040-EZ. The 1040-EZ was mothballed in 2017 with the redesign of the Form 1040.
With over 90% of Americans using tax software to prepare their taxes, most tax filers will not notice a difference until they are ready to print their taxes. For the remainder, this switch in paperwork — quickly following another switch in paperwork — will likely cause confusion. This is in part because the Form 1040-SR is longer than the redesigned Form 1040. The new Form 1040-SR is similar in design and layout to the pre-2017 Form 1040.
Tax filers who itemize due to state or local taxes or because of charitable giving will not be able to use the Form 1040-SR.