Finder is committed to editorial independence. While we receive compensation when you click links to partners, they do not influence our opinions or reviews. Learn how we make money.
Send money to Mexico
Find the best way to transfer money from the US to Mexico.
The best way to send money to Mexico depends on how much you're sending and your payment method. WorldRemit or MoneyGram offer your loved ones many locations for cash pickups. TransferWise has competitive exchange rates, while XE and InstaReM support fee-free transfers. Compare digital money transfer specialists to save more of your hard-earned money with strong rates and low fees.
Send money to Mexico with WorldRemit
Use promo code 3FREE to send your first 3 transfers with no fee. Send to 110+ countries for bank-to-bank deposit, cash pickup or mobile top-up.
Use promo code 3FREE to send your first three transfers with no fee.
No minimum transfers.
Wide range of destinations.
Competitive exchange rate.
Compare ways to send money to Mexico online
Enter the amount you want to send and click Calculate to see how much your transfer to Mexico could cost. Once you decide on what provider is right for you, click Go to site to start your transfer.

Disclaimer: Exchange rates change often. Confirm the total cost with the provider before transferring money.
What's the best way to send money to Mexico?
To help you narrow down the best, we sent live transfers to Mexico through 13 top providers to see who rose to the top in cost, trust, speed, convenience and user experience.
OFX and XE for large bank deposits
OFX is the best way to send large amounts of money for bank deposit in Mexico. There is no maximum sending limit through OFX, but a minimum transfer of $1,000 is in place.
WorldRemit for cash pickup and delivery speed
WorldRemit can deliver cash to Mexico in as little as a few minutes, and often does so at speeds that beat its own estimates. WorldRemit pairs with many banks and convenience stores in Mexico, and limits are based on the cash pickup location you're sending to.
TransferWise for strong exchange rates
TransferWise offers the mid-market rate for all transfers, so you'll be getting the strongest exchange rate when converting your dollars into pesos. Fees may still apply to your transfer, however, so be sure to compare TransferWise against competitors.
Western Union and MoneyGram for quantity of agent locations
If you're sending to a smaller town then WorldRemit may not have an agent there, so use Western Union or MoneyGram instead. Western Union has more than 24,000 agent locations in Mexico and MoneyGram isn't far behind that number.
---
Overall, online money transfer providers typically offer the strongest exchange rates and lowest fees on money transfers to Mexico. ACH transfers through banks, account-to-account transfers through PayPal and other options are available but come with high fees, weak rates and long turnaround.
Crunching the numbers: Sending $2,000 to Mexico
Let's say you need to send $2,000 to family in Mexico. Here's what you might face as far as fees and exchange rates as of September 25, 2020.
| | Digital money transfer service | Cash transfer | Bank transfer |
| --- | --- | --- | --- |
| Fee | $0 | $3.99 | $25 + additional correspondent bank fees |
| Exchange rate | 1 USD = 22.208 MXN | 1 USD = 22.248 MXN | 1 USD = 20.711 MXN |
| Transfer speed | 1-2 day | Minutes | 2-5 days |
| Amount received | MXN 44,416 | MXN 44,407 | MXN 40,902 |
| Verdict | | | Slowest and most expensive |
The bank option ends up being both the slowest and gets the smallest amount of money to your recipient. If you go with the digital money transfer service, your recipient ends up with MXN 3,514 more than the bank offers. When you are depending on speed, the cash transfer can have your money to Mexico in as little as 15 minutes for a slightly higher fee.
How to send money to Mexico
Sign up and send money with a digital money transfer specialist in four steps:
Sign up for a free account. Pick a provider and sign up for a free online account using your contact information and preferred payment method.
Provide transfer details. Submit your recipient's contact information and pick a delivery method. If transferring to a bank, you'll need their Mexican bank account details.
Confirm transfer details. Double-check your payment method, expected fees and destination.
Save your receipt. Record your receipt's confirmation number to track the progress of your transfer to Mexico. Some money transfer providers send a text or email when your transfer is complete.
How to get the most out of your money transfer
Weigh costs and fees against convenience, and learn how to compare money transfer providers that send to Mexico to meet your needs:
Exchange rates. The USD-MXN relationship fluctuates, so the rates you see today may be different tomorrow. Locking in an exchange rate when possible may save you money in the future if the rates shift quickly.
Transfer fees. Transferring money overseas nearly always requires fees, but they might be hidden in the exchange rate. When sending large amounts, it may be cheaper to pay a flat fee to secure a stronger exchange rate.
Transfer limits. How much you can send varies by company, and different amounts can attract higher or lower fees. Shop around for the best deal on the number of Mexican pesos you're sending.
Turnaround. Transferring money through a local bank can take a business week or longer. If you need the funds delivered quickly, seek out a digital specialist that offers instant transfers to Mexico.
Maximum limits. When exchange rates are favorable, sending more money can save you money in the future. If you plan to send large amounts of money to Mexico, be sure to pick a provider that won't limit you.
Transfer methods. Whether you want money sent to a Mexican bank account or picked up as cash at a local agent, narrow down a company that matches your preferred delivery method.
Emergency cash transfer to Mexico
When it's more important to get your money to Mexico quickly, look for money transfer companies that support cash pickup in minutes. You can pay with a credit or debit card for fast pickup, but fees are higher than other methods.
How to send money to Mexico without a bank account
Cash transfer services can help you if you're unbanked or marginally banked. If you don't have a bank account, look for a local company that supports storefronts for cash payments. These services include agent locations in other countries that allow your recipient to pick up cash without a bank account.
Mexico's exchange rates explained
The exchange rate determines how much one country's currency is worth in another country's currency. When a country's currency is strong, it yields more money when exchanging it in a country with a weaker currency. The Mexican peso often fluctuates when compared to the US dollar, so expect exchange rates today to be different than those you'll see tomorrow. Factors that influence the exchange rate include interest rates, economic stability and inflation.
Track how the Mexican peso trades against the US dollar in our historical rate chart.
1
0
Updated: 22 Oct 2020 21:50:55 UTC
Find the best provider for your transfer
Answer three quick questions and we'll give you an instant recommendation for a money transfer service based on your needs.
Based on your answers, check out: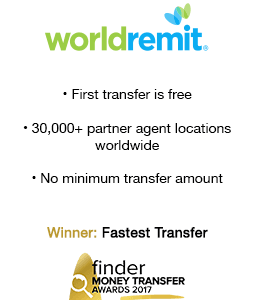 What documents do I need to send and receive money in Mexico
To send money to Mexico from the US, you'll need government-issued ID and other documents, while documents needed to pick up money in Mexico may be different by company.
Documents to send money from the US
To send money from the US to Mexico, you'll need documentation and details that include:
Identification. Most services require a driver's license, passport or other government-issued ID. Some services allow you to send transfers without ID, but they may require your SSN.
Payment method. Your service may accept credit or debit cards, cash, bank accounts or personal checks.
Recipient information. Submit your recipient's name as it appears on their ID, along with their phone number, Mexican bank account and routing number if sending to their bank.
Documents to receive money in Mexico
To pick up money in person, documentation can include:
Transfer number. The person sending you money can forward the transfer's confirmation details — called a PIN, a MTCN, a reference number or a tracking number, depending on the company.
Government-issued ID. A Mexican Passport or any other government-issued ID that has your photo in addition to your address can typically be used to pick up money in Mexico.
Amount sent. You may need to know how much was sent, usually within 10% of the total.
Sender's information. Take along your sender's full name, the sending country and their address, if known.
What the US proposal to tax remittances to Mexico could mean for money transfers
The US Congress recently submitted a bill that proposes a 2% tax on remittances to Latin American countries that include Mexico, Brazil, Honduras and El Salvador. Called the "Border Wall Funding Act of 2017," the bill delivers on President Donald Trump's January 2017 promise to move forward with building a border wall between the US and Mexico, the tax a significant key to funding this wall.
According to Mexico's Central Bank, currency transfers to Mexico from friends and family in the US and overseas exceed the amount that Mexico earns from its oil exports — some $24.6 billion in remittances versus $23.2 billion in oil. On the heels of President Trump's recent proposals, remittances to Mexico are expected to increase even further. Only time will reveal the full impact of these proposals. Until then, with dollars becoming yet more valuable to those in Mexico, online money transfer specialists are available to keep the financial channels open to your families back home.
If you're sending money to Mexico, it's more important than ever to compare exchange rates and fees to make sure you're getting the most for your money.
If you're using a bank or cash transfer service, consider switching to an independent provider so you can maximize the currency transfer your loved ones will receive.
Bottom line
Sending your hard-earned money to Mexico shouldn't cost a fortune. Compare transfer companies that specialize in foreign for the strongest rates, lowest fees and flexible delivery. For transfers to other countries, rely on our country specific guides the next time you need to make a transfer.
More guides on Finder