Finder is committed to editorial independence. While we receive compensation when you click links to partners, they do not influence our opinions or reviews. Learn how we make money.
Liberty Mutual Insurance
Take a look at the different insurance policies and features Liberty Mutual has to offer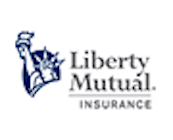 Liberty Mutual is a reputable company known for issuing both business and personal insurance policies. If you are looking for a way to add protection to your life, Liberty Mutual offers home, life, and auto insurance policies. The company is A+ rated and accredited with the BBB, and has more than 800 offices across the world. Liberty Mutual is headquartered in Boston, Massachusetts, and has been in operation since 1912.
Awards
Liberty Mutual was certified as a 2016 Great Place to Work – Great Place to Work US
Liberty Mutual Insurance received the 7th Annual Tim Russert Award – Boston Health Care for the Homeless Program
Liberty Mutual's 401(k) Plan was named One of the Best-in-Class Retirement Plans of 2016 – PlanSponsor Magazine
Liberty Mutual Insurance was named the Top Charitable Contributor in Massachusetts for 2015 – The Boston Business Journal
Liberty Mutual Insurance ranks #32 in "TOP 50 Employers" List for 2014 – Equal Opportunity Magazine
Liberty Mutual received the 2014 Preservation Achievement Award – Boston Preservation Alliance
Liberty Mutual Insurance was recognized for its Green Initiative – ​EPA
Liberty Mutual Insurance received the Team Massachusetts Economic Impact Award
Liberty Mutual's Chief Diversity Officer, Dawn Frazier-Bohnert, received the Diversity Leader Award
Types of insurance you can get with Liberty Mutual
Liberty Mutual offers a variety of insurance policies, including home, life, and auto insurance policies. Liberty Mutual has the following available products.
Auto and vehicle
Car – With Liberty Mutual car insurance, you can enjoy coverage options, benefits, and discounts — all at an affordable price. Roadside assistance is also included.
Motorcycle – The motorcycle insurance policy is a product that is guaranteed for 12 months. It can protect you and your bike, and comes with discounts, and different payment options.
Boat and watercraft – With this insurance, you can insure your boat or watercraft with the right liability and damage coverage. It insures your boat both on land and in water.
Antique and classic car – Liberty Mutual makes sure you get the right coverage for your collector car. Most antique, classic, and vintage cars require special insurance, and Liberty Mutual has got your covered.
ATV and off-road vehicle – The company can help you insure your all-terrain vehicle, snowmobile or other off-road vehicle.
Recreational vehicle – Liberty Mutual can help you insure your motorhome or travel trailer, and can help protect it on the road or wherever it is parked.
Umbrella – Umbrella insurance can be added onto any insurance policy, and provides an extra level of personal liability protection. It is about an extra dollar a day in cost, and can cover up to one million dollars.
Property
Homeowners – The homeowners insurance policy makes sure your home, valuables, and possessions are protected. Homeowners insurance also includes emergency repair services, 24/7 claims assistance, and convenient online policy management.
Renters – For as low as $12 per month, you can make sure your possessions are protected from fire, burglary, and water damage with renters insurance.
Condo – Condo insurance protects you from liability, and covers the interior of your unit, and your personal possessions. You can feel more protected if your condo is damaged by a covered loss.
Landlord – This policy will protect your property from damage. If your property becomes unlivable, landlord insurance can save you from losing income.
Mobile home insurance – Liberty Mutual offers mobile home insurance, but one must call in to learn more about the policy since there is no information on the company's website.
Flood – Liberty Mutual offers flood insurance that will protect you if a storm or hurricane causes a flood in your home, office park, parking lot, etc.
Life, Family and Health:

Life – Life insurance can help your loved ones. If you want to cover a specific amount of time, or you want a lifelong protection policy, Liberty Mutual can help. Liberty Mutual also offers annuities.
Identity theft – Identity theft can be an expensive situation, and Liberty Mutual can minimize the risk. Identity theft coverage can be added to your homeowner's policy.
Benefits of Liberty Mutual Insurance
Everywhere coverage. No matter where you live, Liberty Mutual has coverage options for you. The company can guide you to an insurance policy that works best for your unique situation.
Convenient quote. You can easily and quickly get your quote right from Liberty Mutual's website. All you need to do is choose the coverage you'd like, and input your insurance information, property information, and additional details.
Multi-policy discount. With the multi-policy discount, you can save money by bundling multiple Liberty Mutual insurance policies together.
BBB rating. Liberty Mutual is A+ rated and accredited with the Better Business Bureau (BBB).
Claims. You can report a claim 24 hours a day, and seven days a week.
Secure. The company is secured by VeriSign
Local agent. The company has local agents all across the U.S. that can help you find the best policy for your situation.
How to get insurance from Liberty Mutual
Buying insurance through Liberty Mutual is simple, and can be done online. The company requires applicants to meet the following requirements:
Eligibility criteria:
Current address
Valid payment information
US citizen
You can request a quote right on Liberty Mutual's website. To purchase an insurance plan, you will need to provide the following information:
Required documents & information:
Full name
Birthdate
Address
Phone number
Property information
Payment information
Frequently Asked Questions
More guides on Finder