Finder is committed to editorial independence. While we receive compensation when you click links to partners, they do not influence our opinions or reviews. Learn how we make money.
Allstate insurance review
With this insurance giant, you can bundle almost any type of coverage and save.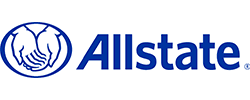 Allstate is a trusted and well-established company that offers a full suite of insurance policies — making it easy to bundle multiple types of coverage to cut down on your premiums. However, its base rates aren't as competitive.
What types of insurance can I get from Allstate?
Allstate sells these insurance policies:
Automobile insurance. Not only does auto insurance protect your car, but the policy also comes with the support of an Allstate agent. Customers can select from a range of roadside services.You can add roadside assistance onto your insurance policy. You can also choose to get a membership plan, or utilize pay-per use services.
Home insurance. This policy lets you protect your home, and valuable belongings. Customers can take advantage of the home insurance discounts to save money. Coverage may vary by your state of residence.
Renters insurance. Renters insurance can help you protect your belongings and your rental. It is an affordable add on for just a few dollars.
Condo insurance. This type of insurance offers dependable coverage to your belongings. In addition to condo insurance, Allstate also offers extra coverage for problems like flooding.
Motorcycle insurance. Allstate's motorcycle insurance can help protect both you and your motorcycle. In addition, Allstate can help you find discounts to make the most of your coverage.
Life insurance. Allstate helps you take care of beneficiaries and obtain financial security through a number of life insurance policies. Customers can choose between term life, universal life, or whole life insurance plans.
Business insurance. This insurance can help you finance your business, and acquire funds to keep your business running. Certified agents can offer business solutions designed for your small business.
Compare insurance policies from Allstate
Your dedicated agent can help you find the best savings with multiple discounts and rewards programs.
Stack discounts up to 30%
Earn points and rewards with safe driving
Get claims paid through direct deposit
Opt for extras like accident forgiveness, ridesharing or sound system coverage
Protect your home and belongings and save even more by bundling insurance with Allstate.
Protect your home & belongings
Save with bundling & discounts
Homesharing insurance
Protect your rental home and belongings and save even more by bundling insurance with Allstate.
Top company in the market
Up to 25% off with discounts
Highly rated for claims
Pros of Allstate insurance
Choosing Allstate for your insurance needs comes with these benefits:
Bundling discounts. You'll get a discount on your premium when you buy multiple insurance policies.
Online access. If you create an online account with Allstate, you will gain 24/7 access to your policies. This online access lets you pay bills online, make changes to coverage, file and track insurance claims, etc.
Rewards program. The rewards program offers customers the ability to earn merchandise, gift cards, and more.
Resources. The company offers a lot of resources and educational articles that people can explore. Allstate provides helpful information on all of the different insurance policy types.
Local agents. Allstate has local agents that live and work in the communities they serve. That means that wherever you are located, it will mostly likely be easy to find an agent nearby. When you start working with an agent, they will provide a personalized insurance proposal for you.
Accessibility. Since Allstate is such an established company, it has agents from all across the US, in all 50 states.
BBB rating. Though A+ rated, Allstate is not accredited with the Better Business Bureau; This is confusing since the company is so well-known and established.
Online quote. You can receive a pricing quote right from the website.
Downsides of Allstate
The insurer has these drawbacks:
Stricter underwriting standards. You might not be able to get Allstate insurance if you're a high risk customer, such as an SR-22 driver or a homeowner in a high-risk area.
Higher rates. Allstate's focus is on great coverage and perks. If you want the cheapest insurance, you might need to get a quote elsewhere.
How to buy insurance from Allstate
You can purchase insurance policies online. The information that you will be required to give varies by the type of insurance you choose. In general, you will need to provide the following information and documentation:
Full name
Phone number
Street address
Birthdate
Employment status
Payment and billing information
To find an agent, all you need to input is your ZIP code, or city and state.
Who's eligible to buy insurance from Allstate?
You'll need to be at least 18 years old and a US citizen to purchase a policy.
Allstate awards
The company has won numerous corporate, innovation and diversity awards.
Corporate awards include:
World's Most Ethical Company 2015 and 2016 – The Ethisphere Institute
The World's Most Admired Companies 2015 – Fortune Magazine; Allstate ranked #7 in Property & Casualty Industry
50 Happiest Companies in America 2014 – CareerBliss
Flame of Life Award 2013 – The National Safety Council, for efforts to reduce teen traffic accident deaths
Top 100 Military Friendly Employers 2013 – MilitaryFriendly.com
Corporate Social Responsibility Leadership Award 2016 – Financial Services Roundtable
100 Best Corporate Citizens 2015 – Corporate Responsibility Magazine
Top 100 Green Companies in the United States — Newsweek Magazine (2009-2012, 2014-2016)
Carbon Disclosure Project — S&P 500 Carbon Disclosure Leadership Index (2009, 2011-2014), and S&P 500 Carbon Performance Leadership (2012)
The Civic 50 2012; Allstate ranked #13 among S&P 500 companies
Bottom line
Allstate is an insurance giant, and a solid choice for a range of insurance policies — including car, home and life. You can score discounts for bundling coverage, but you may be able to find better base rates for individual policies elsewhere so it's worth comparing insurance companies.
Frequently asked questions about Allstate
More guides on Finder