Finder makes money from featured partners, but editorial opinions are our own.

Advertiser disclosure
How to finance an Infiniti
Compare car loan options to get behind the wheel of this luxury Japanese brand.
Infiniti, the luxury brand of Nissan, has been producing sleek designs since the late '80s. If you're in the market for a new Infiniti, compare your financing options and check out the starting prices of its latest models.
How can I finance an Infiniti?
Although you can finance an Infiniti through the dealership itself, you may want to explore secured car loans from banks, credit unions and online lenders first. These tend to offer more competitive rates, though they're not the fastest options out there — it takes time to prequalify with a few lenders and compare offers available.
If you're ready to get on the road today, then you might want to see what types of deals you can get directly through an authorized Infiniti dealership. While this is normally the fastest route, you typically won't find as low starting rates as other lenders unless you're a well-qualified buyer. Here are your two options available through Infiniti Financial Services:
Financing through Infiniti Financial Services. While deals available through Infiniti or one of its certified dealerships vary depending on where you live, you may be able to find 0% APR financing for up to 72 months on the 2019 QX80 or 1.9% APR financing for up to 72 months on the 2019 QX50.*
Leasing through Infiniti Financial Services. If you'd rather change up your ride every few years, you might want to consider leasing through Infiniti Finance. Depending on your local dealership, you may be able lease the QX60 for $399 a month for 39 months with $4,399 due at signing.*
As with all types of financing, the rates and terms you qualify for will depend on your creditworthiness and personal financial situation.
*Offers as of June 17, 2019.
How to apply with Infiniti Financial Services
Infiniti's preapproval application may be quick, but you'll have to dig around its website to find the right form. Follow these steps to get started:
Visit the Infiniti Finance website and choose All Shopping Tools under the Shopping Tools menu.
Under the Explore Financial Options category, select Get Pre-Approved.
Enter your full name, address, contact information, date of birth and Social Security number.
Enter information about your current and previous employer.
Select your residential status and enter your monthly housing payment and annual income.
Choose the type of vehicle you're considering.
Select whether you want to purchase or lease your car.
Enter your down payment, preferred term, preferred dealership and the value of your trade-in, if applicable.
Once you submit your application, Infiniti Financial Services will review your information and send a response within two business days.
Infiniti Financial Services pros and cons
Pros:
Low starting APRs on current models
Option to change due date or defer one repayment
Live chat available on its website
Cons:
Website difficult to navigate
No discounts for college grads or loyal customers
Compare car loans to buy an Infiniti
Use our comparison table for a side-by-side view of available lenders to help you get behind the wheel of a new Infiniti. Select up to four loan providers at once.
What special discounts or programs does Infiniti offer?
Yes, Infiniti offers special discounts to military service members, diplomats and members of an international organization representing their country abroad.
It also has a Mobility Assist program that reimburses car owners for the purchase and installation of gear designed for drivers or passengers with disabilities. If this applies to you, you can visit Infiniti's Mobility Assist page to learn more about finding an installer and submitting a claim.
What will a new Infiniti cost me?
Infiniti's 2019 base models start at $30,250 for its smaller SUV and goes as high as $65,500 for its full-size luxury models. How much you'll actually pay depends on any add-ons you select, where you live and your negotiation skills at the dealership.
Here are the starting manufacturer suggested retail prices (MSRPs) for Infiniti's eight 2019 models:
QX30
Starting MSRP:

$30,250

Build: SUV
City/highway MPG: 24/33
Q50
Starting MSRP:

$35,650

Build: Sedan
City/highway MPG: 23/30
QX50
Starting MSRP: $36,650
Build: SUV
City/highway MPG: 24/31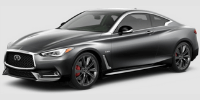 Q60
Starting MSRP: $

40,850

Build: Coupe
City/highway MPG: 19/28
QX60
Starting MSRP:

$44,350

Build: SUV
City/highway MPG: 20/27
Q70
Starting MSRP:

$50,400

Build: Sedan
City/highway MPG: 18/25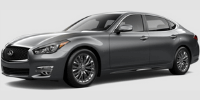 Q70L
Starting MSRP: $

51,900

Build: Sedan
City/highway MPG: 18/25
QX80
Starting MSRP:

$65,500

Build: SUV
City/highway MPG: 14/20
Car insurance costs that come with driving an Infiniti
What is the warranty on a new Infiniti?
New Infinitis have a standard basic limited warranty and emission control warranty for four years or 60,000 miles — whichever comes first. They also come with a six-year, 70,000-mile powertrain warranty, among other covered components.
Prefer an even longer limited warranty? You can also opt to purchase an eight-year, 120,000-mile extended protection plan to increase the length of your Infiniti's basic warranty.
Bottom line
Purchasing a new Infiniti can give your driving life a much-needed dose of luxury. But before you make a long-term commitment with a lender, compare your car loan options to be sure you're getting the best deal available to you.
Frequently asked questions
What is Infiniti's Certified Preowned (CPO) program?
Visit Infiniti's website and navigate to its CPO page to browse vehicles near you. Every preowned Infiniti comes with a Carfax report and a limited warranty that covers all major components, including the car's powertrain.
Should I buy or lease my Infiniti?
It's up to you. While a lease can provide lower monthly payments and the ability to switch to newer models every few years, financing gives you real ownership of a luxury car. Consider your finances before committing to either option.
How can I find an Infiniti dealership near me?
Follow these steps to find an Infiniti dealership near you:
Go to the Infiniti website and choose Shopping Tools in the main nav.
Select Locate a Retailer.
Enter your ZIP code or hit Use My Current Location.
Select a dealership from the list provided to see its address, hours and phone number.
Pictures: Infiniti USA official page and Getty Images