Finder is committed to editorial independence. While we receive compensation when you click links to partners, they do not influence our opinions or reviews. Learn how we make money.
Compare the best induction cooktops
Cook faster and more efficiently.
Induction cooktops range widely in size and price, so if you're considering adding one of these energy-efficient appliances to your kitchen, you'll want to compare a few models before bringing yours home.
Compare top induction cooktops
Data obtained March 2019. Prices are subject to change and should be used only as a general guide.
What is an induction cooktop?
These flat-surface cooktops produce an electromagnetic field to heat the base of the cookware, rather than the stovetop itself, ensuring that the cooktop remains cool to the touch throughout the cooking process.
Why should I consider an induction cooktop?
An induction cooktop has a few key advantages over a gas or electric cooktop:
Who shouldn't consider an induction cooktop?
The major downside of an induction cooktop is the cost. You can buy similarly-sized or larger gas and electric stoves for substantially less, so if you're on a tight budget then they will probably offer a better choice.
Another disadvantage is that you may need to replace your existing cookware if you choose an induction cooktop. These stoves are only compatible with cookware that has a ferrous base, so while cast iron, steel and some stainless-steel pots and pans will work fine, your glass, aluminum and copper cookware won't. You can do a quick check by placing a magnet on the bottom of your pots and pans — if the magnet sticks firmly then they should be suitable.
Finally, when using the cooktop, you may notice a buzzing or humming noise that some users could find annoying.
How to compare induction cooktops
When shopping for an induction cooktop, you'll need to compare the size, the number of cooking zones, power settings, safety features and cost. This will help you find a model that's the perfect fit for your kitchen.
How to clean an induction cooktop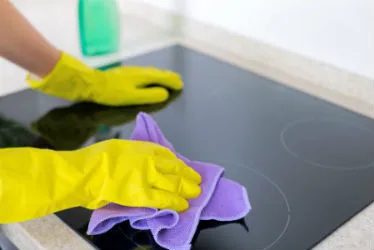 Induction cooktops are generally considered to be easy to clean because they offer a flat, smooth surface with no crevices for food and spills to get stuck in. The fact that the cooktop surface remains cool also means that you never have to worry about spilled food getting baked onto the surface and becoming almost impossible to remove.
However, ease of cleaning can depend on whether you choose a framed or an edgeless model. Cooktops with a frame may provide crevices where dirt can gather, but going for an edgeless unit means there's no barrier to stop spills from spreading.
The ceramic glass surface can also be prone to scratching, so use a gentle cloth or sponge as well as a cleaning product specifically designed for use on these surfaces.
Bottom line
Induction cooktops can be a handy addition to your kitchen if you're looking for a way to quickly heat up food and save energy. They come in an array of sizes and price points, so consider your cooking needs, budget and must-have features when shopping.
How did we choose these products?
To choose our list of the best induction cooktops, we conducted our own online research, comparing factors like size, price and overall features.
Frequently asked questions