Finder is committed to editorial independence. While we receive compensation when you click links to partners, they do not influence our content.
Compare the best induction cooktops
Cook faster and more efficiently.
Induction cooktops range widely in size and price, so if you're considering adding one of these energy-efficient appliances to your kitchen, you'll want to compare a few models before bringing yours home.
Compare top induction cooktops
Data obtained March 2019. Prices are subject to change and should be used only as a general guide.
What is an induction cooktop?
These flat-surface cooktops produce an electromagnetic field to heat the base of the cookware, ensuring that the cooktop remains cool to the touch throughout the cooking process.
Why should I consider an induction cooktop?
An induction cooktop has a few key advantages over a gas or electric cooktop:
Cooking speed. The use of magnetic fields means that induction cooktops heat up super quickly, heating your cookware faster than other options, resulting in less cooking time. You can also be worry-free about your meals stewing due to a lack of heat.
Responsiveness. When you need to adjust the temperature of an induction cooktop, it changes immediately — unlike with an electric cooktop. This means you can adjust the temperature when needed for best results.
Safety. The cooktop itself heats up only during cooking, so it'll stay cool enough to touch unless a hot pan is left sitting on it. And if you forget to turn your cooktop off, it'll be cool until a pan is placed on the cooking zone.
Energy efficiency. Induction cooktops also use less energy than other options, and many can automatically detect when there's nothing on the element.
Design. The flat surface of an induction cooktop not only blends in well with the surrounding kitchen countertop, it's also easy to clean.
How to compare induction cooktops
When shopping for an induction cooktop, you'll need to compare the size, the number of cooking zones, power settings, safety features and cost. This will help you find a model that's the perfect fit for your kitchen.
Size. Consider the space available in your kitchen compared to the dimensions of any cooktop you're thinking of buying.
Cooking zones and layout. Think about your cooking style. Will you need to have several pots and pans on the go at once, or will you only be cooking basic meals?
Controls. Induction cooktops usually feature digital touch controls. This provides a more streamlined appearance and allows you to adjust the temperature by touching the glass surface with your finger.
Installation. Compare quotes from multiple installers to get the best deal. You'll also need to call on a licensed electrician as an induction cooktop will often require a different connection to the one available in your home, for example 20 amp instead of 10 amp.
Price. Smaller, entry-level induction cooktops start around the $100 to $200 price point. However, most larger units will set you back a minimum of $800, with large top-spec models potentially pushing up to $3,000 and beyond.
Other cooking features. Some of the other specialized features you may look for include the following:
A setting to keep food warm.
An auto heat-up feature that heats the cooktop to a higher setting and then drops it to a lower setting after a specific amount of time. This is useful if you need to bring a pot to a boil and then simmer it.
Timers that allow you to program set temperatures at specific times.
Safety features like auto shut-off, or child locks.
Power-boost features that heat up food or beverages quicker than normal.
How to clean an induction cooktop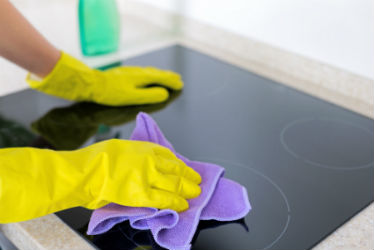 Induction cooktops are generally considered to be easy to clean because they offer a flat, smooth surface with no crevices for food and spills to get stuck in. The fact that the cooktop surface remains cool also means that you never have to worry about spilled food getting baked onto the surface and becoming almost impossible to remove.
However, ease of cleaning can depend on whether you choose a framed or an edgeless model. Cooktops with a frame may provide crevices where dirt can gather, but going for an edgeless unit means there's no barrier to stop spills from spreading.
The ceramic glass surface can also be prone to scratching, so use a gentle cloth or sponge as well as a cleaning product specifically designed for use on these surfaces.
Bottom line
Induction cooktops can be a handy addition to your kitchen if you're looking for a way to quickly heat up food and save energy. They come in an array of sizes and price points, so consider your cooking needs, budget and must-have features when shopping.
How did we choose these products?
To choose our list of the best induction cooktops, we conducted our own online research, comparing factors like size, price and overall features.
Frequently asked questions
What sizes do induction cooktops come in?
Standard residential sizes typically include 24″, 30″, 36″ and 45″ cooktops.
Commercial induction cooktops typically come in 30″, 36″, 42″, 48″ and 60″ models.
Are induction cooktops safe?
One of the advantages of induction cooking is that the surface itself stays cool. So you'll be safe from burns if you accidentally touch the surface.
Some consumers have raised the question of whether or not electromagnetic radiation is safe. Perform your own research to weigh the pros and cons of using this type of oven.
What makes induction cooktops more energy-efficient?
Since induction cooktops heat up faster and lose less heat during the cooking process, they tend to use less energy than gas or electric stoves.