Up, down or sideways – what lies ahead for the price of Cardano?
Launched in 2017, Cardano was designed to be an all-in-one cryptocurrency. Bitcoin, which uses the blockchain to let people send and receive tokens to each other, was the first generation of cryptocurrency.
You can think of Ethereum as the second generation. This unlocked the real potential of blockchain technology in the form of "smart contracts", which are programs designed to do things automatically on the blockchain.
Cardano might be the third generation and has the goal of overcoming the problems other currencies have encountered. It was specifically designed with the aim of offering fast and direct transfers as well as a platform for financial applications. Its goals are incredibly ambitious, but there are a lot of issues Cardano will need to overcome to achieve these goals.
Learn more Where to buy Cardano (ADA)
See our guide for a complete run-down of Cardano and it's ADA cryptocurrency
Disclaimer: This information should not be interpreted as an endorsement of cryptocurrency or any specific provider, service or offering. It is not a recommendation to trade.
Quick facts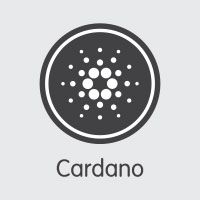 | | |
| --- | --- |
| Coin name | Ada |
| Symbol | ADA |
| Algorithm type | Ouroboros proof of stake |
| Mineable | No |
| Launch date | 29 September 2017 |
Cardano price prediction
Predicting the price of any cryptocurrency is a tricky business. Cryptocurrencies are complex, volatile and highly speculative, and there are many competing factors with the potential to positively or negatively influence price. Some of the key issues that could push Cardano's price up or down are outlined in the table below.
What could drive Cardano's growth?
Building blocks. Cardano was developed based on peer-reviewed academic research and uses the Haskell programming language, which is widely viewed as being extremely secure.
Easy to use. Cardano's goal is to be easy for users and developers alike. Ethereum smart contracts have a reputation for being difficult and time-consuming to program, but Cardano's aim is to make it much easier. Similarly, Cardano also comes with its own specially designed wallet called Daedalus, which offers a much more user-friendly experience than most cryptocurrency wallets. For example, Daedalus offers wallet addresses that are readable by humans rather than the long string of numbers and letters that's become the standard in cryptocurrencies. Cardano is also planning to roll out ADA ATM machines in Japan, and then the rest of the world, from 2018 onward.
Easy to update. All software needs to be updated over time, but because cryptocurrency is usually decentralised, it often needs to be updated through "forks". This is like a fork in the road where one path is the updated software and the other path is the current version. Significant updates will often require a "hard fork," which means the new version and old versions are no longer compatible with each other. These kinds of updates mean convincing enough people to follow the new path and leaving behind anyone who doesn't. Hard forks are a slow, difficult and unreliable way of implementing updates, and could cause a currency to stagnate, become outdated and eventually lose value. Cardano's ADA avoids this since it can be upgraded with "soft forks" instead. These are backwards-compatible updates, and users can decide for themselves whether they want to implement them.
Efficient transactions and functions. Slow and expensive transactions are proving to be a problem for bitcoin and Ethereum. Ethereum can get particularly expensive when executing more complicated smart contracts, while bitcoin's dependence on hard-fork updates means it's having trouble updating to meet demand. By contrast, Cardano aims to offer negligible transaction fees, even for especially complicated smart contracts.
Developers. Three organisations work in conjunction to develop Cardano:

The Cardano Foundation is a Swiss-based non-profit that acts as a standards body for the Cardano protocol and liaises with regulators around the world.
Input Output Hong Kong (IOHK) is a technology engineering company behind most of Cardano's technology.
Emurgo is a company formed to help integrate businesses into Cardano's blockchain
What could hold Cardano back?
It's still early days. The initial launch of Cardano does not offer smart contracts or many of the other features on its road map. Until they're available, there are no guarantees that Cardano can achieve its stated goals and function as planned in real-world circumstances. In the coming months and years, new and existing competition could change the picture. However, Cardano's releases and updates planned for the year ahead will be watched with a great deal of interest.
The competition. Ethereum is a well-established and much more widely known platform for smart contracts. Ethereum is also planning to introduce a more efficient proof-of-stake mining system and other scaling solutions, while bitcoin is set to become compatible with smart contract add-ons in the future. There are also several other smart contract platforms in various stages of development, including Lisk, NEO and EOS. You will need to decide whether the growing functionality of dominant existing coins, as well as brand new ones, might draw people away from Cardano.
Not needed. Cardano is designed with the aim to be an all-in-one cryptocurrency, usable for almost anything. This is in sharp contrast to most newly emerging cryptocurrencies which tend to be built for highly specific applications. You will need to consider whether Cardano's functions might simply be too broad to see rapid uptake as well as the broad scope of its vision leaving too much opportunity for errors and delays.
Where to buy ADA
Read our simple guide to buying Cardano (ADA) for more.
What's coming up in Cardano's road map?
The future plans and developments in store for any cryptocurrency project can have a big bearing on its future price. This is especially true for projects like Cardano that are in the early stages of development.
Happily, the Cardano community maintains an impressive and thorough road map outlining its plans for the months and years ahead. The first phase of the road map, Byron, saw the release of the Cardano mainnet in September 2017. The next phase, Shelley, is designed to ensure that all the key elements are in place so that the platform can grow into a fully decentralised and autonomous system.
Throughout Q2 and Q3 of 2018, the features of Shelley will be released, including the following:
Delegation and stake pool testnets. The ability for stakeholders to delegate stake to so-called "stake pools" is vital to the decentralisation of the network.
Multisignature transactions. Adding support for multisignature transactions will allow Cardano's Daedalus wallet to provide additional security to wallet users.
Consensus incentives and fees. The team aims to design an incentives scheme that offers appropriate rewards for operating full nodes, incentives to delegate stake, a mechanism to set transaction fees and more.
Quantum-resistant signatures. This will allow increased protection against funds being stolen.
Light client support. This will allow users to start using Cardano's Daedalus wallet without having to wait for the whole blockchain to download.
Human-friendly addresses. This feature is designed to create shorter wallet addresses that are easier to share and use.
Voting centre. Cardano plans to have a voting centre where updates to the software and the protocol can be proposed, and users will be able to vote on those proposals.
Paper wallets and Ledger wallet support. This will provide offline storage options for ADA holders.
Debit cards. The launch of a Cardano debit card is planned to allow people to use their ADA for everyday purchases.
Shelley will be followed by Goguen, which features a host of important milestones, including the following:
The introduction of sidechains to improve the ability to move ADA within Cardano, enhance scalability and allow the addition of new features without forks.
The integration of the Plutus Core programming language into the Cardano Settlement Layer and Computation Layer.
The creation of IELE, a virtual machine with a universal language framework for translating and executing smart contracts.
A set of tools to help developers create and deploy smart contracts.
Importantly, a testnet version of IELE on the Ethereum Mantis client is scheduled for launch around April 2018 and will allow developers to test smart contracts.
Cardano's competition
It's also important to be aware that Cardano isn't the only project being billed as a next-generation blockchain platform. As well as battling with established players in the crypto sphere, it will also face competition from other new projects. The following are some other currencies you may want to keep an eye on:
Ethereum (ETH). The biggest smart contracts platform and the world's second-largest cryptocurrency by market cap at the time of writing (March 2018), Ethereum has the early mover advantage and a strong reputation. However, its efforts to overcome scalability problems in coming months will be watched with interest.
EOS (EOS). A smart contracts platform that aims to be more scalable and easier to use than Ethereum, EOS offers an infrastructure for commercial-scale dapps.
Lisk (LSK). Launched in 2016 and built in JavaScript, Lisk is a blockchain platform with the aim of making it as easy as possible for developers to create and deploy dapps.
NEO (NEO). Originally known as AntShares, NEO is commonly referred to as China's answer to Ethereum. Developed as a platform for digital assets and smart contracts, NEO was one of the world's top 10 cryptocurrencies by market cap at time of writing (21 March 2018).
NEM (XEM). Released in 2015, NEM is a smart-asset blockchain built for businesses. It's backed by The NEM.io Foundation, a Singapore-based non-profit organisation.
Qtum (QTUM). A blockchain platform built for business, Qtum combines the security of bitcoin's blockchain with the ability to build dapps and smart contracts.
Beyond 2021: What does the future hold for Cardano?
Built on scientific philosophy and peer-reviewed academic research, Cardano offers a different approach to many of the other smart contract platforms. It's backed by a strong development team, has a clear time line of goals and offers a host of benefits over the largest smart contracts platform, Ethereum.
However, it's still only in the early stages of development. While the Cardano team are currently working on launching its virtual machine, smart contracts capability and a host of other features, its competitors will also be getting their own houses in order. Most notably, Ethereum will be working on scaling solutions to improve transaction processing times, and the progress it makes in this area could have a big impact on the price of Cardano.
Both 2018 and 2019 will be crucial periods in Cardano's development. As more and more features are developed and rolled out, crypto enthusiasts will be watching with interest to see whether the Cardano platform keeps growing as planned.
In finder's March 2018 cryptocurrency predictions, the average forecast from our panel of experts was for ADA to achieve a 594% price increase by the end of the year – whether this prediction comes true remains to be seen.
Bottom line
The bottom line with Cardano and its ADA cryptocurrency is that it's still very early days. While it's a platform with plenty of promise and potential, that promise and potential is still some way off from being fully realised. It's also far from the only exciting project with lofty goals, and predicting which platforms will achieve widespread adoption and which will struggle for relevance is extremely difficult.
With this in mind, the best advice is simply to do your own research. Find out everything you can about the fundamentals behind Cardano and what the project hopes to deliver. If you're optimistic about its chances of success and the potential for price gains, you can then think about buying some ADA.
---
Images: Shutterstock
At the time of writing, the author holds IOTA and XLM.
Disclaimer: Cryptocurrencies are speculative, complex and involve significant risks – they are highly volatile and sensitive to secondary activity. Performance is unpredictable and past performance is no guarantee of future performance. Consider your own circumstances, and obtain your own advice, before relying on this information. You should also verify the nature of any product or service (including its legal status and relevant regulatory requirements) and consult the relevant Regulators' websites before making any decision. Finder, or the author, may have holdings in the cryptocurrencies discussed.