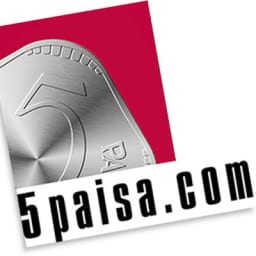 Finder is committed to editorial independence. While we receive compensation when you click links to partners, they do not influence our content.
5paisa review
Customise your trading platforms when choosing 5paisa.
5paisa is one of the fastest-growing brokerages in India, with low-cost plans and useful platforms for the everyday investor.
This review will help you evaluate the features of 5paisa accounts, so that you can compare it with other brokers in the market and decide if 5paisa is the right trading account for you.
Compare 5paisa as an online broker
What markets can I trade with 5paisa?
With 5paisa, you can trade equities, derivatives, commodities, currencies, IPOs and even mutual funds on the following Indian exchanges.
National Stock Exchange of India (NSE)
BSE (formerly Bombay Stock Exchange)
Multi Commodity Exchange of India (MCX)
In partnership with Vested, a US Securities and Exchange Commission registered investment adviser, 5paisa also allows you to invest in US stocks and ETFs with zero brokerage fee.
What accounts does 5paisa offer?
Generally, 5paisa offers two types of accounts: a 2-in-1 demat and trading account, as well as a mutual fund account.
As implied by its name, the 2-in-1 investment account has the combined facilities of a demat and trading account, thus allowing you to trade and hold a large range of securities. When you sign up for a 2-in-1 account, you also get access to a free mutual fund account.
With the mutual fund account, you can invest in either direct or regular Systematic Investment Plans for mutual funds.
5paisa investment account features
Here are the features you can look forward to with a 5paisa investment account.
Four trading platforms available.

5paisa Mobile Trading App. 5paisa's mobile app presents a great solution for those looking to trade on-the-go. The app offers built-in research, algo trading facilities, and advanced watchlist features — all with a sleek interface.
5paisa Trade Station Web. With this online trading platform, you can buy and sell stocks, analyse years of stock data, and obtain chart insights in a few clicks. The Trade Station Web also allows you to access margin facilities for additional leverage.
5paisa Trade Station EXE. Unlike the Trade Station Web, the EXE platform is a highly-secured trading terminal with instant fund transfers, multiple order functionality, as well as portfolio monitoring features with live market data.
5paisa Algo Trading. For professional traders who are comfortable with the risk involved in algo trading, this platform allows access to pre-loaded algos, performance simulations and even API access in multiple languages.

5paisa Robo Advisory. Enter your investment goal, risk profile, and expected returns and this tool will suggest mutual funds for you to invest in.
API support. You can easily integrate 5paisa's APIs into your own custom-built investment platform or create custom algorithms in the coding language of your choice.
Strong customer service. 5paisa offers you three avenues to clarify your doubts — a comprehensive FAQ bank, email support and phone support.
Trading Demos. All 5paisa platforms come with trading demos, which means that you don't have to sign up until you're absolutely sure that you like the features offered.
What are 5paisa's fees?
Trading fees
Trading fees are fees arising from the purchase and sale of financial securities. These fees can include currency conversion costs or commissions on trades.
There are a total of three different investment plans to choose from with 5paisa. Each of these plans come with their own fees, as shown below. These figures were correct as of 15 May 2021.
Basic pack
Flat ₹20 brokerage fee

for all trades

Free mutual fund investments
Power Investor pack
₹499 monthly fee
Flat ₹10 brokerage fee for all trades
Free mutual fund investments
Ultra Trader pack
₹999 monthly fee
Free brokerage fee for first 100 trades every month
Flat ₹10 brokerage fee from 101st trade for all trades
Free mutual fund investments
Free Call and Trade
Miscellaneous fees
These fees are costs incurred from account-related activities or taxes.
Call and Trade charge: ₹100 per call (free with Ultra Trader pack)
Annual maintenance fee: ₹75 per quarter if your shares value exceeds ₹50,000
Securities/commodity transaction tax: 0.01% – 0.2% of your total returns
SEBI turnover charge: ₹5 per crore
Stamp Duty: 0.0001% – 0.03% of your total returns
GST: 18% of the total charges you owe
Do note that the list of fees above is not exhaustive. The amount you could incur depends on your trading amount and investment decisions. Do get in touch with 5paisa before opening an account so that you can get a better understanding of how much you could end up paying.
Pros and cons
Pros
Range of trading platforms to choose on, with attractive customisation features.
Relatively low commissions per trade.
No minimum account balances.
Cons
No access to cryptocurrency.
Charges like the account maintenance fee could add up.
Is 5paisa safe?
Not only is 5paisa SEBI-authorised, but it is also a registered broker with the NSE, BSE and MCX. 5paisa is also backed by IIFL, a heavyweight in the Indian financial industry with more than 20 years of experience. It is therefore considered to be safe and largely protected from default.
Note: Investing and trading itself always carries risks which you should be aware of, so read up before you start investing. Do your research and compare brokers in India before signing up with any trading platform.
How do I sign up for an account?
Sign up with 5paisa by clicking the "Go to Site" button above and follow these steps.
Fill in the online registration form, providing details like your PAN number, date of birth, Aadhaar number and bank details.
Submit supporting documents as requested. These may include a picture of yourself and a copy of your Aadhaar card.
E-sign your form and submit it electronically. Do note that a physical signature is required if you do not have an Aadhaar card.
Bottom line
5paisa offers easy-to-use, customisable investment platforms for everyday investors. It offers low-cost tools to help you invest the financial instruments you're eyeing. While it lacks additional features like extensive market reports and educational webinars, 5paisa offers plenty of helpful tools at a competitive price. It's therefore a great choice for no-frills investors looking to trade in the Indian market.
Important information: Powered by finder.com. This information is general in nature and is no substitute for professional advice. It does not take into account your personal situation. This information should not be interpreted as an endorsement of futures, stocks, ETFs, CFDs, options or any specific provider, service or offering. It should not be relied upon as investment advice or construed as providing recommendations of any kind. Futures, stocks, ETFs and options trading involves substantial risk of loss and therefore are not appropriate for most investors. You do not own or have any interest in the underlying asset. Capital is at risk, including the risk of losing more than the amount originally put in, market volatility and liquidity risks. Past performance is no guarantee of future results. Tax on profits may apply. Consider your own circumstances, including whether you can afford to take the high risk of losing your money and possess the relevant experience and knowledge. We recommend that you obtain independent advice from a suitably licensed financial advisor before making any trades.