Can't find a laptop for school? We've scoured the web for Apple, HP and Dell in stock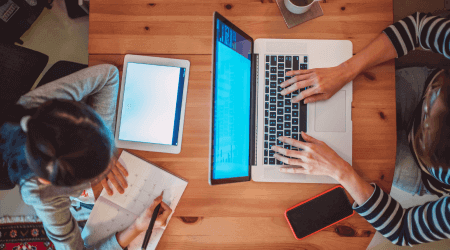 If your local store is out of stock, get the equipment your child needs for virtual learning rush-shipped to your door.
With back to school happening virtually in many districts this year, having a fast laptop at home preloaded with software your child needs is crucial. But among Labor Day tech sales and last-minute shopping, inventory is currently low at many retailers like Best Buy.
Popular models from brands like Apple, HP and Asus were out of stock from Best Buy on September 1st, with the retailer noting it would be "getting more soon" by September 10th.
Local stores are low on stock as well, with little to no pickup options available at stores like Office Depot. If you need a laptop for your child in a hurry, you still have several options, including buying refurbished.
Where to buy laptops in stock online
Amazon has quite a few laptops in stock with rush or Prime shipping available. Prime members can get this Apple Macbook Air by September 6th with free shipping. Macbook Air models are also in stock from Apple.com, scheduled to ship between September 10th and 14th. Staples offers HP notebooks and Dell laptops with free next-day delivery.
But what if you need it even sooner? Best Buy offers in-store pickup options, though the soonest you can pick up is September 5th. Most models are in stock at Office Depot, which offers next-day delivery and store pickup in as soon as one hour, though a search of stores around major cities for a few models turned up no availability.
What about refurbished or used laptops?
Buying a refurbished model can be a cost-effective way to get the tech you need. But along with longer shipping and processing times, you'll need to be extra cautious when buying secondhand. Be sure to shop manufacturer-refurbished laptops only unless you know you can trust the seller. Online marketplaces like eBay and Newegg allow you to filter your search by condition.
Search by manufacturer refurbished — not seller refurbished. This ensures the model was properly licensed and tested to be in working order prior to selling, and it guards against defects other than minor cosmetic scratches or other signs of wear and tear. If an item is refurbished by a seller, on the other hand, it was verified by a third party and there's no guarantee it's in good physical condition.
Keep in mind that refurbished models on Newegg are tested by the manufacturer or another tester, but not by Newegg. Check the product description thoroughly as well as the return policy before purchasing. Newegg and other tech dealers also offer protection plans as add-ons at checkout.
Photo: Getty Images