Finder is committed to editorial independence. While we receive compensation when you click links to partners, they do not influence our content.
Illume promo codes
Best deal: Receive 10% on your first order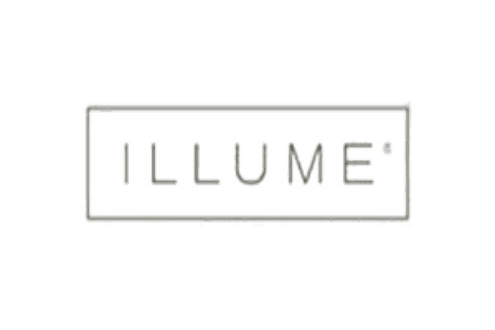 The trendy fragrance company Illume gets it: You aren't looking to bring something ugly into your closest quarters. That's why its candles and other long-lasting collections double as decor while filling your home with amazing scents.
Illume discount and promo codes
What can I buy at Illume?
Ilume specializes in everything fragrant, including candles and diffusers. It also produces a variety of bath products like soap, hand cream and perfume and home products like counter sprays. And a small selection of stationery is available for avid letter-writers.
Illume focuses on creating useful items that are aesthetically pleasing. Many of its candles are shaped unconventionally or placed in beautiful, unique glass jars.
That's not to say the company isn't fragrance-focused. It creates complex and delicious fragrances to fill your home, with its more popular scents including:
Blackberry Absinthe
Citrus Bergamot
Coconut Milk Mango
Fresh Rain
Fresh Sea Salt
Gardenia
Golden Honeysuckle
Grapefruit Oleander
Grey Lavender
Mineral Thyme
Petitgrain Basil
Pineapple Cilantro
Rosewater Sage
Santal Fig
Sugared Blossom
Sweet Hibiscus
Thai Lily
Tonka Noir
White Verbena & Pear
How do I use my coupon code?
To use your Illume coupon code, follow these steps.
Visit Illume's website
Add items you like to your cart.
Click on your cart in the upper right corner of your screen and click Checkout to continue.
Choose to log in or check out as a guest.
Enter your shipping information. Click Continue, and then choose your shipping method.
Enter your code in the promo box and click Apply.
Make sure your total reflects your promo code before completing your order.
Why is my code not working?
If the site doesn't accept your discount, your promo code could be expired, not available in your country or case-sensitive.
If you have questions about your promo code, contact Illume directly.
Shipping, delivery and payments
Can I get free delivery?
Yes. Free shipping is included for all orders of $100 or more. No promo code is required to receive free shipping.
Shipping costs
Illume offers standard UPS Ground or two-day expedited shipping. If you need overnight delivery, call customer service. Orders placed Wednesday through Friday are not shipped until the following Monday.
Standard delivery is free on orders of $100 or more. Otherwise, delivery costs vary by order.
Because Illume's candles are prone to melting, the company reserves the right to delay shipments during hot months. Doing so can prevent your order from arriving already melted.
How can I track my order?
After your order ships, you should receive an email confirmation containing a link to track your order. Simply click your tracking number to be redirected to UPS, where you'll see your order's progress.
Payment options
Pay for your order on Illume's secure website using Visa, Mastercard, Discover or American Express. Unfortunately, PayPal is not accepted at this time.
Your credit card and other information is encrypted using industry-standard SSL technology.
<h3″>What is Illume's return policy?
You can return qualifying items within 10 days of shipment for a replacement or credit.
Returns are not free, leaving you on the hook for return shipping costs. Note that it can take 10 to 14 days for Illume to process your return.
All sales are final on limited-edition items, sale items and discontinued products.
How do I return items to Illume?
Contact Illume customer service by calling 1-866-480-4551 or emailing customerservice@illumecandles.com.
Then, use an insured and tracked shipping method to mail your items back to:
Illume Returns
2000 West 94th Street
Bloomington, MN 55431
When's the next Illume sale?
Although Illume doesn't offer a dedicated sale section on its site, you can find promo codes online. You'll often find codes for 10% off your entire order or 25% off your purchase by checking back here for the latest deals. Illume also discounts products and scents it plans to discontinue.
To stay on top of sales from all your favorite lifestyle brands, sign up for our finder.com email. We'll send all the best deals to your inbox each week, no strings attached.
What sets this brand apart?
Illume is a modern candle company that makes fragrance an important part of your decor, instead of just an afterthought. With well-developed and complex scents, these aren't your typical fragrances. And we love its unique and beautiful candle designs.
Illume allows you to add something new and luxurious to your space without breaking the bank.
What do people really say about this brand?
Online reviews praise Illume for its delicious scents and high-quality candles. They say that Illume candles burn for longer than typical candles.
Unhappy customers complain about shipping delays and difficulties reaching customer service.
What is Illume's history?
Based in Minnesota, Illume takes an unconventional approach to modern business by manufacturing its products in the same building it designs them in. Its candles and other products are sold online as well as in a variety of retailers across the country, most notably at Target and Anthropologie.
How can I contact customer support?
It's best to call 1-866-480-4551 if you need customer support. If you live outside the US, call 1-952-885-9600. Agents are available weekdays from 9 a.m. to 4 p.m. CST.
If you'd rather email, direct it right over to customerservice@illumecandles.com.
What about social media?
Like most contemporary lifestyle brands, Illume is active on social media. Whatever your favorite social network, you can probably connect with Illume there.
We like the company's Instagram and Facebook pages best. They show off the brand's unique candles and announce any sales that might be going on.
Why should I shop at Illume?
Pros
Unique and beautiful candles. Illume can be a welcome addition to your home decor.
Free shipping. Orders over $100 ship free.
Temperature monitoring. Illume makes sure your order doesn't arrive melted.
Cons
No flat-rate shipping. If you don't spend $100, shipping costs vary by order.
Strict return policy. Customers foot the bill for return shipping.
Bottom line
For shoppers who love anything luxurious, Illume is a top fragrance destination. Stock up on candles, but spend more than $100 to avoid paying high shipping fees.
And don't forget that your order could be delayed due to high temperatures. Patience is a virtue when it comes to shipping easily melted items.
Frequently asked questions
Why can't I use the promo code I received for signing up for the Illume email newsletter?
You must be logged in using that email to use the code.
Where can I smell Illume fragrances?
You might be able to check out a few of Illume's fragrances in the candle aisle of your local Target or Anthropologie.
What kind of wax does Illume use?
Illume uses a variety of waxes that include soy, responsibly harvested palm, carnauba, beeswax and food-grade paraffin.
Can I buy Illume candles wholesale?
Yes. Visit the Become a Retailer section of the company's website for more information.
More guides on Finder