What you ought to know when sending large sums into the US.
Transferring your life savings ahead of immigrating, funding a business opportunity or inheriting money from family abroad? Whatever your reasons for sending money to the US, there's a lot to consider.
However, one thing you can't avoid are the laws and legal paperwork that go along with transferring large amounts of money. Before you move your money to the US, familiarize yourself with these laws and regulations.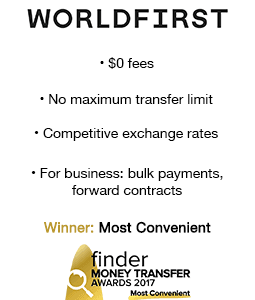 World First International Money Transfers
Special offer for finder.com readers:
Because World First is a trusted partner of finder.com, you can send your money transfer overseas for free.
No fees: There is a $0 online transfer fee for all finder.com customers.
Competitive exchange rates
Spot contracts, forward contracts and limit orders are available
Weekly updates on market exchange rates
Do I have to report large transfers into the US?
No matter where you're from, if you're receiving more than $10,000, you'll need to abide by US laws put in place to both protect your money and protect the interests of the government.
By law, banks report all cash transactions that exceed $10,000 — and any transaction of any amount that alerts their suspicions. Money transfer businesses, which often solely send money between countries, sometimes have reporting thresholds as low as $1,000.
US law requires banks and money transfer companies to report:
Your name and contact information.
The name and contact information of the person who sent you the money.
If it's a bank transfer, the financial details of the recipient, including SWIFT code.
Your banking details, including your bank account number.
The amount you received.
Money transfer services with no maximum sending limit
Documents specific to sending large amounts into the US
If you are living in the US and received foreign gifts of money or other property, you'll need to report it on Form 3520 — Annual Return to Report Transactions with Foreign Trusts and Receipt of Certain Foreign Gifts.
US citizens and residents are required to use Form 3520 for:
Gifts or bequests valued at more than $100,000 from a nonresident alien individual or foreign estate.
Gifts of $15,601 or more from foreign corporations or foreign partnerships (including from people related to these corporations or partnerships).
Form 3520 is considered an "information return," rather than a tax return, because foreign gifts generally are not subject to income tax. However, you are subject to stiff penalties for failing to submit Form 3520 when it is required.
Who is responsible for filing Form 3520 — me or the person who sent the money?
As the recipient of the transfer, you are solely responsible for reporting the amount you received during the current tax year with your annual tax filing.
The penalties for failing to file Form 3520 on time are equal to the greater of $10,000 or the following:
35% of the gross value of the distributions received from a foreign trust.
5% of the gross value of the portion of the amount treated as owned by you.
A separate 5% penalty if you fail to furnish correct required information.
Why is the US government interested in how much I receive?
Laws are in place to protect you and the government from fraudulent activity. By monitoring transactions in and out of the US, authorities are able to:
Protect your sensitive information is key.
Lower the risk of illegal and fraudulent transfers.
More clearly identify money laundering schemes.
Inhibit the ease of sheltering taxes in untraceable offshore accounts.
Since 9/11, the US government has put even more stringent laws in place. For example, the Patriot Act allows the government to track money more carefully due to terrorism.
International money transfers that won't break your business
What should I expect when receiving money from overseas?
To prevent the US government from delaying or canceling your money transfers into the country, you'll need to provide proof of a government-issued photo ID — a driver's license or passport, for example — and proof of your address.
If you already own an account with the bank or money transfer company, you may not need to provide ID each time you receive money. However, online money transfers may have stricter rules when it comes to proof of ID and could ask for additional documentation or to verify your identity by phone.
What other steps should I take to avoid legal or tax problems?
To avoid the severe penalties that come with a failure to report large sums of money into the country, speak with a professional to guarantee that everything is above board and complies with the laws of all countries involved.
Sending a lot out of the country? Know what the IRS expects of you
Get help from an agent with your large transfer
Save money on your personal or business international money transfer today. Fill in the form and you'll be contacted by a foreign exchange expert to have an obligation-free discussion about your options.
With over 17 years of foreign exchange expertise and over $100 billion transferred, OFX can help with all your currency exchange needs, including:
Buying property abroad
Emigrating
Regular overseas payments
Risk management
Forecasting
Questions you've had about large transfers