It's arguably the foundation that broke the Internet and I'm here to put this bad boy to the test.
I'll admit, I was using the Tarte Shape Tape concealer for about a year before Tarte Cosmetics announced the upcoming foundation. So when I found out, I got pretty damn excited. I'm a foundation fiend and while we've seen some amazing foundation launches from Fenty Beauty and Huda Beauty, these foundations have both had a matte finish. And while one of the Shape Tape foundations is a matte finish, I'm an individual who suffers from dry skin and enjoy the healthy glowy look and not the flat one of matte. Therefore, the hydrating Shape Tape foundation went straight into my cart and now I'm putting it to the test.
Being a foundation hoarder, I've tried my fair share of foundations and my expectations are set high. The shade I purchased was Medium Honey as I also enjoy myself some fake tan here and there. I also don't have the most amazing skin in the world so not all foundations look good on me. In the image below you can see the significant difference between the left side of my face (which had no makeup) and the right side of my face (which had the foundation on).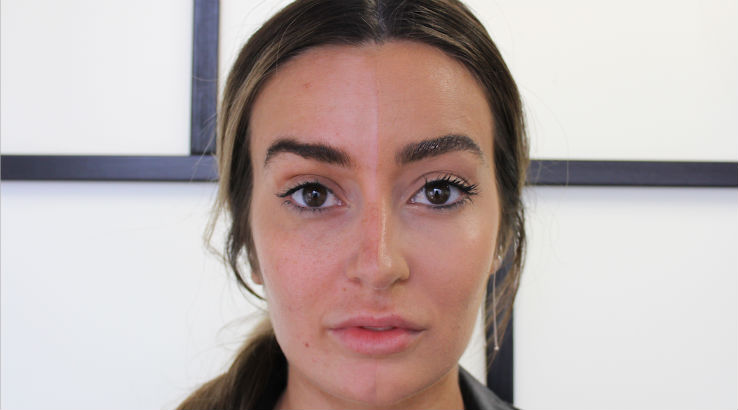 Foundation application
When applying this foundation I was a little nervous as I had already heard mixed reviews. However, after using the doe foot applicator to place the foundation on my skin I knew I was in for a treat. It felt cool and refreshing as soon as I put it on my skin and started blending. I used a beauty blender to press the foundation into my skin, working in sections at a time.
I placed three swipes on each cheek and my forehead. Now if you're going for a natural sheer look, this would've been the finishing point for you. However, as I said before, my skin ain't anything to brag about and I like the full coverage look. So I put another layer on and let me tell you, I fell in love.
Foundation finish
This foundation did not look matte at all. It looked incredibly glowy and dewy on my skin while also covering my spots and dots that I'm not too big a fan of. Even though I built up the coverage, it didn't look cakey and just looked like my skin but better. In the photos below you can see the coverage and difference in how my face looks brighter and healthier and I'm probably going to marry this product.
The actual consistency of the foundation is still quite thick. It isn't a watery foundation that will run down your face. It has a similar feel to it as the Shape Tape concealer has. Below is a before and after image that has been completely untouched and unedited. We used natural light to take the photo in order to get the best results in showing you how the foundation looked.

Is the foundation long lasting?
I actually ended up wearing this foundation to an event I attended that night as I was so impressed with my initial test out. I used the Shape Tape concealer and set my highlighted areas with transluscent powder. However, I don't like to set my foundation with a powder as I feel like I lose the glow and it just emphasises my dry skin. Therefore, this foundation copped the ultimate test and let me just say, it passed with flying colours. At the end of the night, the foundation hadn't changed colour due to oxidisation, nor had it worn off. It looked as though I had only applied an hour ago instead of six.
Final verdict
Honestly? In case you hadn't picked it up yet, I'm in a fully committed relationship with this foundation now. I would 100% recommend this product to anyone with dry to normal skin as it sat on mine perfectly. The only drawback I could point out is that due to my love of full coverage foundation, I feel like I could go through this foundation fairly quickly.
What does it cost?
The Tarte Shape Tape foundation retails for €40. While this is towards the more expensive end of the spectrum, it isn't as pricey as some other high-end foundations and I definitely feel like it's a value-for-money situation!
Where can you buy it?
In Ireland you can buy Tarte Shape Tape foundation directly from the Tarte Cosmetics website.
Latest health & beauty articles
Latest Tarte deals: