Finder is committed to editorial independence. While we receive compensation when you click links to partners, they do not influence our content.
Swimming pool financing
Do you want to take out a loan to pay for a swimming pool? Find out everything you need to know here.
It seems as though there's a heatwave almost every summer, which means having a swimming pool is never a bad idea. Not only do swimming pools give you a place to cool off, they can also increase the value of your home.
However, figuring out how to fund your new swimming pool can be a difficult task. If you don't have cash or savings on hand, there are several loan options that can help you build your dream pool. Read our guide to find out more.
What are my loan options?
There are two main loan options for financing a new swimming pool:
With a home equity loan, the amount you can borrow is secured against the equity you hold in your home. This means your property is used as collateral for the loan. You can usually use up to 80% of the value of your home. When using home equity as collateral, you can normally secure a lower interest rate than those offered with unsecured personal loans.
You may decide to consider a personal loan. An unsecured personal loan means you won't have to put up any collateral to secure the amount you borrow, however you'll usually get a less competitive interest rate. If you choose a secured personal loan, you'll normally be able to select the collateral you put up, whether that's your vehicle, your home equity or something else of value.
What features should you consider for your new pool?
Before requesting a loan, you'll need to figure out the budget for your new swimming pool. Considering the following factors will help you get quotes and estimates of the money required to build your dream pool.
Water features. These can include waterfalls, fountains, jets and bubblers. You can opt for spillover hot tubs and spas as well.
Surfaces. You can find pool tiles in an array of colours, textures and designs. Tiles used inside and outside the pool also come in different materials based on their functions. For example, you may want to consider slip-resistant tiles for the area around the pool, and glossy, coloured tiles for inside it. If you plan to get a vinyl swimming pool, remember that you'll have to replace the pool liner periodically.
Cleaners. There are several different types of pool cleaners. Suction cleaners are one of the most popular options. They work as skimmers and complement the pool's pumping and filtration system. Pressure cleaners use water pressure and usually come with replaceable filter bags. Electric cleaners, or robotic cleaners, come with self-contained filters and pump systems. If money is not a constraint, you can go a step further and install an automated control system.
Lighting. Underwater lights increase safety after dark, and can create a fun environment. You can also use floodlights and spotlights to draw attention to specific features, while low-profile lights are a practical addition to paths and walkways.
Who qualifies for a pool loan?
While it can vary between lenders, most look for applicants who:
Have good or excellent credit. This means having a credit score over 650 and a few years of good credit history. In order to get more competitive rates, your credit score should ideally be 720 or higher.
Have a steady source of income. This includes your job as well as other sources of income you have, such as investments, alimony payments and other forms of income. You'll need to provide proof of your income in order to qualify for a loan.
Have a low debt-to-income ratio. Most lenders require borrowers to have a debt-to-income ratio of 43% or lower, however the lower it is, the better chance you'll have of getting a more competitive interest rate.
Be a citizen or a permanent resident. You'll usually need to be a citizen or a permanent resident with a valid address.
Be 18 years of age, or the age of majority in your province or territory. You'll need to meet the legal age requirements to take out a loan, which is usually 18 years old.
Back to top
Features you should consider when comparing swimming pool loans include:
Interest rate. Depending on the lender you choose, the interest rates for swimming pool loans vary greatly. Factors including the amount you borrow, the loan term and your credit score will determine the rate you are offered. Remember that even a small difference in the interest rate can make a huge difference in the total cost of your loan.
Loan amount. If you need a large loan amount, you'll need to look for lenders who offer large amounts. Some lenders will allow you to borrow between $500 and $35,000, while others may offer higher amounts.
Loan term. While opting for a longer loan term leads to lower repayments each month, it means you'll pay more interest over the life of the loan which makes the loan more costly. Ideally, you should repay your loan as quickly as possible to keep interest payments down. Your repayments will be bigger each month, however the loan will cost less and be paid off faster.
Secured or unsecured. With a home equity loan, the money you borrow is secured by your house. You can also get a secured personal loan by borrowing against another asset, such as your vehicle. Remember that if you fail to make timely repayments towards any kind of secured loan, you stand to lose the collateral – which means you could lose your house or car. With unsecured loans, you aren't required to put up collateral, however you may pay a higher annual percentage interest rate (APR) since you're seen as a higher risk borrower.
How much does a swimming pool cost?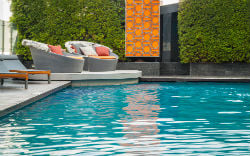 The cost of installing a pool depends on the type of pool and its size. As a general guide, a concrete or granite pool can cost anywhere from $20,000 to $55,000, while a fiberglass pool can cost between $15,000 and $30,000 and it costs anywhere from $1,500 to $5,000 for a vinyl lined pool. However, the costs don't stop there – safety and maintenance are also factors you need to consider for your budget.Fencing, for example, is an important safety feature and can cost a lot of money, depending on the type of fencing and specific regulations you need to meet.
There could be additional construction costs if you run into major issues such as water lines or large rocks during the installation of the pool. Many home insurance providers charge higher premiums for homes with swimming pools.
Meanwhile, pool maintenance is an ongoing cost that's essential for the safety and value of your property. Expect to pay a monthly or annual fee if you're hiring a professional to maintain your pool. Remember that even if you plan on maintaining it yourself, you'll still have to spend money on pumps, filters, chemicals and other cleaning supplies, as well as heating costs.
Things to avoid when financing a swimming pool
When taking out a loan to finance your swimming pool, be aware of the following:
If you feel you may have trouble making your repayments on time, avoid taking out a loan in the first place. Not only will your loan cost you a lot more in late fees and interest, you'll also likely damage your credit score.
Taking out a home equity or secured personal loan means if you default on your loan repayments, you stand to lose your collateral.
If you plan to get a pool with the sole purpose of adding value to your home, it's also important to carefully research your options to make sure it will be considered as an asset to the existing property.
Some prospective home buyers in some neighbourhoods don't want the added maintenance costs that a swimming pool brings, so do your research before you finance one.
Frequently asked questions about financing a pool
Back to top