Finder is committed to editorial independence. While we receive compensation when you click links to partners, they do not influence our content.
Solana (SOL) price prediction 2022
What's in store for the price of SOL this year and beyond?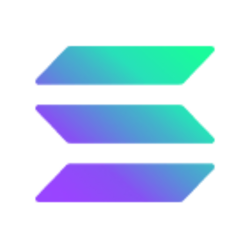 $94.45
Every week we ask a rotating panel of five fintech specialists whether they are bullish, bearish or neutral on SOL for the two weeks ahead. In a separate October 2021 survey, we also asked a 50-expert panel for their long term price forecasts for the end of the year, as well as over the next decade. You can find the results for both of these surveys on this page.
Disclaimer: This information should not be interpreted as an endorsement of cryptocurrency or any specific provider, service or offering. It is not a recommendation to trade.
Solana price prediction for two weeks' time
Each week we ask our expert panel's verdict on the Solana price in a fortnight's time. When asked this week, 0 were bullish (down 1 from last week), 1 was neutral (down 1 from last week) and 4 were bearish (up 2 from last week) about the price of SOL for the week of 7 February 2022.
Methodology
There are 15+ people on our weekly panel, made up of Finder and external crypto experts. Five are asked on rotation if they are bullish, neutral or bearish about SOL's price in two weeks' time. The dates on the chart show the start of the week about which they are asked their opinion. The graph shows the latest sentiment and previous forecasts so you can see how opinion has changed.
Solana (SOL) price prediction
Solana (SOL) should see modest gains over the remainder of 2021, with its price expected to hit USD$235.20 by the end of this year, according to the average forecast* from Finder's panel of 50 fintech specialists. And bigger things are to come, with the panel expecting prices to soar over the coming decade, hitting USD$1,178.26 in 2025 and USD$5,056.82 by the end of 2030 on average.
Long-term Solana SOL price prediction 2021
At the end of October, SOL was trading at USD$202.42, meaning that the panel's projection of USD$235.20 would be the result of a 16% increase over the coming 2 months – not a bad return.
Co-founder of Origin Protocol, Joshua Fraser, comes in a touch over the average, predicting the value of the coin to hit USD$250 by year's end based on his opinion that SOL will soon be one of the top alternatives to Ethereum.
"Solana will be the most prominent alternative to Ethereum and Ethereum layer 2s in hosting DeFi. This is a huge market to be captured and SOL price may reflect this," he said.
Gavin Smith, general partner at Panxora Crypto, also comes in with a prediction of USD$250 based on SOL's potential as a threat to Ethereum:
"We think that SOL is one of a few smart contract-based blockchains that have the technical architecture that will be difficult for Ethereum to compete with on the basis of transaction speed and transaction cost. For smart contract usage, especially in DeFi, these factors are a critical success indicator."
CFO of Boston Trading Co., Jeremy Britton, is bullish on Solana's short-term value, calling SOL "a dark horse" and believing it will close 2021 with a value of USD$310. At the other end of the spectrum is associate professor at UNSW, Elvira Sojli, who sees the coin losing value in 2021 and closing the year at USD$150.
Solana price predictions for 2025 and 2030
We also asked our panel to cast their eyes further forward and provide predictions for 2025 and 2030, with the panel seeing SOL worth USD$1,178.26 come 2025 and USD$5,056.82 by the end of 2030, on average.
Senior lecturer at the University of Brighton, Paul Levy, gave one of the highest predictions for 2025, saying that SOL will be worth USD$3,000 in 5 years' time based on SOL attracting new users.
"There is a lot of potential here and I expect steady growth, but this may well come from new users rather than stealing market share," Levy said.
Cypherpunk Holdings COO, Daniel Cawrey, gave one of the most bullish predictions for 2030 of USD$20,000 based on the fact that "it scales better than Ether and already has staking".
At the other end of the spectrum, the head of Asia Pacific at Exante Data, Grant Wilson, gave one of the lowest 2025 forecasts for SOL of USD$150, saying that "we [at Exante Data] prefer ETH".
Coinmama CEO, Sagi Bakshi, is even more down on the future for SOL, saying he has "no idea if Solana will survive, [n]othing at this point indicates that it will succeed", and predicting the coin will be worth USD$50 come 2030.
SOL take on ETH?
Just over half of the panel (51%) think that SOL's Proof of History network will give it an edge over ETH, but are split on just how much, with 23% saying it gives SOL a moderate edge and an equal percentage of 14% saying it gives SOL either a significant or slight edge.
Roughly 26% don't think SOL's Proof of History network will give it any edge over ETH, with 23% saying they are unsure.
DDoS attack: Inherent problem or mere hiccup?
Solana's network recently went offline due to a Distributed Denial-of-Service (DDoS) attack, so we asked our panel whether this was an example of an inherent problem with SOL (raising questions about its claims to being fast, secure and censorship-resistant), or just a bump in the road. The panel was fairly evenly split in their response.
Of those answering the question, 40% said it was due to an inherent problem and 40% said it was just a hiccup, with the remaining 20% being unsure.
Managing director of Australia for Kraken, Jonathon Miller, says that it's an inherent problem, stating, "Trust in L1 blockchains is paramount and SOL does not have that degree of trust."
Global cryptocurrency editor at Finder, Keegan Francis, says that the DDoS attack highlighted some major issues at the core of SOL.
"The DDoS attack on Solana exposed the fact that a centralised group of actors can pause the blockchain, something that is really not commensurate with my beliefs about what a decentralised blockchain should be. Who is to say that an authority cannot demand the same to be done?"
Funds management operations at DigitalX Ltd, Alex Nagorskii, sees this as just a hiccup and that SOL will gather momentum towards the end of the year:
"Solana has proven they can respond quickly to challenges, turning over an update to over 1,000 validators in less than a day. In the process, they have found the limit to the (very impressive) number of transactions per second that the network can handle and would have taken away valuable lessons from the experience. It should continue to gather pace towards the end of the year."
Martin Froehler, CEO at Morpher, toes the line between both sides of the issue. While he says that the DDoS attack was only a hiccup, he pointed out that, "It uncovered a much bigger fundamental problem with Solana: its lack of decentralisation."
Methodology
Finder surveyed 50 fintech specialists from 24 September to 11 October 2021. Panellists may own some cryptocurrencies, including Solana.
*We assessed survey results using a truncated mean, with the top and bottom 10% of outlying results removed.
Where to buy, trade and sell Solana
Disclaimer: Cryptocurrencies are speculative, complex and involve significant risks – they are highly volatile and sensitive to secondary activity. Performance is unpredictable and past performance is no guarantee of future performance. Consider your own circumstances, and obtain your own advice, before relying on this information. You should also verify the nature of any product or service (including its legal status and relevant regulatory requirements) and consult the relevant Regulators' websites before making any decision. Finder, or the author, may have holdings in the cryptocurrencies discussed.