Considerations when deciding between XRP and Stellar Lumens
With strong financial backing and a long list of partners, Ripple has attracted plenty of attention not only in the cryptosphere but also across mainstream media. But any analysis of Ripple inevitably draws comparisons with Stellar Lumens (XLM), another crypto giant focused on offering fast, reliable and affordable global payments.
There are plenty of similarities between Stellar and Ripple, but also a few key differences. Read on to find out how these two cryptocurrencies stack up against one another and decide which project is best placed for success.
Disclaimer: This information should not be interpreted as an endorsement of cryptocurrency or any specific provider, service or offering. It is not a recommendation to trade.
Skip ahead: Where can you buy XRP or XLM?
XRP vs XLM: The breakdown
| | XRP (XRP) | Stellar Lumens (XLM) |
| --- | --- | --- |
| Description | XRP is designed to offer fast, cheap and secure cross-border payments through RippleNet, a network of banks and payment providers all around the world. | Stellar offers a network that connects banks, payment systems and people around the world, with the aim of offering fast, cheap and reliable cross-border payments. The Lumen (XLM) is Stellar's native currency and is used to facilitate exchanges between fiat currencies. |
| Uses | Cross-border Payments | Cross-border Payments |
| Ticker symbol | XRP | XLM |
| Release year | 2012 | 2014 |
| Origin | United States | United States |
| Maximum supply | 100,000,000,000 | Unlimited Supply |
| Notable team members | Brad Garlinghouse, David Schwartz, Stefan Thomas | Jed McCaleb, David Mazières |
| Notable partnerships | Accenture, American Express, Deloitte, Royal Bank of Canada, MoneyGram, National Australia Bank, Western Union, Westpac | IBM |
| Consensus algorithm | Proof of Correctness | Stellar Consensus Protocol |
| Mineable? | No | No |
| Learn to buy/sell | | |
What's the difference between XRP and Ripple?
The term "Ripple" is often used to describe the XRP cryptocurrency, but this is in fact incorrect:
Ripple is a California-based tech company that aims to streamline and innovate cross-border payments.
XRP (XRP) is the independent digital asset that facilitates transactions on the Ripple network.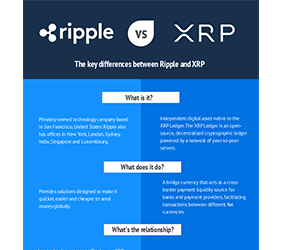 ---
Ripple and Stellar: How do they work?
Founded in 2012 by Jed McCaleb and Chris Larsen, Ripple offers a digital payment network for financial transactions. It provides a blockchain-based solution designed to facilitate cross-border payments between financial institutions, using the XRP cryptocurrency (XRP) to act as a bridge between fiat currencies.
Following differences of opinion with other members of the Ripple team, McCaleb left Ripple and founded Stellar in 2014. The two platforms initially shared some code but are now based on completely different codes.
Stellar also aims to offer fast and affordable cross-border transactions, but it uses a distributed payments network designed to connect banks, payment systems and people around the world. Stellar's native asset, the Lumen (XLM), is used to conduct transactions between different currencies.
On paper, they're both very similar projects, but they're actually far from identical. One of the big differences is based on philosophy: while Ripple is focused on improving the efficiency of international transactions between banks, financial institutions and other corporates, Stellar has turned its attention to providing access to low-cost financial services for those in the developing world.
It's also worth noting that Stellar offers a couple of additional features that Ripple does not. Not only does the Stellar network provide a decentralised exchange, it also provides a platform for ICO launches.
How XRP (XRP) works
Banks and multinational corporations use XRP to make international payments. This is done by transferring the XRP token through the Ripple network. The end result is liquidity on demand.
How Stellar Lumens (XLM) works
Stellar lets individuals trade money directly with each other, using Lumens (XLM) as a medium and "anchors" to handle the fiat currency aspects.
Case study: What's the difference between transferring fiat currency, XRP and XLM?
Let's say Jim wants to send money from a British bank account to a German bank account, converting it to euros along the way. He wants to do it at the best rates possible.
Compare how Jim's process would differ based on which currency he transfers:
1. Transferring fiat currency
The money will be bumped between several banks on the way. It will frequently be converted from GBP to USD to EUR on the way. The entire process takes three to five days, incurs fees from each bank on the way and loses Jim money on all the exchange rates.
---
2. Transferring XRP
Jim could buy XRP himself and send it to a wallet address overseas, but he doesn't want to. Fortunately, his bank uses the Ripple platform and can send and receive XRP.
He makes a money transfer as usual. His bank sends XRP directly to the bank of the recipient account. The payment is made at whatever exchange rates and fees the bank chooses to charge for this service.
If Jim is lucky, it has passed some of the savings onto him.
---
3. Transferring XLM
Jim signs onto the Stellar platform and sends money through it. It makes the transfer automatically.
First, it converts the GBP to euros, then it uses an anchor to transfer the euros to the recipient account.
An anchor is a Stellar partner that's entrusted with actually transferring the funds. These are usually money transfer companies. Jim can choose his own anchor and shop around for the one he wants.
There are a few different ways Jim's GBP might be converted into euros.
Peer to peer: It looks for people who want to trade euros for GBP and picks the best prices.
Via XLM: Lumens (XLM) are used to fill the gaps or make up the entire transfer if needed. For example, the Stellar platform might sell Lumens for euros through an existing order on the official Stellar exchange.
Chain of conversions: The platform can automatically perform a chain of conversions, such as AUD > NZD > CNY > USD > EUR if that's what it takes.
Between these options, which are carried out automatically, and with XLM to fill in the gaps and grease the wheels, people can make efficient peer-to-peer money transfers or simply convert currency for their own purposes.
Where to buy XRP and XLM
Differences between Ripple and Stellar
1. Philosophy
As we touched on above, Ripple and Stellar are built on separate philosophies and are focused on different target markets. Ripple is a privately owned blockchain company that provides its services to other companies. It allows multinational companies and banks to quickly make cost-effective international transfers and currency conversions, plus access a range of extra features.
Meanwhile, Stellar allows individuals to make more cost-effective money transfers and currency transfers. Stellar itself is a nonprofit organisation with the goal of enabling a more inclusive global payment system.
2 .Technology
Once upon a time, Ripple and Stellar shared a large amount of code. However, the two systems are now based on different codes.
Ripple's payment protocol uses a proof-of-correctness consensus mechanism based on majority validation. The mechanism is applied every few seconds by all nodes to maintain the agreement of the network.
Meanwhile, Stellar's payment protocol, Stellar Core, is based on the Stellar Consensus Protocol algorithm. This uses a consensus model called Federated Byzantine Agreement and, according to Stellar, provides a method of reaching consensus without relying on a closed system to accurately record financial transactions.
3. Future supply
The maximum supply of XRP is capped at 100 billion. The initial supply of Lumens was also 100 billion, but that's where the similarities end.
To protect the XRP Ledger against spam and denial-of-service attacks, a small amount of XRP is destroyed in each transaction. This transaction cost means that the total supply of XRP will decrease over time.
On the other hand, XLM is designed to be inflationary, with a fixed inflation rate of 1% per year and all transaction fees recycled.
4. Decentralisation
Decentralisation is commonly cited as one of the core principles of cryptocurrency, but Ripple is widely considered to be a more centralised network than Stellar. Ripple has received plenty of criticism in this regard, much of which stems from an incident in 2015 when the funds of recently departed Ripple founder Jed McCaleb were frozen.
This raised questions about the level of control Ripple has over its network. However, Ripple CEO Brad Garlinghouse was quick to respond, using Quora to refute suggestions that Ripple is overly centralised. He posted: "Ripple is not centralised. To be clear, if Ripple disappeared today XRP would continue to function. To me, that's the most important measure of whether something is decentralised."
Pros and cons of Ripple and Stellar
| Ripple | Stellar |
| --- | --- |
| Current cross-border payment methods are outdated, slow and expensive. Ripple has dedicated itself to transforming international payments, and it's certainly made a promising start. With an impressive list of partners, solid financial backing and a network that offers big advantages over current systems, Ripple could potentially be a big success story. | There's a lot to like about Stellar's plan to deliver low-cost financial services to the world. Its network offers several key benefits over existing payment systems, while the fact that Stellar also acts as a decentralised exchange and ICO platform introduces added functionality. And and while it may not enjoy the same level of corporate backing as Ripple, Stellar has secured some impressive partnerships of its own. |
| The biggest challenge facing Ripple in the future will be whether or not it can achieve widespread adoption by the world's banks, financial institutions and major corporations. Not only will it face stiff competition from established players like SWIFT and Visa, but also from banks developing their own private blockchains. | Stellar's achievements are always going to be compared to those of Ripple and, for the moment at least, Ripple is clearly the bigger of the two. Another key stumbling block could also be Stellar's altruistic philosophy, which could potentially stop Stellar reaching the same lofty heights as other initiatives purely focused on profit. |
Prices: XRP vs Stellar Lumens
Back to top
Which is the better holding?
When deciding which cryptocurrency to hold, you will need to take into account a number of considerations.
For example, both XRP and Stellar saw dramatic price increases at the end of 2017, and their values have tended to mirror each other. This may suggest that many people are holding both rather than picking just one or the other.
Another consideration is the fact that XRP has partnered with a lot of high-profile banks, so there's a lot of money behind it.
On the other hand, you will also need to take into account the possibility of Stellar getting enough users and anchors that it could feasibly let people exchange currencies seamlessly and much cheaper than with XRP.
Also, technology has increasingly moved towards decentralisation, and you will need to decide if Stellar is ahead of XRP in that respect and if it matters.
Ripple vs Stellar: the bottom line
Though they're cut from the same cloth in some ways, Ripple and Stellar are far from identical. With a focus on very different target markets and with a key variation in the underlying philosophy behind each project, trying to frame this as an argument between two competitors battling for supremacy is overly simplistic.
If you're considering purchasing XRP, that doesn't mean you shouldn't also consider buying XLM – and vice versa. Of course, you may also decide that neither project is worth buying into.
Both Ripple and Stellar have their own strengths and weaknesses, so thoroughly research each currency before deciding if either is well placed to achieve success.
---
Images: Shutterstock
---
Disclaimer: Cryptocurrencies are speculative, complex and involve significant risks – they are highly volatile and sensitive to secondary activity. Performance is unpredictable and past performance is no guarantee of future performance. Consider your own circumstances, and obtain your own advice, before relying on this information. You should also verify the nature of any product or service (including its legal status and relevant regulatory requirements) and consult the relevant Regulators' websites before making any decision. Finder, or the author, may have holdings in the cryptocurrencies discussed.