Finder is committed to editorial independence. While we receive compensation when you click links to partners, they do not influence our content.
How to buy Binance Coin (BNB) in Ireland
Learn how to buy Binance Coin on 11+ exchanges in our step-by-step guide.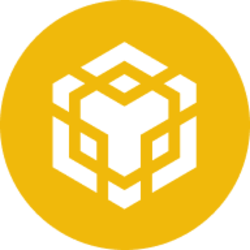 $292.03
Binance Coin (BNB) is the native coin of the Binance exchange and host to the BNB Chain, which became a DeFi powerhouse in late 2020. This helped cement BNB as one of the leading cryptocurrencies in the world, reaching an all-time high of €651.99 in May 2021.
While this has helped make BNB the #4 crypto by market cap, Binance Coin is still a highly volatile asset capable of major price swings in a single day.
Today BNB is trading for €277.88, which is slightly up from yesterday's trading price of €279.20. Binance Coin's seen a decrease of -53% over the past year.
So before you buy Binance Coin, make sure you understand these unique risks as well as its legal, regulatory and tax status here in Ireland.
If you're ready to get started, read on for step-by-step instructions and a list of platforms you can use to buy Binance Coin in Ireland.
How to buy BNB in 4 easy steps
To buy BNB all you'll need is a smartphone or computer, an internet connection, photo identification and a way to pay.
Compare crypto exchanges

The easiest way to buy BNB is from a cryptocurrency exchange.

Comparing in the table below

helps you find a platform with the features you want like low fees, ease of use or 24-hour customer support.

Create an account

To create an account on an exchange, you will need to verify your email address and identity. Have some photo ID and your phone ready.

Make a deposit

Once verified, you can deposit EUR using the payment method that best suits you – cryptocurrency, Simplex, Banxa and XanPool payments are widely accepted.

Buy BNB

You can now exchange your funds for BNB. On beginner-friendly exchanges, this is as simple as entering the EUR or BNB amount you want to purchase and clicking "buy". If you like, you can then withdraw your BNB to a

personal wallet

.
This is not an endorsement of cryptocurrency or any specific provider, service or offering. It is not a recommendation to trade or use any services.
Where to buy BNB in Ireland
If this is your first time buying cryptocurrency you'll need to look for a platform that accepts euros, like Bybit or Bitpanda.
Don't worry too much about extra features or coins for now – you can always sign up with another exchange later.
Use the table to choose a platform that meets your needs and click the Go to site button to get started.
What is BNB?
Binance Coin (BNB) is a utility coin created by the world's largest trading-volume crypto exchange, Binance.
BNB interacts with and allows developers to build on the layer-1 blockchain known as the BNB Smart Chain. The Binance exchange also uses it to promote discounted trading fees as an incentive to holders.
With hundreds of decentralised applications (dapps) built on its infrastructure, BNB Smart Chain has fast become one of the most popular ecosystems for developing DeFi protocols, play-to-earn games and NFT marketplaces.
BNB us a hybrid consensus mechanism known as proof-of-stake authority (PoSA). Holders must stake a minimum of 10,000 BNB to be selected as validators. The PoSA consensus uses significantly fewer validators than the Ethereum blockchain, which has led to concerns about the decentralisation of the BNB network.
Read our beginner's guide to how BNB works
What will I need to buy BNB?
To create an account with your chosen crypto platform, you only need an email address or mobile number. This will usually allow you to deposit cryptocurrency, but not EUR.
If you want to buy BNB with euros, you'll need to pass a Know Your Customer (KYC) check.
This is a standard security procedure for most exchanges in Ireland and requires you to upload some photo ID, and in some cases a selfie with today's date.
KYC is usually approved instantly, but in rare cases, you may have to wait a few hours or days.
What are the best ways to buy BNB?
Once you've set up your account, you'll need to deposit funds to buy BNB with. We've listed out some popular ways to buy BNB and what you should know about each payment method below.
What is the cheapest way to buy BNB?
Most exchanges let you buy as little as €5 worth of BNB, if not less. Just type in how much you want to spend in EUR and let the exchange work out the rest.
Some platforms only offer 1 way to buy BNB, while others provide several choices. The 2 most common ways to buy BNB are on the spot market or with an "instant buy" feature.
Instant buy
If it's your first time buying BNB this will be the fastest method – but also the least cost-effective.
You'll usually find the instant buy section under a "Buy now" heading on the platform you've chosen.
It should feature a simple interface that lets you enter the amount of BNB you want to buy, or euros you want to spend.
This is usually the only option available for credit or debit card purchases, but you may also be able to make an instant buy if you've pre-funded your account with a bank transfer.
Be prepared to pay a markup on BNB's market rate in exchange for the convenience.
Spot market
If you see colourful charts with a range of prices, you're probably in the spot market.
The spot market is where buyers and sellers come together to place bids for BNB on the open market. It's usually the cheapest way to buy BNB because it lets traders set their own price.
You'll find the spot market under a "Trade" or "Spot" heading on the site or app menu of the platform you've chosen to use.
There are several different order types that you can make on the spot market.
Market order. This will buy you the amount of BNB you specify at the lowest possible price available. This makes it like an instant buy order, but with much lower fees.
Limit order. This is the most common order type and lets you purchase BNB at the price you specify. Traders use this to time the market and capitalise on price dips or increases.
How to find the best place to buy BNB in Ireland
There are dozens of different trading platforms to choose from when buying BNB in Ireland, so to help you find your best option, keep these factors in mind:
Where it's registered. Using a locally registered exchange is a good idea. It's more likely to accept euros and local payment methods like SOFORT, which helps avoid foreign exchange fees. Choosing from Ireland-based exchanges also means it's likely to be registered with a local regulator (a local regulator) which means it has to comply with local laws in Ireland.
Security. Look at the security features the platform has to offer, like 2-factor authentication and PGP-encrypted emails. Cold storage of user funds is considered industry standard, but insurance funds are less common and indicative of good security practices.
Fees. Check the fine print to find out exactly how much your transaction will cost. Depending on the platform you choose, these could include spreads, trading fees and deposit and withdrawal charges.
Transaction limits. Are there any minimum or maximum limits on the amount of BNB you can purchase? Does the exchange restrict the amount of funds you can withdraw from your account in any 1 transaction or 24-hour period?
Other platform features. Look out for other features that suit your investment or trading needs. For instance, many exchanges now let you earn yield on your holdings, while some issue crypto debit cards to help you spend your coins.
Customer support. If you ever have a problem with a transaction, will you be able to quickly and easily get in touch with the customer support team? Are they based in Ireland? Check what contact methods are available and find out how quick the team is at responding to enquiries.
Insurance fund. A small number of exchanges now insure user funds. Beware that policies vary greatly between exchanges, so you'll need to research this thoroughly if insurance is important to you.
Reputation. As a young industry, reputation can provide a lot of clues when choosing an exchange. For instance, who are the founders? Have there been any controversies? Are their business practices transparent? If you can't find any of this information, that may be a red flag.
Range of coins. If you're thinking about adding other cryptos to your portfolio in the future, check to see what other coins you can buy through the platform.
Read reviews. Finder's crypto exchange reviews include user feedback, which helps you get a better idea of what the exchange is like to use for other people starting out just like you.
Using a local regulator-registered exchanges
There are plenty of places to buy BNB, and people in Ireland can choose from platforms registered here at home or in locations all around the world. Opting for a locally registered BNB exchange typically offers more convenience, but may have some downsides depending on your goals.
Pros
Ireland-based exchanges must comply with a local regulator Anti-money Laundering (AML) and Counter-terrorism Financing (CTF) reporting obligations.
You can usually buy BNB with EUR.
Exchanges in Ireland typically support local payment methods, such as SEPA and SOFORT.
You may be able to access local customer support.
Subject to local laws.
Cons
You'll need to provide your personal details and proof of ID – a disadvantage if you want to trade anonymously.
Overseas trading platforms may provide better liquidity.
EUR-to-crypto prices are often slightly higher than USD-to-crypto prices, meaning you sometimes pay a premium for buying directly with euros.
Some features are simply not available on a local regulator-registered exchanges. For example, high leverage margin trading, DeFi features and some altcoins.
Is BNB safe to invest in?
You shouldn't invest in any asset, including BNB without doing plenty of research first. Before you buy BNB, make sure you understand and weigh up these risks:
Price volatility. BNB's price is largely based on speculation, which means it can rise or fall in a short time. It's not uncommon for BNB to lose more than 10% of its value in a single day.
Perceived value. BNB is a unique asset that does not have any tangible value. It derives most of its value from utility and speculation.
Exchange vulnerabilities. Leaving your BNB on a crypto platform exposes you to several counterparty risks, including:

Scams. Scammers frequently try to trick exchange users into handing over their username and password, often by phishing with malicious emails or fake website links. Use 2FA and encrypted emails to help protect your funds.
Hacks and theft. Exchanges are vulnerable to hacks and theft, so choose one with good security practices and a track record of safety.
Fiscal mismanagement. In mid-2022 a number of crypto platforms froze user funds after it was revealed they had engaged in irresponsible funds management.
Insurance. Unlike stocks, only a small handful of exchanges provide insurance on your cash deposits.

Regulatory uncertainty. The regulatory environment for BNB and other cryptos is constantly changing. It's important to understand how international rulings have the potential to impact BNB's future – for better or worse.
Novel technology. BNB was created in 2017 which makes it relatively new as a form of technology and as a currency. BNB doesn't yet have the same track record or performance history as some other asset classes.
Technical learning curve. Evaluating the tech behind BNB before you invest is important, but requires a deep understanding of the blockchain and other aspects of decentralised finance. You should be prepared to do plenty of research.
Increased regulation. Binance – the crypto exchange on which you can use Binance Coin (BNB) to pay for trading fees – is facing sustained regulatory scrutiny from governments around the world. If regulators continue to clamp down on Binance, the exchange may lose users. This would mean fewer people using BNB.
Centralised BNB holdings. Binance owns or custodies over 80% of BNB. This creates a central point of failure for the asset. If Binance's BNB holdings were to be hacked, it would likely negatively impact the price of the crypto. Similarly, BNB is used for proof-of-stake consensus on the BNB Chain, which means that the blockchain is effectively centralised.
Quarterly auto-burning. Binance has a quarterly auto-burn schedule for some of the BNB it holds on its balance sheet. In other words, every quarter, Binance burns or permanently destroys an amount of its BNB holdings. This reduces the supply of BNB and, in turn, theoretically benefits the price of the asset.
Where could BNB's price be heading?
Binance Coin should see its price rise before the end of 2022 and be worth $274, according to Finder's panel of fintech specialists. And the panel expects BNB's price to continue to grow, closing out 2025 at $781 and surging to $1,814 by the end of 2030.
All the content may be republished with a link to this page
Press enquiries
Today's BNB price versus ATH
Compare today's price of BNB ($292.50 USD) against its all-time high (ATH) price of $686.31 USD on May 10, 2021. The closer the bar is to 100%, the closer BNB is to reaching its ATH again.
Current price: $292.50
All-time high: $686.31
How is BNB taxed?
BNB is increasingly treated as a financial asset by governments around the world. This means that you may need to declare your BNB holdings at tax time and should consider consulting a tax professional to make sure you don't run afoul of the law.
After you've bought BNB
Once you own some BNB, you have 2 options –
keep it on an exchange
, or move it to a
personal wallet
. Each comes with its own set of pros and cons.
Keeping your BNB on an exchange
Pros
Convenience. Keeping your BNB on an exchange is convenient because you can buy and sell at any time.
Security. Holding BNB on an exchange does come with significant counterparty risks, but reputable platforms also invest heavily in security so you don't have to worry about the pitfalls of self-custody.
Insurance. A small handful of exchanges now operate insurance schemes. These can range from insuring user deposits held in cold storage to reimbursing customers if a hack occurs.
Earn yield. Many exchanges let you earn yield on your BNB. This is done in 1 of 2 ways: the exchange will either stake your BNB on your behalf, or lend it to other users. Each carries its own set of risks, though lending is generally associated with higher risk. Make sure you understand which method is being used to generate yield before handing over your assets.
Cons
Phishing. Exchange users are frequently targeted by scammers trying to steal login information through malicious emails and fake website links.
Hacking. Exchanges are major targets for hackers. While security practices have improved substantially, hacks still occur from time to time.
Account freezing. Exchanges have been known to occasionally freeze user accounts, whether due to security concerns, technical issues or market turbulence. This could see you temporarily lose access to your crypto.
Limited usability. BNB is a blockchain with a growing ecosystem of Web3 applications. If you want to use these services, you will need to move a portion of your BNB to a Web3 wallet to pay for gas fees.
Moving your BNB to a non-custodial wallet
Pros
Self-custody. A mantra repeated by crypto investors is "Not your keys, not your coins." This comes from the idea that the only way to guarantee ownership of your BNB is to own the private key — which isn't the case when you hold on an exchange.
Security. BNB and cryptocurrency wallets vary greatly in their features and security. For the most secure experience, consider purchasing a hardware wallet, which is usually a small USB device that keeps your private keys offline at all times for an extra layer of security.
Utility. If you plan to use your BNB for transactions, daily spending or decentralised finance (DeFi), then storing it in a wallet rather than an exchange will be more convenient.
Utility on BNB Chain. BNB isn't just used for trading fees on the Binance exchange. It can also be used on the BNB Chain, a layer 1 blockchain network with substantial decentralised finance (DeFi), NFT and gaming ecosystems.
Cons
Learning curve. It's no secret that learning how to use a crypto wallet takes some time and effort. Spend some time learning how BNB wallets work before transferring any of your funds.
Personal responsibility. Owning your own money can be liberating, but it also means the responsibility is all yours. If you lose your private key, the only way to regain access to your wallet is through the seed phrase. Make sure to store both of these privately and securely.
Inheritance. A challenge presented by crypto wallets is how to pass access on in the event of death or disability. Several companies are experimenting with ways to solve this problem, like the Trezor Model T wallet's Shamir backup feature.
Smart contract risk. Due to its reputation as a low-cost alternative to Ethereum, BNB Chain has attracted a lot of copycat projects. These include DeFi applications and services of varying quality, which means that the smart contract code may not have been properly audited. Be wary about which services you use on BNB Chain, especially fresh projects promising high annual percentage yield (APY).
Bottom line
If you want to buy BNB, start by comparing a range of crypto brokers and exchanges available in Ireland. Look at their features, fees, security and overall reputation to decide which platform is the right fit for you. Consider an exchange registered with a local regulator for added peace of mind.
Remember that owning and using BNB is not without its risks. Carefully consider investing in BNB as part of a wider strategy, and talk to a financial advisor if you have any questions.
Once you've bought some BNB, think about what your short and long-term goals are. This will help you decide whether to keep it on an exchange, or move it to your own wallet.
FAQs
How do I buy BNB instantly?
You can quickly purchase BNB on trading platforms such as Bybit or Bitpanda. If you already have a funded account with one of these exchanges, then you can buy BNB instantly.
Otherwise, many crypto exchanges also offer an "instant buy" feature using a credit card. However, be warned that this comes with higher fees and other added risks. Use our table to look for a platform that offers credit card deposits to get started.
What is the best way to buy Binance Coin?
The best way to purchase BNB depends on your needs. A good place to start your research is with our top picks.
If you are buying BNB to speculate on its price in the short term, you might want to buy it on an exchange like Bybit or Bitpanda, a platform that custodies the asset for you. This will let you sell your BNB at any time.
If you are buying BNB to hold it for the long term, consider buying it on an exchange and transferring it to a hardware wallet to keep the private keys safely offline.
How can I buy BNB on Binance?
To buy BNB on Binance, create a Binance account, then navigate to the platform's instant buy or spot market section to make your purchase or convert another crypto to BNB.
Disclaimer: Cryptocurrencies, including Binance Coin, are speculative, complex and involve significant risks – they are highly volatile and sensitive to secondary activity. Performance is unpredictable and past performance of BNB is no guarantee of future performance. Consider your own circumstances, and obtain your own advice, before relying on this information. You should also verify the nature of any product or service (including its legal status and relevant regulatory requirements) and consult the relevant Regulators' websites before making any decision. Finder, or the author, may have holdings in the Binance Coin or any other cryptocurrency discussed.