Finder is committed to editorial independence. While we receive compensation when you click links to partners, they do not influence our content.
Halloween in Ireland 2020
Do the Irish celebrate Halloween? Your questions answered.
Halloween is an annual celebration held on 31 October every year. It's a day when anyone can don a costume and take on another persona judgement-free, walk through their neighbourhoods trick-or-treating, carve lanterns out of pumpkins and bob for candy apples.
This holiday actually originated with the Irish and Scottish Celts more than a thousand years ago. However, the original celebrations are somewhat different from the Halloween we know today. Thanks to the popularity of the horror niche in all media formats added to America's mass marketing of all things Halloween, the occasion has transformed from its Pagan roots into a commercialised holiday. From creepy shopping centre decorations and zombie walks to themed events at popular attractions and the Belfast Halloween Monster Mash and Fireworks Display, Ireland-wide people are getting into the swing of this new Halloween.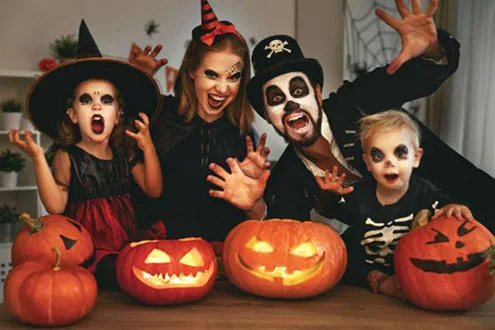 Read on to understand the history of Halloween in Ireland and where to get the best atmosphere during this spooky celebration.
---
Do the Irish celebrate Halloween?
Absolutely.
Halloween is an annual holiday during which most of Ireland will hang spooky decorations, don creepy costumes and take advantage of the date to have some frightful fun with their families and friends. However, be mindful that not all households are on board with the modern-day Halloween celebrations.
Some Ireland citizens prefer not to embrace the commercialisation of the holiday. Therefore, by rejecting this American holiday, they are choosing to reject American culture and stay true to their Samhain roots.
For the most part, when Halloween comes around, entire neighbourhoods will be decorated elaborately for the occasion. Some opt for the classic pumpkins and cobwebs look, whilst others go all out with animated props, themed creepy door knockers and harrowing lights and music to create a unique and eerie ambience.
The history of Halloween
Halloween is a contraction of "All Hallows Evening" and is a day that has been celebrated all over the world under a number of different names.
Modern Halloween celebrations link back to the Celtic festival Samhain, which is an ancient pagan ceremony that originated amongst the Celts in both Ireland and Scotland more than a thousand years ago. Samhain was held at the end of the harvest season and marked the descent into the darker half of the year. During this time, it was suggested that the divide between the world of the living and the world of the supernatural shifted, and that mystical creatures could move between the realms of the dead and the living more freely. This is the most likely spooky origin of our modern-day Halloween.
There is also said to be some influence from Christian celebrations. In Christianity, 1 November is a holy day called All Hallows Day, making 31 October All Hallows Eve. In addition, 2 November is called All Souls Day. These days were a time to honour the dead and the saints. It is believed that during the 700s Christian beliefs merged somewhat with Celtic beliefs and All Hallows Eve merged with Samhain and began to more closely resemble the celebration we have today.

Another celebration that is commonly linked to Halloween is the Mexican festival of the Day of the Dead, which is celebrated on 2 November, the same day as All Souls Day in early Christianity. The Day of the Dead traditions come from pre-Colombian cultures, celebrated in the ninth month of the Aztec calendar. It is believed that this day dates back 2,500-3,000 years. During the Day of the Dead festival, many people will dress up, decorate their homes, walk the streets and remember friends and family members who have died. It is very possible that this ancient celebration has, over time, influenced and shaped Halloween as we know it today.
When did the Irish first celebrate Halloween?
As the celebrations originated in Ireland, this holiday stems from our Pagan ancestors. Modern-day Halloween is believed to have been influenced by the Celtic festival of Samhain. Around 2,000 years ago in the area that is now divided into Ireland, the UK and the north of France, the Celts annually celebrated their new year on 1 November.
This day signified the end of summer and the beginning of winter, which historically was a time of year that was often associated with death. It was believed that on the night before the new year, the line separating the world of the living and the world of the dead became blurred. So, each year, on the eve of 31 October, they celebrated Samhain as it was believed that the ghosts of those who had passed on would return to earth on this date.
You could say that the Irish first celebrated Halloween more than 2,000 years ago. Perhaps, even longer!
Where is the best place in Ireland to embrace the Halloween atmosphere?
In short, anywhere in Ireland will be fabulous during the Halloween celebrations. That said, there are a couple of notable events you may want to add to your bucket list.
DerryHalloween. Voted the best Halloween destination the globe has to offer. Enough said.
Púca Festival. Head to Boyne Valley to partake in an evening of chilling supernatural tales, frightfully festive food and Halloween-inspired light displays.
Night Tour of Wicklow's Historic Gaol. If you're in the Co. Wicklow area and up for a fright fest, this Adults-only eerie event is said to be one of the most haunted buildings in Ireland.
Virginia Pumpkin Festival. Inhabitants of Co. Cavan are sure to be familiar with this family-friendly week-long festival where you can get lost in the pumpkin maze, join in a holiday parade and take part in Ireland's biggest fancy dress party.

Lullymore Heritage Park. Halloween here sees the popular Co. Kildare attraction transform into a wonderfully scary world that all ages will enjoy.
And the list goes on. You don't have to look hard to find a Halloween attraction near you in Ireland.
---
Trick-or-treating etiquette in Ireland for Halloween
If you're planning to trick-or-treat in Ireland or you want to hand out sweets and treats to trick-or-treaters this year, here are a few things you should consider:
For trick-or-treaters:
Try and stick to areas that have other trick-or-treaters. If you see lots of other trick-or-treaters out on the street, it's likely that you're in a Halloween-friendly neighbourhood. You'll have better luck here.
Choose houses with decorations. Since not all of the Irish celebrate Halloween, it makes sense to stick to houses that have decorations up. This is a good indicator of which households are happy to accept trick-or-treaters.
Try not to disturb people during dinnertime. Many people find doorbell ringers of any kind very offensive during dinnertime. Bear this in mind before you head out.
Don't trick-or-treat too late in the evening. Be mindful that Halloween often occurs on a weekday and many people need their sleep. Try to do your trick-or-treating earlier rather than later.
A costume is a must. If you want to trick-or-treat, you'll need a costume. Otherwise, you're just asking strangers for sweets.
Inspect your treats. Parents of young children, or you yourself, should inspect the haul carefully before consuming it. This can stop those with allergies from consuming something potentially unsafe.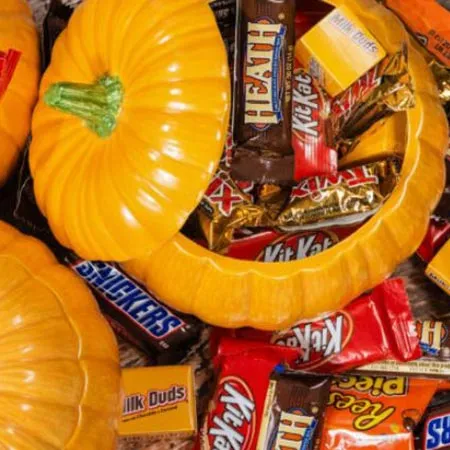 For accepting trick-or-treaters:
Choose individually wrapped sweets. Pre-wrapped sweets are a lot more hygienic when you have lots of little hands rifling through candy bowls.
Put up some decorations. If you're willing to accept trick-or-treaters, maybe put up a decoration or two on your door so kids and parents know that they're ok to knock at your place.
Be mindful of allergies. It's always kind to stay away from nut-based or gluten-based sweets and chocolate, given the prevalence of allergies in western society. Kids often won't read the labels before eating their treats.
---
If you want to celebrate Halloween this year, here's all the inspiration and costumes ideas that you need:
Take the fuss out of Halloween and buy a costume from one of our favourite fashion stores carrying contemporary costumes:

Top stores to buy Halloween costumes
---
Shopping for Halloween costumes online? Do it for less with one of these coupons:
Popular Womens Clothing & Accessories coupon codes
| Last checked | Code description | Code |
| --- | --- | --- |
| 24 Nov 2020 | 35% off everything | tre**** |
| 20 Nov 2020 | 60% off the hitlist | NEW**** |
| 19 Nov 2020 | 10% off everything | fin**** |
| 18 Nov 2020 | 20% off sitewide | BLA**** |
| 17 Nov 2020 | 12% off site-wide | FIN**** |
---
More guides on Finder