Finder is committed to editorial independence. While we receive compensation when you click links to partners, they do not influence our content.
CATCHPLAY: Price, features and content
CATCHPLAY brings a vast, fresh selection of movies, from the latest blockbusters to art-house films. The service offers you an unlimited-use film library with detailed browsing information.
Founded in 2007, CATCHPLAY is a Taiwanese multimedia company dealing with theatrical film distribution and linear television channels. In March 2016, the company initially introduced its on-demand video streaming service in Taiwan, known as CATCHPLAY On Demand.
CATCHPLAY officially launched the service in Indonesia later in June of the same year. The service collaborates with IndiHome, a high-speed Internet provider and IPTV platform owned by one of the country's major telco providers, Telkom Indonesia. This was later followed by expanded partnerships with Telkomsel, Indosat, First Media and XL Axiata.
Claiming to be the largest provider for premium movie content in Taiwan, CATCHPLAY aggregates content from Hollywood studios including Disney, Paramount, Warner Bros and NBC Universal. In addition, it also offers you a wide selection of international independent films as well as leading local productions.
With its slogan "For Movie Lovers, By Movie Lovers", CATCHPLAY distinguishes itself from other streaming services like Netflix, which is more focused on its own series content, and from Viu, which is more oriented to Korean language drama series.
Read on to find out what exactly CATCHPLAY has to offer and decide if this is the service you're looking for.
How much does CATCHPLAY cost?
To start enjoying your favourite movies from CATCHPLAY's extensive film library, you must first sign up for one of the available plans. CATCHPLAY offers two membership plans for Indonesian subscribers. The registration is simple and you can use either your Facebook account or mobile number.
| Membership plan | Monthly price | Content included |
| --- | --- | --- |
| Movie Fans | Free | 10 titles per month from the FREE section |
| Movie Lovers Basic | IDR45,000 + 10% VAT | Thousands of movies/series from the UNLIMITED section |
The Movie Fans plan is totally free of charge. With this free membership, you'll receive a complimentary ticket to watch 10 titles every month from the library's "Free" section. If you think that's not enough and want to take your streaming experience to the next level, the Movie Lovers Basic plan is your right choice. With a subscription fee of IDR45,000 per month, you can watch unlimited titles from the "Unlimited" section.
You also have the option to rent single movies, which are usually newly released titles. The single rental or PPV (pay-per-view) for Hollywood studio titles is IDR22,000, while Hollywood Indie, Asian and Indonesian titles cost IDR15,000 per movie.
You can pay your CATCHPLAY bills with your domestic issued credit cards (Visa or Mastercard), or if you're subscribing through one of CATCHPLAY's partners, you will be billed through its own billing systems. All prices mentioned are tax exclusive.
Which devices are compatible with CATCHPLAY?
You can enjoy CATCHPLAY's vast library content on your desktop or laptop via catchplay.com or on your tablet or mobile phone via its dedicated app. You can download the app from the App Store or Google Play store for free.
CATCHPLAY allows you to register up to three devices, including web, app and smart TV, though you can only watch movies with one device at a time. The service also offers seamless watching, a feature that provides easy transition across devices without interruption.
What content does CATCHPLAY offer?
Following CATCHPLAY's ambition to be the leading premium content service provider in Asia, the service offers you a vast and fresh selection of movies, ranging from the latest blockbusters to art-house films. Its unlimited-use film library provides you with detailed browsing information, such as IMDb ratings, editor's notes, free previews and more.
You can find that all available movies are grouped into many categories, mainly based on their genres, popularity and time of releases. In the New Arrival section, you can find newly released titles, such as The Last Airbender, Watchmen, Flight, Stardust and many more.
The Action/Adventure category includes blockbuster movies, such as John Wick: Chapter 3 – Parabellum, Death Wish, Collide and Hummingbird. CATCHPLAY also provides its own Hot Picks and Most Popular sections, where you can find popular titles, including Polaroid, Temple, Godzilla: King of the Monsters and Detective Pikachu.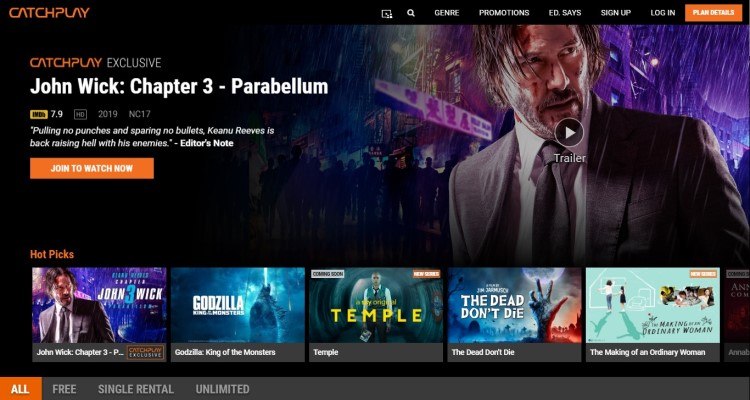 Another category that may be of interest is the IMDb Top Rated. The movies included in this section are selected based on their IMDb ratings. This includes titles like A Star is Born (2018), Wonder, Inception, Mission: Impossible – Fallout, The Truman Show and a whole lot more.
For localised content, CATCHPLAY also provides region-based categories, allowing you to choose available movies based on language or region preferences. For example, the Indonesian Films section offers you popular local movies like Siap Gan, Roman Picisan, 5 Cowok Jagoan: Rise of the Zombies, My Generation and others.
If you're into Korean blockbusters, the tvN Movies section is also available for you to browse through. Sit back and watch your favourite titles, such as Hit-And-Run Squad, Along with the Gods: The Last 49 Days, Unforgettable, The Fatal Encounter and many more.
Last but not least, you can also find the Kids category, a category your kids will surely not want to pass. Interesting titles like LEGO DC: Batman: Family Matters, Uglydolls, Teen Titans Go! To the Movies and Terra Willy: Planète Inconnue are ready to keep them occupied for as long as you need to.
There are of course a lot more categories available than the aforementioned ones. For a complete category listing, please visit the official website.
Does CATCHPLAY offer a free trial?
No, CATCHPLAY doesn't offer any free trials. Instead, you can sign up for the Movie Fans free membership plan. With this plan, you may enjoy watching 10 titles every month from the library's "Free" section without paying any subscription fees. Once you've decided you like the service, you can upgrade to the Movie Lovers Basic plan, which is a paid subscription plan, any time at your convenience.
How does CATCHPLAY compare?