Centralised vs decentralised exchanges
If you're researching peer-to-peer exchanges, you'll also come across the concept of decentralised crypto exchanges. Many (but not all) peer-to-peer exchanges can also be as decentralised.
Decentralised exchanges (DEXs) are hosted on a network of distributed nodes and allow you to trade cryptocurrency directly with other users. The absence of centralisation means there's no single point of failure for hackers to target, and server downtime is no longer an issue.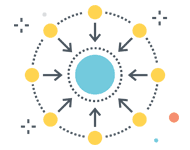 And because trades are executed using smart contracts, you can trade straight from your wallet. This ensures that you don't have to transfer any of your coins and tokens onto an exchange, allowing you to retain control of your cryptocurrency at all times.