Finder is committed to editorial independence. While we receive compensation when you click links to partners, they do not influence our content.
Dukung Inklusi Keuangan, GoBear Indonesia Gelar Seminar Bertema Digitalisasi Layanan Finansial
Pada Selasa, 26 Maret 2019, GoBear Indonesia menggelar seminar bertajuk "Digital Opportunity to Enhance Financial Services Sector Innovation" di Energy Building, Jakarta Selatan.
Acara ini merupakan upaya GoBear Indonesia dalam mendorong terciptanya sinergi antara platform digital dan penyedia layanan finansial dalam mendukung inklusi finansial di Indonesia.
Seminar yang ditujukan kepada para pelaku industri perbankan dan asuransi ini menghadirkan diskusi panel yang diisi oleh CEO PT Asuransi Simas Insurtech Teguh Aria Djana, Chief Operation Officer (COO) Allianz Utama Fabian Huber, Partner McKinsey & Company Guillaume de Gantes, dan Co-founder & Chief Commercial Officer (CCO) GoBear Marnix Zwart.
Adapun acara diskusi dipandu oleh Editor in Chief TechInAsia Indonesia Pradipta Nugrahanto selaku moderator.
Berlangsung selama kurang lebih 60 menit, para panelis mengupas peran platform digital dalam menjawab tantangan literasi finansial maupun integrasi finansial di Indonesia. Sesi diskusi juga membahas pentingnya peran teknologi dalam membantu masyarakat dalam mengenal dan mengakses produk finansial yang mereka perlukan.
Seperti yang kita ketahui, Indonesia merupakan negara yang memiliki potensi besar dalam implementasi teknologi di sektor keuangan atau fintech (financial technology).
Di sisi lain, sulitnya mendapatkan informasi menyeluruh mengenai produk dan jasa keuangan yang cenderung rumit menjadi kendala yang sering dihadapi masyarakat.
Country Director GoBear Indonesia Tris Rasika mengatakan, "Kami ingin membuka kesempatan bagi seluruh rakyat Indonesia untuk bisa mengakses produk keuangan di Indonesia, terlepas dari batasan geografis yang ada."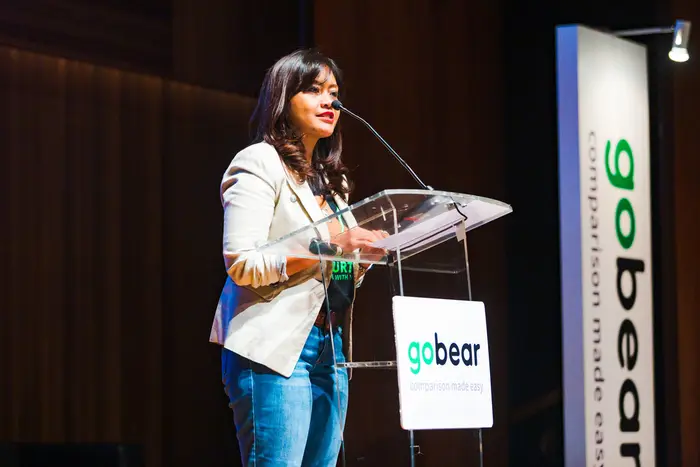 Oleh karena itu, keberadaan layanan finansial berbasis digital diharapkan dapat membantu masyarakat menemukan produk finansial yang mereka butuhkan secara praktis, tanpa terhalang batas geografis.
CEO GoBear Adrian Chng menambahkan, memilih dan membeli produk finansial seharusnya dapat dilakukan dengan mudah dan cepat layaknya berbelanja di situs e-commerce.
Menjawab tantangan ini, GoBear Indonesia hadir sebagai supermarket finansial yang membantu masyarakat dalam membandingkan dan memilih produk serta jasa keuangan secara mudah dan transparan.
Tentang GoBear
GoBear merupakan situs perbandingan produk-produk keuangan yang membantu masyarakat memilih produk sesuai profil dan kebutuhan.
Berdiri sejak 2015, GoBear membawa visi membangun komunitas yang aman, stabil, dan berkelanjutan melalui peningkatan kesehatan finansial di seluruh Asia.
Saat ini, Gobear telah beroperasi di tujuh negara Asia, meliputi Singapura, Thailand, Malaysia, Filipina, Daerah Administrati Khusus Hong Kong, Vietnam, dan Indonesia.
Bekerja sama dengan hampir 100 partner dari industri perbankan dan asuransi, GoBear mampu menawarkan lebih dari 1.500 produk keuangan yang kompetitif. Secara global, GoBear telah memiliki lebih dari 35 juta pengguna di seluruh Asia.
Adapun di Indonesia, GoBear hadir sejak Agustus 2018. Dalam waktu kurang dari satu tahun, GoBear Indonesia telah dipercaya oleh lebih dari 700 ribu pengguna.
Dengan dukungan lebih dari 100 karyawan, GoBear berharap dapat mewujudkan misinya untuk meningkatkan kesehatan finansial di Asia melalui literasi finansial, inklusi finansial, dan keamanan finansial yang dapat diperoleh siapa pun.