Finder is committed to editorial independence. While we receive compensation when you click links to partners, they do not influence our content.
Rewards credit cards
Earn points as you spend and redeem them for travel, gift cards, shopping and more with a rewards credit card.
Reward credit cards offer you points for every rupiah you spend on eligible purchases, which you can then use to get free flights, hotel stays, gift cards or other rewards. Depending on the card, you could also enjoy perks such as airport lounge access, complimentary insurance or a concierge service.
Use this guide to compare reward credit card offers and features. You can also look at the different reward programs available and learn about the different factors to consider so you can find a credit card that works for you.
How do rewards credit cards work?
These credit cards give you a way to get some extra value from your everyday spending by allowing you to earn points per rupiah spent on the card. Usually, these credit cards give you membership to a particular rewards program, which could be linked to your credit card company (eg Citi Rewards or Reward BCA), a frequent flyer program (eg GarudaMiles or KrisFlyer) or a retail rewards programs (eg Matahari or Lotte Mart). When you have enough points, you can redeem them for travel, flight upgrades, gift cards, cashback and merchandise.
While rewards credit cards can help you get something extra for your spending, these cards typically have higher standard interest rates and annual fees than other options. So there is a chance these costs could outweigh the value of the rewards.
Example: How to compare the costs and potential value of a rewards card
To help you decide if a rewards card is worth it, consider the annual fee, the amount of points you'll usually earn (based on your average spending) and what rewards that you could get.
For example, if a reward credit card had a IDR450,000 annual fee but you knew you could get more than IDR450,000 value from the points you'd earn, then it would be worth it. But if you could only get IDR200,000 value from rewards, you'd end up paying more for the cards that what you got from the rewards (and that's before you factor in any interest charges).
What is an eligible transaction on a rewards credit card?
Each rewards program and credit card company has a different definition of which transactions earn points. Generally, most of your everyday purchases will earn points – including spending at retail stores, supermarkets and petrol stations. Transactions that usually don't earn points are government charges, utility bills, cash advances, balance transfers, account fees and account charges. Check the rewards program's terms and conditions for a full list of eligible and ineligible transactions so you know when you will earn rewards.
What rewards can I get with credit card points?
The rewards you can get with a credit card depend on the card you choose and the rewards program. Some of the most popular reward categories include:
Flights and flight upgrades
Frequent flyer points
Accommodation
Gift cards
Cashback
Petrol vouchers
Instant shopping discounts
Fashion items
Electronics
Tickets for theme parks or movies
How can I use credit card reward points?
The steps you need to take to redeem your points will vary between credit cards and reward programs, but you can usually expect to have to do the following:
Log in to your account. If you're redeeming points online, you'll need to log in to your credit card or rewards program account to make redemptions. Once you have logged in, it's usually a simple process of going to the "Rewards" section, then selecting "Use points" and following the prompts.
Make sure you have enough points for your reward. You need a certain number of points to redeem each reward (e.g. 12,000 points for a IDR500,000 gift card). If you don't have enough points, you may have to wait until you earn more points, or consider other options.
Check if points plus pay is offered. Many credit card and frequent flyer reward programs allow you to use a combination of points and money to redeem rewards. This option is usually available for a selection of rewards, such as travel or merchandise, and gives you more flexibility if you haven't earned enough points for your chosen reward.
Confirm your chosen reward. Once you've found the reward you want, click through to the redemption process and follow the prompts to complete your redemption.
Types of credit card rewards programs in Indonesia
There are four main reward categories: Frequent flyer programs, credit card reward programs, retail reward programs and cashback cards. You'll find more details on each of these options below.
Frequent flyer programs
If you have a card linked to a frequent flyer program, you can earn points and redeem rewards with a particular airline (such as Garuda Indonesia or Singapore Airlines). There are two main ways to earn frequent flyer points with a rewards credit card in Indonesia:
Direct earn frequent flyer credit cards. These cards are linked with a specific frequent flyer program and rewards are added directly to your airline loyalty account. The frequent flyer programs that are linked to direct earn credit cards in Indonesia include GarudaMiles (Garuda Indonesia), Freedom Flyer (AirAsia) and KrisFlyer (Singapore Airlines).
Indirect earn frequent flyer credit cards. These rewards credit cards let you transfer the points you earn to many different frequent flyer programs from all around the world, giving you more flexibility if you fly with a range of airlines. Credit card rewards programs that indirectly earn frequent flyer points include American Express Membership Rewards, Citi Rewards, Reward BCA and HSBC Rewards. However, you should note that these cards usually have less competitive earn rates after you exchange your reward points to frequent flyer points.
Automatic and instant reward options on credit cards
Many credit card reward programs give you the option of setting up automatic redemptions for specific rewards, such as cashback, gift cards or frequent flyer points. Other credit card companies offer instant redemptions with certain retailers. For example, if you have a BCA credit card you can redeem your Reward BCA points in-store at any shops with Reward BCA signage.
Retail rewards credit cards
These rewards credit cards offer you points and other perks when you shop with a particular supermarket or major retailer.
Cashback credit cards
These types of reward credit cards add credit or "cash" to your account when you meet certain spending requirements. Most cashback credit cards offer a percentage of your total spend as cashback or provide a one-time account credit as an introductory offer when you apply and are approved for a specific credit card.
Cashback options with other rewards credit cards
You can also get cashback through most of the frequent flyer, credit card and supermarket or retail rewards programs outlined above. Just choose the "cash" or "gift cards" category of your rewards program to see what options are available.
What's the best rewards credit card in Indonesia?
This depends on your individual circumstances and goals. With such a wide range of options available, there is no single "best" credit card for earning rewards. But you can find a card that works for you by comparing cards based on factors including the rewards earn rate, bonus points and other extras, as well as the annual fee and interest rates. If you weigh these details up against your current spending habits, you'll be able to see if the rewards you earn will be worth the costs so that you can decide if the card is right for you.
How to compare rewards credit cards in Indonesia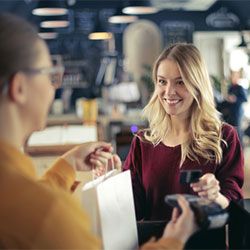 To find a credit card that suits your spending habits and goals, you'll need to compare a range of different options before you apply. This helps you find the right mix of benefits and costs for you. Here, you'll find details of the key details to consider when you're comparing rewards credit cards:
How can I earn points?
Points per rupiah. The more points you earn per rupiah spent, the greater the potential value. A good rule of thumb is to look for a card that offers at least 1 point per IDR2,500 spent for most transactions.
Point expiry and caps. Some credit card reward points expire after a certain amount of time, and some accounts have a limit on how many points you can earn in a month or year.
Bonus point offers. Rewards credit cards often have sign-up deals that give you hundreds or thousands of bonus points. Usually, these offers require you to spend a certain amount of money on the card in the first few months you have it. As these offers only last for a limited time, you should only consider them after you have a clear idea of the type of card you want so that you can get the most value out of the deal and the rewards card you choose.
What rewards are available?
Point values. To work out the value of your rewards, consider how many points you would need to redeem for a specific reward. For example, if you need 12,000 points to get a IDR500,000 gift card and your credit card has an earn rate of 1 point per IDR2,500 spent, you would have to spend IDR30,000,000 to make a redemption. Breaking down the rewards like this can help you determine whether it's worth your time and money.
Rewards partners. Rewards programs often partner with retailers and businesses to provide you with a wider range of redemption options. You may also have the opportunity to earn bonus points when you shop with partner stores. Choose a credit card rewards program that has partnerships with your favourite brands and products so you can take advantage of these options.
Redemption limitations. Some rewards programs have blackout periods when you may not be able to make redemptions. Check the fine print for this information and consider the impact it could have on you.
What are the rates and fees?
Annual fees. Most rewards credit cards charge an annual fee. The value of the rewards you earn should be equal to or more than the annual fee of the credit card to make it worthwhile. You could also compare rewards credit cards that offer no annual fee – just remember to check if the annual fee is waived in the first year or IDR0 for life.
Foreign transaction fees. Most credit cards apply a charge for transactions made overseas or with an international retailer online, usually 2% to 3.5% of the total transaction. Make sure you consider this fee before choosing a card – especially for any rewards card that offers more points for foreign transactions.
Purchase rates. Rewards credit cards often have high standard interest rates. If you think you'll carry a balance, consider how much interest your purchases will accrue and whether the rewards will outweigh the cost of your repayments.
Balance transfer rates. Some balance transfer credit cards also come with rewards. These cards allow you to move an existing debt to the new card and pay a low introductory interest rate on the balance. But you won't earn points for the balance that you transfer and any new purchases will attract the card's purchase interest rate. If you have credit card debt, it may be better to focus on paying it off completely before considering a rewards card.
Cash advance rates. If you use a rewards credit card for a cash advance transaction, such as getting money from an ATM, you will be charged interest at the cash advance rate. This rate could be as high as 26.95% p.a. Cash advances usually don't earn reward points either.
Other fees. Check for other costs, such as late payment fees or additional cardholder fees, so that you can choose a card that is affordable for you.
Are there any complimentary extras?
Rewards credit cards often come with a variety of additional features that can add value to the account you choose. Popular perks include the following:
International travel insurance
Airport lounge access
Complimentary flights
Hotel stays
Purchase protection insurance
Extended warranty coverage
Price match guarantees
Concierge services
Is a rewards credit card worth it?
The value of a rewards credit card depends on your spending habits as much as it does on the actual card you choose. So rather than making a definitive statement about whether a rewards credit card will be worth it, let's take a look at the key factors that make them likely or unlikely to work for you.
A rewards credit card could be worth it if you:
Pay off your credit card balance in full every month
Currently use or plan to use a credit card on a regular basis
Know what type of points you want to earn
Are part of or want to join an existing rewards program that is linked to reward credit cards (such as a frequent flyer program or shopping rewards program)
Earn enough to pay a higher annual fee
Can regularly make use of the rewards or complimentary extras on the card, such as insurance and lounge passes
A rewards credit card might not be right if you:
Have a lot of credit card debt
Often carry a balance on your credit card
Rarely use a credit card
Won't regularly use complimentary extras on the card
Can't afford a higher annual fee
Are tempted to spend more so you can earn rewards
While rewards credit cards can be a useful way to get something back on your spending, it's important to remember that you have to repay everything (plus interest). There are also annual fees and other costs to consider.
So if you want a rewards card, start by comparing a range of credit cards based on the rewards program, costs and your spending habits. You can then read reviews of individual cards, check your eligibility and apply for a card that suits your needs.
Frequently asked questions about rewards credit cards
Want to know more about rewards credit cards? You can find answers to the most common questions we get about them below. You can also leave your own question by filling out the form below.