Finder is committed to editorial independence. While we receive compensation when you click links to partners, they do not influence our content.
Best cryptocurrency exchanges
Find the best cryptocurrency exchange for beginners, low fees and more.
About our promoted picks
The platforms shown above are promoted picks, which means they've been chosen from among the partners we work with and are based on factors that include special features or offers and the commission we receive. Keep in mind that we do not compare all products in the market and our promoted picks may not always be the best fit for you – it's important to compare for yourself and find a platform that works for you.
You can use a cryptocurrency exchange to buy, sell and trade cryptocurrencies such as Bitcoin (BTC) and Ether (ETH). We've compared some popular Bitcoin exchanges by different categories to make it easier to find the best for you.
Disclaimer: This information should not be interpreted as an endorsement of cryptocurrency or any specific provider, service or offering. It is not a recommendation to trade.
Compare cryptocurrency exchanges you can use in Hungary
Disclaimer: This information should not be interpreted as an endorsement of cryptocurrency or any specific provider, service or offering. It is not a recommendation to trade.
[/fin_tabs]
How to choose a cryptocurrency exchange
It's important to research a wide range of platforms and compare the pros and cons of each option. The best Bitcoin exchange for you depends on what you're looking for.
Consider the following factors when comparing crypto exchanges.
How to use a cryptocurrency exchange
For the sake of our example, let's assume that you have 500 Ft that you want to use to buy Bitcoin.
Compare cryptocurrency exchanges to find one that offers the right service for you.
Register for an account on the platform, including providing any personal details and proof of ID required.
Navigate your way to the "Buy" screen.
Select Bitcoin as the cryptocurrency you want to buy.
Select your payment currency, which in this case is HUF, and specify the amount you want to spend as $500.
Select your payment method, such as a credit card payment or bank transfer.
Enter your payment details, such as your account number and BSB if sending a bank transfer or your card number and CVV if paying by credit card.
Review the full details of your transaction, including the fees that will apply and the amount of BTC you are purchasing.
If you're happy to proceed, click "Buy BTC".
Once the transaction has been processed, the BTC will be deposited into your exchange wallet. However, please note that some brokers will automatically send your purchased BTC to an external wallet address nominated by you.
Back to top
How to pay for your cryptocurrency
You'll need to deposit funds on your cryptocurrency exchange, or otherwise make a transfer. Bitcoin exchanges accept all sorts of deposit methods, including the following:
Credit and debit cards
PayPal and other online payment services
Cash deposits
Bank transfers
POLi
Prepaid cards
Cryptocurrency transfers
PayID, Osko and other NPP payments
Wire transfers
The payment types accepted will vary between exchanges though, so it's worth checking to ensure your preferred payment method is supported before signing up.
Back to top
The different types of cryptocurrency exchanges
The term "exchange" can be used to refer to a variety of cryptocurrency brokers, trading platforms and other services. Different types of exchange are often more geared towards beginners or experienced users.
For beginners – cryptocurrency brokers. Buy directly from cryptocurrency dealers for simple, quick and easy purchases. Many beginners use brokers for their first purchase. Examples of cryptocurrency brokers include CoinSpot is an example of a cryptocurrency broker.
For intermediates – cryptocurrency trading platforms. Buy and sell cryptocurrency on an open market for competitive fees, a wide selection of cryptocurrencies and optional extra features like margin trading. While a bit trickier than brokers, these platforms can still be quite beginner-friendly. Binance is an example of a cryptocurrency trading platform.
For advanced users – cryptocurrency derivatives platform. These trading platforms don't sell cryptocurrency outright. Instead, they let you trade cryptocurrency derivatives. They're for advanced traders who want high speed, high leverage, deeply liquid platforms with a full range of features.
Is it safe to store your cryptocurrency on an exchange?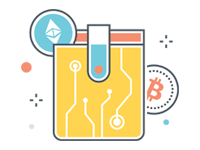 Securely store your crypto:
Best Bitcoin wallets
Best hardware wallets
Cryptocurrency is held in digital wallets. Some exchanges will give you your own wallet, which lets you hold cryptocurrency in your exchange account and then transfer it anywhere as desired, while others will require you to have your own wallet at the time of purchase.
However, using an exchange for long-term storage is not recommended. As the exchange controls the private key to your wallet, you don't have total control of your funds. And with exchanges regularly (and sometimes successfully) targeted by hackers, storing crypto on an exchange long-term is very risky.
Next steps
Not all crypto exchanges are created equal, and not all crypto buyers and sellers have the same trading needs. The best exchange for one person might not necessarily be the right choice for someone else, so it's essential that you do your own research.
Check out our reviews on a range of leading cryptocurrency exchanges in Hungary and around the world. Compare the features, fees and pros and cons of each Bitcoin exchange and consider how they align with your trading requirements.
The best Bitcoin exchanges
The best Bitcoin exchange is cheap, easy and fast, with a wide range of payment options. It doesn't need to have a wide selection or any advanced trading features. It's for people who just want to buy Bitcoin. Generally, the most important factor is whether you're using a local exchange, as this typically means you can pay with the local currency, and enjoy faster, cheaper transactions.
By this measure, the best Bitcoin exchange in Hungarian might be CoinJar. Its rates and fees are about on par with other top Hungarian cryptocurrency exchanges, and it doesn't have an especially wide selection of cryptocurrencies, but its flexibility and Bitcoin-related features go above and beyond.
Some of the things that set CoinJar apart from other Hungarian Bitcoin exchanges are that it has both a simple brokerage service and a reasonably active trading platform, that it offers a Bitcoin debit card and its wide range of payment options, including cash deposits.

The best altcoin exchanges
The best altcoin exchange has a wide selection first and foremost, ideally with good liquidity across all pairs. Low fees, extra features, fiat payment options and other extras are nice, but sheer selection is more important.
There are two altcoin exchanges that may be considered to be the best, and between them, you can find hundreds upon hundreds of different coins.
The first is CoinSwitch. It's actually an aggregator that lets you trade across several different partner exchanges at once. Between those partners, CoinSwitch lets you access about 400 different cryptocurrencies all in one place, with trading fees usually ranging from 0% to 0.5%, although there may be other costs in the spread. If you're looking for a wide selection and low fees, CoinSwitch could be a good place to start.
KuCoin could be a good place to look second. It offers several hundred cryptocurrencies by itself, and it's not one of CoinSwitch's partners, which means you can find things on KuCoin that you won't find on CoinSwitch. KuCoin's trading fees are 0.1%, and as a proper exchange, it has some features that CoinSwitch doesn't, such as margin trading.

The cheapest cryptocurrency exchanges
The cheapest cryptocurrency exchange isn't always the one with the lowest trading fees. It's also important to look for good spreads, to get good exchange rates and to make sure the deposit or withdrawal fees are reasonable.
The cheapest exchange may depend on whether you're looking for a place to buy cryptocurrency, or if you want to trade cryptocurrencies instead. It can also depend on whether you're buying Bitcoin, or a more obscure altcoin.
If you're just buying Bitcoin with HUF, CoinJar may be the cheapest option. It offers zero fee deposit and withdrawal options, good rates and low fees.
If you want to buy altcoins with HUF, it may be worth checking the prices at Swyftx instead. It charges deposit and withdrawal fees on smaller transfers, and its fees aren't the lowest, but it will often more-than make up for it with much better spreads on HUF altcoin purchases.
If you want to actively trade cryptocurrencies for each other, Binance could be the cheapest choice. Its trading fees start at 0.1%, with easy avenues to additional discounts. Simply by paying fees with BNB, it's possible to get an easy 25% discount on trading fees. Importantly, it's also one of the world's most liquid cryptocurrency exchanges, which can be key to saving money by avoiding slippage.

The largest cryptocurrency exchanges
There are different ways of measuring "largest", but the most common is trading volume. More volume is good because it can indicate more popular, responsive and liquid exchanges. Unfortunately, you can't just take the exchange's word for it or trust exchange volume rankings from sites like CoinMarketCap. Fake volume and wash trading are common in cryptocurrency.
There are some exchanges which, after heavy scrutiny, are believed to show entirely genuine volume though.
The world's highest real-volume exchange is consistently Binance, according to reports from the Blockchain Transparency Institute, Bitwise and others.

The most popular cryptocurrency exchanges
If someone wants to find a reliable and all-around good cryptocurrency exchange without spending too much time sifting through the options, it can be helpful to beeline right for the most popular.
Popularity can be tricky to measure though, and many exchanges don't disclose their total number of user accounts, and this figure will often be very different to the number of active users.
However, according to Similarweb, the most-visited cryptocurrency exchange website in the world between November 2019 and January 2020 was Coinbase, with over 57 million website visits worldwide. The second most-visited cryptocurrency exchange was Binance, with 53 million visits.
This echoes findings from the Blockchain Transparency Institute, which reported in December 2018 that Coinbase was the world's most popular cryptocurrency exchange.

The best cryptocurrency trading platforms
The best cryptocurrency trading platforms are very liquid, very fast and offer a full range of features such as margin trading with up to 100x leverage, cryptocurrency derivatives such as futures and options, and good integration with third-party trading tools such as cryptocurrency trading bots. Ideally, they will also be well-regulated, popular and have a good reputation.
There are no exchanges which fit all of the above criteria, so the best cryptocurrency trading platform for you may depend on which of these criteria is most important to you. There are a number of options to consider.
Binance offers the highest leverage of any exchange (125x) and a wide selection of crypto derivatives, but it's been known to experience technical issues.
Kraken only offers up to 5x leverage on a comparatively small range of coins, but it's got a good reputation and offers both futures and options contracts. eToro allows trading of a wide range of assets beyond cryptocurrency, and has unique features such as Copy Trade, but it's primarily a CFD platform which means you're only betting on the prices rather than actually taking possession of the underlying cryptocurrency.

Cryptocurrency exchanges that don't require ID
As a general rule of thumb, crypto-to-crypto trading doesn't always require user verification, and people can do it without ID. Exchanging fiat currency for cryptocurrency typically does require ID.
Many of the exceptions to the rule are peer-to-peer exchanges, such as Paxful, where users can arrange fiat-to-crypto trades directly with each other that don't always require ID.
However, there are often strict purchase limits and other downsides when using exchanges that don't require ID.
Read the full guide to buying cryptocurrency with no ID for more information and a list of exchanges that don't require ID.

Cryptocurrency exchanges that let you pay with cash
There are two main types of exchange that let you pay with cash, or three if you include Bitcoin ATMs.
You can check the map of Bitcoin ATM locations in Hungary to see if there's a Bitcoin ATM near you.
The other exchanges that let you buy crypto with cash include those such as CoinSpot, which let users pay with cash via cash vouchers, and peer-to-peer cryptocurrency exchanges such as Paxful where traders can find sellers who are willing to accept cash.
Read the full guide to buying cryptocurrency with cash for more information and more options.
The safest cryptocurrency exchange
Most exchanges will claim to be perfectly safe and secure right up until they get hacked, so you can't just take their word for it. Instead, you can find the safest exchanges by looking at their security history, their security policies and any additional measures they take to protect their exchanges.
In this light, the safest Hungarian cryptocurrency exchange is arguably CoinSpot. It's never been hacked, and as of March 2020 it's the only Hungarian cryptocurrency exchange with ISO27001 security certification.
Internationally, the safest cryptocurrency exchange might be Gemini. It was founded in 2014, it's never been hacked, it was one of the world's first exchanges to get ISO27001 certified and it's also created its own captive insurance company specifically to ensure coverage for digital assets.
As safe as Gemini is, non-custodial or decentralised cryptocurrency exchanges are arguably even safer. Non-custodial exchanges send funds directly to your personal wallet when you make a purchase, while decentralised exchanges allow direct peer-to-peer cryptocurrency swaps.
In both cases, the exchanges don't hold user funds, which means there's no risk of losing your money to an exchange hack.
Non-custodial and decentralised exchanges put you in personal control of your security.
If you have a secure hardware wallet and know how to use it, non-custodial exchanges are arguably as safe as cryptocurrency exchanges can ever get. Decentralised exchanges are theoretically just as safe, but they're also more experimental so bugs and unforeseen vulnerabilities may pose problems.

The best non-custodial cryptocurrency exchange
Non-custodial cryptocurrency exchanges send your cryptocurrency directly to your personal wallet after you make a purchase. This can be convenient, and it's also perceived to be safer than entrusting funds to centralised exchanges.
The best non-custodial exchanges are characterised by variety, a wide range of payment options and fast delivery.
Coinmama is a well-known non-custodial exchange. It doesn't hold your funds or cryptocurrency. Instead, it simply takes payment and then sends cryptocurrency directly to your wallet address as soon as payment is received and your wallet address is confirmed.

The best decentralised cryptocurrency exchange
All decentralised exchanges (DEXs) struggle to a certain extent with liquidity problems, complex user interfaces and slow trading, and you can expect to find combinations of these issues on any DEX.
No decentralised exchanges are without problems, and the best might depend on which ecosystem you're trying to access.
The Waves platform is a relatively well-known general-purpose DEX, while more Ethereum-specific DEX protocols include 0x and Kyber Network. Elsewhere, DEXs such as Stellarport offer access to the Stellar Lumens ecosystem, while the Binance DEX serves as a token swap system in the Binance Chain ecosystem.
Frequently asked questions
Does every exchange list every possible cryptocurrency?
No. The list of currencies available varies widely from one exchange to the next. Some Bitcoin exchanges will only offer Bitcoin or a select few currencies while others support hundreds, but there's no guarantee that all the cryptos you want to buy and sell will be available on any one platform.
How do I avoid scams on cryptocurrency exchanges?
While regulators are gradually implementing laws and guidelines to help protect consumers against fraud, there are still plenty of dodgy exchange operators out there. Falling victim to theft is a major concern for any crypto buyer.
Read our guide to cryptocurrency scams for a checklist to help you avoid falling victim to fake or disreputable exchanges.
What if I want to place large-volume crypto trades, for example trades worth $50,000 or more?
You may want to consider using the services of an over-the-counter (OTC) broker in order to avoid slippage. Check out our guide to OTC services for more details.
Are there any exchanges that allow leverage trading of cryptocurrencies?
Yes. Take a look at our cryptocurrency margin trading guide for more information.
Where can I find a list of the world's biggest crypto exchanges?
You can view 24-hour trading volume for crypto exchanges on sites like CoinMarketCap, but be aware that the information is not always correct, and many unscrupulous exchanges try to cheat the rankings with fake trading volume.
You can find a more in-depth selection of the world's biggest cryptocurrency exchanges here.
Why do some crypto exchanges ask me to verify my identity?
Exchanges in Hungary and several other countries are subject to anti-money laundering and counter-terrorism financing (AML/CTF) regulations. In order to comply with these regulations, exchange operators must gather certain details about their customers – which is why you may be asked to provide proof of ID. This process is typically referred to as "know your customer" or KYC.
---
Disclaimer: Cryptocurrencies are speculative, complex and involve significant risks – they are highly volatile and sensitive to secondary activity. Performance is unpredictable and past performance is no guarantee of future performance. Consider your own circumstances, and obtain your own advice, before relying on this information. You should also verify the nature of any product or service (including its legal status and relevant regulatory requirements) and consult the relevant Regulators' websites before making any decision. Finder, or the author, may have holdings in the cryptocurrencies discussed.