Finder is committed to editorial independence. While we receive compensation when you click links to partners, they do not influence our opinions or reviews. Learn how we make money.
HSBC Direct CD review
Grow your money at this established bank without being overwhelmed by options.
Regardless of your savings goals, you can grow your nest egg with HSBC's short and simple CD term options. But you may want to look elsewhere if you're after a high APY.
An Overview:
Few terms
Daily compounded interest
Established banking network
Low APY
Details
Minimum deposit to open
$1,000
Interest compounding
Daily
6-month APY
0.5%
1-year APY
0.6%
2-year APY
0.6%
Early withdrawal penalty
30 days interest for terms of 1 to 12 months
90 days interest for terms of 13 to 24 months
180 days interest for terms of 25 + months

Expert review
Review by
sarah.george@finder.com
---
Sarah George is a writer at Finder who unravels complicated topics about insurance, business and finance. She's been wordsmithing for nearly five years, after earning an English education degree. Her insurance know-how has been featured on CarInsurance.com. You can usually find Sarah sipping hot tea and talking through movie plots in her downtime.
Expert review
The HSBC Direct CD is best for those looking for long-term growth at an established bank.
But it offers lower rates than the competition and not as many short-term options.
What are the benefits of an HSBC CD?
Opening a CD with HSBC comes with the following perks:
Interest compounded daily. Grow your money faster by earning on the previous day's interest.
Large banking network. You'll have access to online banking tools and HSBC's large network of physical locations.
Automatic renewal. To keep your money growing, HSBC automatically rolls it into a new CD after the end of the term. You can receive the same APY as before, but call customer service to confirm during the 10-day grace period after the term is over.
Renewal changes. During the renewal grace period, transfer some or all of the balance to other bank accounts. Or add money to the CD and let it renew after the term for the same time and APY.
What should I watch out for?
As with most banking products, HSBC's Direct CDs do have a few drawbacks:
Low APY. The longest term earns only 0.6%% APY. Some top online banks offer CD rates well above that.
Early withdrawal penalty. If you access your money before the term is up, the bank withdraws 30, 90 or 180 days of simple interest, depending on the term you choose.
Limited term options. Pick one of just three term options: 6, 12 or 24 months.
Fixed interest. If the APY goes up, you're stuck with the lower interest rate until your CD matures.
If you prefer a CD with higher rates and more term options, you'll want to keep looking. As always, compare your options when looking for a CD.
Compare with other CDs
How do I open a CD?
As a new customer, you'll need to fill out HSBC's application either online, by phone or by mail:
Online. Complete your forms the do-it-yourself way on HSBC's website:
Go to the Certificates of Deposit page on HSBC's site.
Choose your CD's term — 6, 12 or 24 months — and click Apply Online underneath your chosen term.
Fill out the application, including your name, date of birth, Social Security number and email address. Click Continue.
Provide your bank information to fund your CD and the desired amount.
The bank will send you a confirmation email with further instructions.
By phone. Call HSBC's customer service number at 888-404-4050 to open your account or ask questions about the application from 9 a.m. to 5 p.m. ET.
By mail. Send your application and a deposit check to this address:
HSBC Bank USA, N.A.
PO Box 2013
Buffalo, NY 14240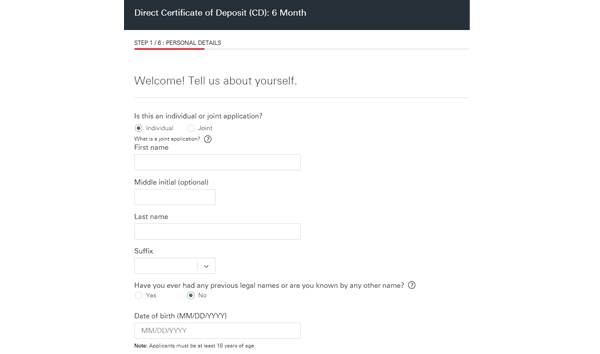 Eligibility
To open a CD with HSBC, you'll need to meet the following requirements:
Be at least 18 years old.
Be a US citizen.
Have a US address for the last three years.
Have a minimum of $1,000 to open an account.
Required information.
When applying, keep these items on hand to make the process easier:
Social Security number.
Home addresses for the past three years.
Valid US driver's license or ID.
Bank account information to fund the account.
Funding options
Finally, you'll need to fund your new CD. You can:
Transfer between banks. Use a personal account to fund the CD, even if it's with another bank.
Deliver or mail a check. Bring your funds into an HSBC branch or mail them to your closest location.
Use other HSBC accounts. Already have another account with this bank? Use the Personal Internet Banking system to fund your CD.
How do I cash in a CD?
Once you're ready to access your money, you can transfer it instantly to another HSBC account. You can also move money around between banks using an electronic transfer.
Want to keep saving? Do nothing and let the amount roll into a new CD with the same term. You can call customer service at 800-975-4722 to change the term or to make sure you'll receive the same APY.
If you go past the CD's maturity date, you'll have 10 days to make changes without penalty.
How can I get in touch with customer service?
You've got a few options:
Phone call. Call the Customer Relationship Center any day of the week from 7 a.m. to 12 a.m. ET at 800-975-4722.
Live chat. Click Live Chat on the bank's homepage. Enter your name and submit your question for quick, convenient online service.
Branch locations. Visit one of the US branch locations, mainly in the Eastern United States.
What other savings products does HSBC offer?
HSBC also offers a few other accounts to help you save:
HSBC Everyday Savings. A no-frills savings account with a 0.01% APY, no monthly fees if you keep a minimum average balance of $500 and a $1 minimum deposit to open.
HSBC Advance Savings. Earn up to 0.05% APY on account balances of $15,000 or more with no monthly maintenance fees and access to HSBC ATMs across the US.
HSBC Premier Savings. Tiered rates of up to 0.15% APY on balances of $100,000 or more with nationwide ATM access and an account cap of $2 million.
HSBC Direct Savings. An online-only account with a 0.7% APY, no monthly fees and no balance requirement.
Frequently asked questions