How to upgrade on American Airlines
Get complimentary cabin upgrades or purchase them with miles.
Like most airlines, American Airlines offers complimentary cabin upgrades to the most loyal customers who fly thousands of miles annually and have reached elite status. But if you're an infrequent flyer, you can still upgrade your cabin without using dollars.
How can I get an upgrade?
You can upgrade on American Airlines and American Eagle flights by having AAdvantage elite status or by purchasing the upgrade with miles. To earn miles, you need to become an AAdvantage member, which is free. Your upgrade will last for a single one-way trip with a maximum of three segments.
American Airlines upgrade with miles
To book your mileage upgrade award, call American Airlines Reservations or visit a travel center or an airport ticket office. You can request an upgrade during your reservation, before check-in or after you purchased your ticket. American Airlines will waitlist your request if there's no upgrade available when booking.
American Airlines upgrade chart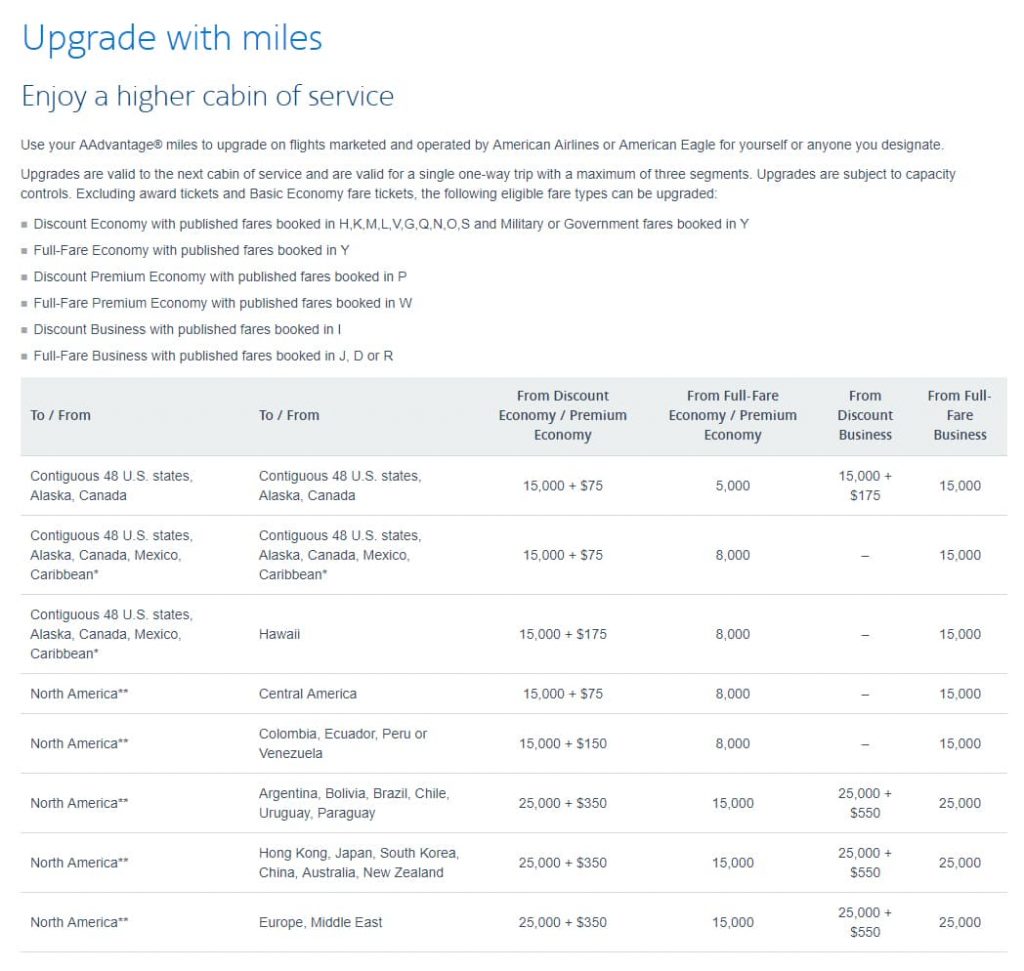 You'll pay a $75 fee for mileage upgrades on requests made less than 21 days before departure. AAdvantage Executive Platinum, Platinum Pro, Platinum or Gold members don't pay the fee.
To see how many miles you may need to upgrade, check out American Airlines' helpful chart.
How to earn American Airlines miles
How to use a credit card to get an American Airlines upgrade
An American Airlines cobranded credit card can be an excellent choice if you want to stack up on miles fast. Some cards offer accelerated miles on restaurant and gas purchases in addition to American Airlines purchases. Most of these cards also come with a solid signup bonus, granting you extra miles if you hit the spending requirement within the designated time period.
Also, with AAdvantage credit cards you can get additional perks, including free checked bags, in-flight savings and more.
Compare credit cards that can help earn an upgrade
How to use miles to upgrade on an American Airlines partner flight
British Airways and Iberia are the only American Airlines partners where you can use your miles to get an upgrade. However, upgrading on these airlines costs more miles than on American Airlines flights. You can upgrade your:
Full-fare economy ticket booked in Y or B on British Airways or Iberia.
Premium economy with published World Traveller Plus fares booked in W on British Airways.
Full-fare business ticket booked in C, J, D or R on British Airways or Iberia.
Who gets upgraded?
American Airline's upgrade wait list looks like this:
AAdvantage elite status. The higher elite status has priority over the lower elite status members. Note that American Airlines is a member of the Oneworld Alliance. When you earn elite status with one member of the alliance, you get benefits with the others. Benefits include priority boarding, priority check-in, extra baggage allowance, lounge access and more.
Upgrade type. Systemwide upgrades go first, followed by upgrades purchased with miles, 500-mile upgrades on purchased tickets and 500-mile upgrades on award tickets.
12-month rolling EQDs. This category takes the amount of Elite Qualifying Dollars (EQDs) you have spent in the previous 12 months to determine your upgrade priority.
Time and date of upgrade request. This serves as a tie-breaker in case two passengers fall in the same upgrade group.
But rest assured — even if you're behind on the priority list, you can still get the upgrade if it's available.
Read more about upgrading your flights
Bottom line
Getting a complimentary upgrade or getting an upgrade without paying for it can only be done if you're an AAdvantage member. Membership is free and you can earn miles on your American Airlines flights. If you get an AAdvantage credit card, you can earn miles even faster.
However, if none of those options fit your financial needs, check out other airline credit cards to compare your options.
Frequently asked questions