FDA warns against toxic hand sanitizers — here's how to spot them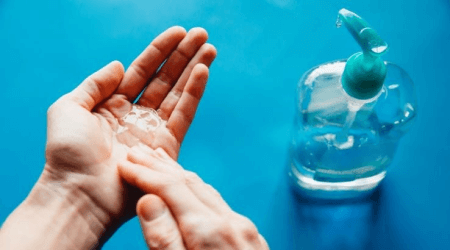 Make sure methanol is not on the ingredient list before buying sanitizing products.
The Food and Drug Administration (FDA) warns that nine hand sanitizing products manufactured by Mexico-based Eskbiochem SA de CV may contain methanol — also known as wood alcohol — which is extremely toxic to humans and animals if ingested, absorbed through the skin or if vapors are inhaled.
The nine sanitizers included in the warning are:
All-Clean Hand Sanitizer

Esk Biochem Hand Sanitizer

CleanCare NoGerm Advanced Hand Sanitizer 75% Alcohol

Lavar 70 Gel Hand Sanitizer

The Good Gel Antibacterial Gel Hand Sanitizer

CleanCare NoGerm Advanced Hand Sanitizer 80% Alcohol

(NDC: 74589-005-03)

CleanCare NoGerm Advanced Hand Sanitizer 75% Alcohol

CleanCare NoGerm Advanced Hand Sanitizer 80% Alcohol

(NDC: 74589-003-01)

Saniderm Advanced Hand Sanitizer
As of this writing, these products are still on the market and available for purchase, despite the FDA's recommendation that they be removed from shelves.
What to do if you've been exposed to methanol-containing products
Seek immediate medical attention if you or someone in your care has been exposed to methanol. Symptoms of methanol poisoning include drowsiness, dizziness, headaches, nausea, vomiting, blurred vision, lack of muscle movement and seizures.
Symptoms typically present within 24 hours of exposure.
How to check for safe hand sanitizers
Use this checklist to make sure the hand sanitizer you're using is nontoxic:
Verify the active ingredient on the label. Safe hand sanitizers contain either ethanol (ethyl alcohol) or isopropanol (isopropyl alcohol). They should never contain methanol.
Look for inactive ingredients. Some hand sanitizers may contain inactive ingredients such as aloe vera, glycerin, propylene glycol, tocopherol acetate and isopropyl myristate. These ingredients are generally considered safe by the FDA, but be on the lookout for potentially toxic inactive ingredients.
Check the alcohol percentage. The Centers for Disease Control (CDC) has stated that alcohol-based hand sanitizers must contain at least 60% alcohol to effectively deactivate viruses. Keep sanitizers out of reach of children to avoid accidental poisoning if ingested.
Use the right type of alcohol if making your own sanitizer. Many consumers have turned to making DIY hand sanitizer in response to low stock during the coronavirus pandemic. If making your own product, double-check that you're buying either pure ethyl alcohol or isopropyl alcohol. You can find an easy recipe for homemade sanitizer in our hand sanitizer buying guide.
Image: Getty Images