Quick and secure way to send money anywhere in the world.
Sending money to people at home and abroad isn't always as simple as writing a check or using a credit card. No matter your circumstances, you can get your money where it needs to go safely, securely and quickly with a wire transfer.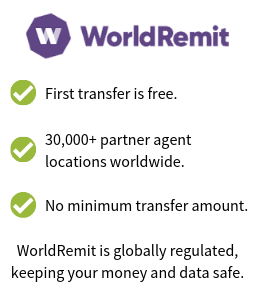 Why we like: WorldRemit
Send money to 140+ countries for bank deposit, instant e-wallet, mobile top-up or cash pickup at 30,000+ agent locations worldwide.
Your first transfer is free with the code FINDER.
Low upfront fees and exchange rates.
Easy to use with round-the-clock help.
Get cash to family and friends in minutes.
How can I send a wire transfer?
Depending on what kind of wire transfer you need, sending a wire transfer involves:
Gathering the information you need.
Choosing your preferred wire transfer option and applying.
Tracking your transfer to confirm it is received.
What do I need to send a wire transfer?
Before you can send a wire transfer, you will need to know:
How much money you need to send.
The name, address, and contact information for the person you are sending money to.
The recipient's bank account information, including routing and account numbers.
How quickly your recipient needs the money.
Whether you are transferring money directly to a bank account or for cash pickup at a money service branch.
Your method of payment for the wire transfer — either cash or through your bank account.
Compare money transfer services
What are my wire transfer options?
You have a few options for conducting a wire transfer: bank-to-bank, in a money services office, or online.
Bank-to-bank wire transfers
A bank-to-bank wire transfer sends money directly from your bank account to another bank account, usually by filling out a form with the contact and account details for the recipient.
Secure and familiar. Major US banks have higher security to protect agains scams and thieves. It also keeps your information secure so you can make multiple payments if needed
High transfer fees and weaker exchange rates. Though fees and exchange rates vary between banks, you'll pay between $14 and $40 for outgoing domestic wire transfers, and $35 and $65 for outgoing international transfers.
Average wait time: 0–5 days. Most bank wires take a couple of days to complete — but can be quicker between the same bank.
In-office wire transfer
In-office wire transfer companies like Western Union offer quick transfers and are located worldwide.
To make the transfer, complete a form with you and your recipient's information, including the location of the office your recipient will pick up the money. Confirm your exchange rate if you're making an international transfers, and save your tracking number to be notified that the money has arrive safely.
Quick. Good for a recipient who needs cash fast
Wire options vary. Depending on where you're sending your money or which company you use, you may be required to use cash rather than debit or credit card.
Average wait time: 0-5 days. Most transfers take one to two days to complete, but international transfers can take longer.
Online transfers
Online services like PayPal, OFX and WorldRemit have become popular because of lower fees and ease of sending money worldwide. You'll have to create an account and attach your bank account or credit card to make a transfer. Once your financial details are saved, you can make future transfers more easily.
Cost less. Competitive exchange rates, lower fees
Service varies. Depending on which company you use, you may be limited to the amount of money you can transfer and where you can send it.
Average wait time: Most transfers take minutes to complete.
What happens next?
After you receive confirmation that your wire transfer is successfully sent, use your tracking number to confirm that it gets to your recipient and they've received the money.
If there is any trouble with the wire transfer, you can contact the money transfer service you used — whether a bank, in-office service or online. Many banks and services offering international wire transfers have 24-hour customer service lines to assist with questions or concerns.
Whether needed often or occasionally, wire transfers are a dependable option to send money internationally — especially when it needs to get there quickly. And when it comes to your money, that's just the peace of mind you deserve.
Image: Getty Images
Learn how to receive a wire transfer from someone else
Frequently asked questions about wire transfers