Finder is committed to editorial independence. While we receive compensation when you click links to partners, they do not influence our opinions or reviews. Learn how we make money.
How to save for college
Tuition costs are always on the rise — find out how to make your money go further.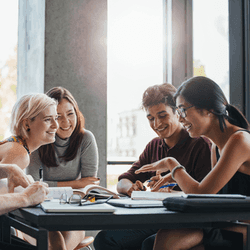 The cost to attend a public, in-state college has increased at an average of 3.1% per year since 2008, according to the College Board's annual survey of colleges. That steady increase brings the average cost of a four-year degree to $96,464. Student aid and scholarships can help pay college expenses, but every bit you can save helps combat student debt.
How to save for college
If you have kids that you plan to send to college, consider these essential steps to getting started.
1. Establish financial goals
To estimate how much you'll need to save, think about how many kids you plan on sending to college, how many years of saving you have before then and how much you can afford to contribute.
Factor in costs beyond tuition, like housing, textbooks, food, extracurricular activities, tutors and transportation.
2. Pick an account that fits your goals
A traditional savings account is an option for growing your college fund. But more specialized products like 529 plans and Coverdell Savings accounts come with tax advantages, higher returns and savings incentives to help you save more.
3. Make regular contributions
Routine contributions are by far the most effective way to save for large purchases like college. If you can afford to put away $200 a month from the time your child is born, you'll have $43,200 by the time they're 18 — not counting any returns on your investment.
How much should I save for college?
The amount you should save varies significantly depending the degree, where you live, your budget, financial aid and other factors.
Based on four years of schooling, these are the essentials the College Board says you should budget for as of 2018:
Public in state: $40,920
Public out of state: $105,160
Private nonprofit: $143,320
Average room and board: $46,613
Public in state: $44,560
Public in state: $44,560
Private nonprofit: $50,720
Average food: $12,720
Average books and supplies: $4,960
Average transportation: $4,640
Average other expenses: $5,630
Most students don't end up paying the full amount, thanks to financial aid and scholarships. Students are awarded an average $9,337 a year in grants and tax credits, which could reduce costs by $37,348.
Average total after financial aid: $133,681
Plan for expenses beyond the essentials that can affect how much you pay:
Extracurriculars: $2,000
Travel: $4,000
Study abroad and internships: $10,000
Printer, laptop and other equipment: $2,500
Extra courses: $2,500 to $10,000+
Best accounts to help you save for college
Types of college savings accounts
A traditional savings account won't offer the rates or compounding you'll need to save adequately for education. College-focused accounts and plans are a more powerful way to save.
Compare savings plans
| | Traditional savings accounts | 529 savings accounts | UGMA and UTMAs | Savings bonds | Coverdell Education savings accounts | Whole life insurance |
| --- | --- | --- | --- | --- | --- | --- |
| Monthly fees | Maybe | No | No | No | No | Yes |
| Tax advantages | No | Yes | No | Yes | Yes | Yes |
| Can be invested | No | Yes | Yes | No | Yes | No |
| Contribution, age or income limits | No | No | No | No | Yes | No |
| Financial aid impact | Only if in child's name | Yes | Yes | Only if in child's name | Yes | No |
| Guaranteed returns | Yes | No | No | Yes | No | Yes |
| Penalties | No | Only when used for ineligible expenses | Only when used for ineligible expenses | No | Only when used for ineligible expenses | No |
| Avoid tuition increases | No | Yes | No | No | No | No |
| Only for education | No | Yes | No | No | Yes | No |
Can I use a Roth IRA to save for college?
Yes. Though it's technically designed for retirement savings, you can withdraw contributions from your Roth IRA without penalties. Though you may be on the hook for taxes if the money is used for a family member's college expenses.
Pros
Tax-deferred growth
Wide range of investment options
Cons
Potential tax and penalties
Market risk
Fewer tax advantages
How to compare accounts for college
Because many college savings plan include investments, consider speaking with a financial adviser or accountant for guidance on:
Fees and taxes. Understand the fees and penalties you face before signing up, and compare tax advantages to ensure you get the most out of your account.
Investment options. To invest your savings, learn which products are available within each account.
Access. Consider how you're allowed to access your savings, and find out whether you can use the money for educatoin.
Returns. Some options offer lower returns at a lower risk, while others have the potential to earn more at a greater risk. Weigh your options to find a balance you're comfortable with.
Eligibility. Some of these options have contribution limits or income requirements. Know the limitations before opening an account.
Tips to save for college
Start early. The best way to save for college is to start early. Ideally, you want to start as soon as your child is born, but it's never too late.
Save in a joint account. If you don't already have one, a joint savings account can help you and a partner save and earn interest together.
Encourage early credits. Many AP and community college programs allow high-schoolers to earn college credits before graduation, which can save you a semester's costs or more.
Automate it. Set up autopay or consider a roundup app to make recurring contributions without even thinking about it.
Invest unexpected cash. Whether you get a bonus, receive an inheritance or pay down other debts, consider redirecting extra money into your college savings plan.
Other ways to pay for college
Even with so many options available to save for their education, most people won't have enough to cover the full cost of college. Luckily, other options can help you fund your child's education:
Student loans. Federal and state financial aid programs can help cover outstanding college expenses and they have much lower interest rates than personal loans.
Crowdfunding. Consider a website like CollegeBacker that allows you to get help from friends and family as you save for college.
Grants, scholarships and bursaries. Take advantage of grants, scholarships and bursaries that could offset costs. It doesn't hurt to apply, so look for any that seem even remotely relevant.
Tax credits. Claim up to $2,500 per student, per year with the American Opportunity credit. If you don't qualify, the Lifetime Learning Credit allows you to claim up to $2,000 per student, per year. Speak with an accountant or tax specialist for more details.
Upromise. This loyalty program is a subsidiary of Sallie Mae and offers cash back on eligible purchases that go toward tuition to make it easier to save for college and repay student loans.
Bottom line
If you start early, set goals and look for areas to save, your college fund contributions could eventually have a huge impact. Compare the best student savings accounts to find a product that fits your budget and goals.
Frequently asked questions
More guides on Finder