Finder is committed to editorial independence. While we receive compensation when you click links to partners, they do not influence our content.
How to organize your travel money before you travel
Looking to organize your travel money like a pro? Use these tips and tricks.
When you are preparing for a vacation, you might plan for vaccinations, passport applications and flight bookings. But one of the most important aspects of travel planning is knowing your travel money options and what you'll need to get around so you don't run into financial trouble. After all, being in a foreign country without access to money can be the difference between a good and bad vacation.
Follow these 10 easy travel money tips and your vacation cash flow should be all set!
1. Budget
When you start to plan a vacation, you should already have a budget blueprint. Research how much accommodation and flights will cost and how much travel money you should take.
Once you figure it out, spread out your funds between different travel money options. For example, pay for necessities and large purchases using a rewards credit card and use a debit card for ATM cash withdrawals. Don't forget to put aside some cash for emergencies.
2. Research and study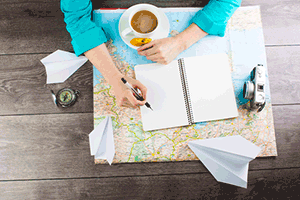 Research to see if the destination you're heading to is credit-friendly or cash-driven. If you'll be using your card often, take a card with no foreign transaction fees or foreign ATM withdrawal fees.
Browse our country-specific travel money guides for more information on which countries accept which credit card networks.
3. Fund your trip
With the right travel reward credit card funding your trip, you could earn rewards points for expenses you're already making. Plus, if you use a travel credit card, you could benefit from a personal concierge and complimentary travel perks.
Consider credit cards with generous welcome offers. With your travel expenses getting close, you can easily clear the welcome offer and pay for your flights or for future trips.
4. Consider travel insurance
You should compare
travel insurance
to vacay with peace of mind. If you'll be applying for a credit card to use on vacation, consider getting a travel credit card, which often comes with
complimentary travel insurance
.
This can save you the hassle of securing your own insurance and save cash in policy fees. Before applying though, make sure you're eligible for the complimentary insurance and know exactly what it covers.
5. Compare and combine travel money options
A travel credit card could be a great choice if you want no foreign transaction fees, travel insurance and a competitive rewards program. You'd also benefit from bringing your trusty debit card along for small purchases and cash withdrawals — some cards even offer no international ATM fees.
And there's always the travel-friendly prepaid card with free international ATM withdrawals and zero currency conversion fees. Always bring along cash too, it'll likely be accepted everywhere and can help out in a pinch.
6. Start applying for the card(s)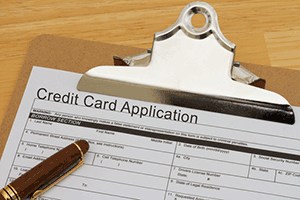 You can usually complete your application in a few minutes online. To increase your chances of approval, make sure you meet all of the eligibility requirements and have prepared the required documents.
Apply for your card sooner than later so you're not receiving and activating it at the last minute. Once you receive your new card, set up a secure PIN. And if you receive a backup card, be sure to keep that somewhere safe.
Compare travel credit cards
7. Load funds on your card
If you're taking a travel card, make sure it supports your destination currency and that you preload the currency in advance. One of the biggest advantages of using a prepaid travel money card or a travel-friendly debit card is that you're spending your own money, which you can't overspend.
Don't wait until the last minute to load funds because it can take some time for them to appear in your account, depending on how you load the money.
8. Exchange foreign currency
For some destinations, you may want to purchase a small amount of the local currency beforehand for emergencies and small purchases when you first arrive. If you're stuck in a foreign airport with no money for a taxi because the ATM machine is busted, you'll be wishing you exchanged some money before your trip. It's also good to have some money for tipping the taxi driver or hotel staff.
Don't wait until you're at the airport to change your money because those exchange desks tend to charge the highest margins and fees. Either buy some foreign currency before leaving or use an international ATM when you arrive at your destination.
9. Call your bank
If you use your regular debit or credit card overseas without notifying your bank, your provider might suspect your activity is fraudulent and they may freeze your account.
While you can contact your bank to request for the account to be unfrozen, you'll save a lot of time, inconvenience and potential embarrassment if you just contact your bank or set a travel alert via your bank's mobile app.
Contact your issuer immediately if your credit, debit or travel card is lost, damaged or stolen during travel.
10. Pack for your trip
Consider keeping your backup card in your carry on luggage or tucking some cash into the inside pockets of your checked bag. You may even want to stash some more cash in your socks and hide the emergency credit card under the mattress. No matter how you choose to do it, it's a good idea not to keep all your travel money together in case your wallet is missing or stolen.
Bottom line
With a good dose of common sense and awareness, you can have a great, stress-free vacation. Consider taking multiple money options, such as top travel credit card for purchases and debit cards for ATM cash withdrawals. The more prepared you are with money, the more likely you'll be to have a smooth and easy trip abroad.
Back to top