Finder is committed to editorial independence. While we receive compensation when you click links to partners, they do not influence our opinions or reviews. Learn how we make money.
How to open a bank account in Thailand
Bring every piece of documentation asked for and then some when applying.
Thailand hosts a number of banks that have options for those who are residents or otherwise. Typically you'll need quite a few documents verifying your identity and credentials to get started though, even with bigger institutions like Bangkok Bank and Citibank.
You have three main options:
A Thai bank account will require you to provide a residential address in Thailand. You may also be required to have a work visa, depending on the bank and branch.
You can usually open an international bank account without a Thai address, but you'll still need to provide other documents to verify your identity.
Multicurrency accounts can be a good alternative to traditional bank accounts. You're able to send and receive money in foreign currencies from these accounts, and many support the Thai baht.
Setting up a bank account if you have a Thai address
Banking in Thailand is likely going to be fairly different from your experiences banking at home. The first difference you'll encounter is that policies aren't uniform across the entirety of a bank's branches. Local regulations mean that you may find you need more paperwork for one branch of Bangkok Bank than another in a different city.
Across many sites giving advice for expats and tourists alike, you'll find a common thread: bring more documentation than the bank asks for. Major banks with branches in larger cities will likely have a list of what you need to bring in order to open an account, but you should likely bring more than just what's requested.
Some documents you may be requested to provide include:
Your passport or a valid Thai driver's license.
A visa that's for more than 30 days — typically work or education.
A residential lease agreement for at least one year.
Housing registration documents.
You may also be required to bring a letter from one or more of these:
Your embassy
Your home bank
A trusted employer — for those still getting a work visa
A trusted Thai citizen or organization
A banker or customer of the bank, government official, director of a private corporation or a reputable educational institute can qualify as trustworthy, depending on the bank and branch.
---
2. Setting up an international bank account
Nonresidents looking to set up an international account will run into similar requirements as residents when setting up an international bank account. The first thing, of course, is to remember to bring more documentation than what's requested.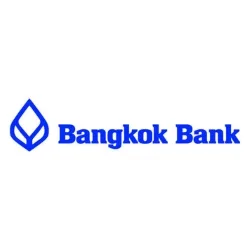 Bangkok Bank
Bangkok Bank is one of Thailand's largest banks, and it offers a foreign currency savings account for nonresidents. It allows you to save money in a number of different currencies while having a Thai bank account. To apply for an account as a nonresident without a work permit, you'll need the following:
A $1,000 minimum opening deposit.
Your passport.
A letter from one or more of the above-listed people or organizations.
Kasikorn Bank (K-Bank), CIMB and Citibank have large presences in Thailand and also offer accounts for nonresidents. While they're purportedly friendly to foreigners in major-city branches, these banks don't have specifics on their nonresident accounts available online.
Another option you can look into is a digital bank, also known as a challenger bank. A lot of these allow you to set up a bank account with them if you can give them a copy of your passport and a US address, with no need for proof that the address is yours.
You can read more about digital banks on the Finder US website, which will let you compare some of the most popular options.
---
3. Foreign currency accounts
Multicurrency accounts, also known as foreign currency accounts, are another way you can easily receive funds in THB. One of the benefits is you don't have to physically open a bank account in Thailand to transact with them.
You'll find foreign currency accounts with banks as well as money transfer services. Many allow you access to online account management and tools, along with low fees.
Off-shore borderless business accounts are in the same vein as foreign currency accounts, and also don't require a Thai bank account to get started.
How to transfer money to your new Thai bank account
Getting your money to your new bank account in Thailand can be done quickly and easily in a number of ways. While a bank wire may be the first option to come to mind, it's likely not the most cost-effective. A money transfer specialist service can usually get your money where it needs to be with far fewer fees at the cost of potentially being a little slower.
Compare how to send money to Thailand using our guide to find the best method for your situation.
Disclaimer: Exchange rates change often. Confirm the total cost with the provider before transferring money.
Bottom line
Opening a bank account in Thailand can be a document-heavy process, but it's not impossible. It can take some time though, and if you're looking to move your funds quickly it may be worth looking into a money transfer service
Frequently asked questions