Finder is committed to editorial independence. While we receive compensation when you click links to partners, they do not influence our content.
How to finance a Lotus
Get help footing that $100K bill for your fancy ride.
Lotus Cars is well known for its premium brand of sports and racing cars that come with a high price tag. Buying its most recent model, the 2018 Evora 400, can run you over $100,000 after additional features. Luckily, you have several financing and leasing options to choose from.
How can I finance a Lotus?
When you're looking to get behind the wheel of a new Lotus, you can typically find more favorable rates with an auto loan from a bank, credit union or online lender. However, this is the most time-consuming option, since you'll need to fill out multiple prequalification forms to find the best offer out there.
Prefer speed over lower rates? Then you might want to consider financing or leasing directly through an authorized Lotus dealership.
Lotus financing. Buying your new Lotus at the dealership is one of the fastest and easiest routes, however it might come with higher interest rates. Current offers include 3.9% APR financing on the 2018 Evora 400 Coupe for 72 months. Prices may vary based on model and dealership.*
Lotus leasing. If you don't want to be chained to the same Lotus forever, you may want to consider saving money by leasing one. Check with your local Lotus dealership to see what leasing deals they might offer.
*Rates as of May 28, 2019.
Compare car loans to buy a Lotus
What will a new Lotus cost me?
Lotuses don't come cheap. Expect to pay at least $90,000 — if not more depending on how tricked out you want it. Here's how the costs break down for two of its 2018 models:
Evora 400
Starting MSRP: $94,900
Build: Sports car
City/highway MPG: 21/39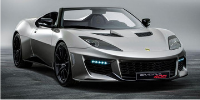 Evora 400 Coupe
Starting MSRP: $89,900
Build: Coupe
City/highway MPG: 21/39
Does a new Lotus come with a warranty
Yes, all new Lotus cars come with a warranty that lasts for three years or 36,000 miles — whichever comes first. In addition, you'll receive up to eight years of coverage against perforation on the car's chassis. Certain Lotus racing models may have different warranties, so you should consult with your local Lotus dealership for more details.
Does Lotus offer special discounts or programs?
No, Lotus doesn't feature any special discounts or programs on its website. However, you should still check with your local dealership, as it might have its own promotional offers on Lotus models.
Bottom line
Lotus is a luxury car brand — and its prices reflect this. But you have a few options to help you foot the bill. While financing straight at the dealership might be quicker, you can potentially save more by taking out a car loan through a bank or online lender.
Ready to get started? Read our guide to car loans to learn more about how they work and compare your options.
Frequently asked questions
Pictures: Getty Images and Lotus official page