Finder makes money from featured partners, but editorial opinions are our own.

Advertiser disclosure
How to finance a Bugatti
The easiest way to get behind the wheel of this unique sports car is to go directly through the manufacturer.
Bugatti has been making luxury cars for over 110 years — and its Chiron and Veyron are priced to show that history. Because of the amount you'll pay for your car, your options are limited to your own assets and Bugatti's own financing program.
How can I finance a Bugatti?
Beyond a personal loan secured by your assets, Bugatti offers its own personalized loan and lease options to potential buyers through Bugatti Financial Services. You'll need to contact Bugatti directly for more information on how to set up financing. In addition, some lenders specialize in luxury car loans that come in higher amounts and extended terms than more traditional car loans.
How to apply with Bugatti Financial Services
While Bugatti Financial Services doesn't have an online application, you can fill out a form to have a member of its customer concierge team contact you. Follow these steps to get started:
Visit Bugatti Financial Services and select Contact.
Enter your full name, region and email address.
Fill in a personalized message.
Hit Submit.
Bugatti Financial Services pros and cons
Pros:
Personalized loan and lease agreements
Options for unique vehicles designed to meet your ideal car
Cons:
Limited information about pricing and terms
Must wait to be contacted by Bugatti
Compare car loans
Use our comparison table for a side-by-side view of available lenders to help you get behind the wheel of a new Bugatti. Select up to four loan providers at once.
What will a new Bugatti cost me?
As of October 2019, the only new Bugatti available on the market is the Chiron, which costs nearly $3 million. While the Veyron is no longer in production, you may be able to find well-maintained used models for sale.
Cars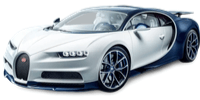 Bugatti Chiron
Starting MSRP: $2,998,000
Build: Coupe
City/highway MPG: 9/14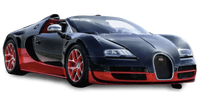 Bugatti Veyron
Starting MSRP: N/A
Build: Coupe
City/highway MPG: 7/15
Car insurance costs that come with driving a luxury car
What is the warranty for a new Bugatti?
The Bugatti Chiron comes with a two-year, 31,069-mile warranty. And its Veyron models are eligible for the Bugatti Loyalty Maintenance Program (LMP), which extends the factory warranty to up to 15 years and reduces operating expenses.
Bottom line
Bugatti is a top-tier French manufacturer. While traditional lenders won't be able to extend the type of money you need to finance a Chiron, there are luxury car loan providers out there that can help you fund one of these seven-figure cars.
Frequently asked questions
What special discounts or programs does Bugatti offer?
Bugatti doesn't offer any specialized programs or deals.
When did Bugatti stop producing the Veyron?
Bugatti stopped production of the Veyron in 2015.
What's my eligibility for the Loyalty Maintenance Program (LMP) if I buy a used Veyron?
Bugatti extends the LMP to owners of preowned Veyrons.